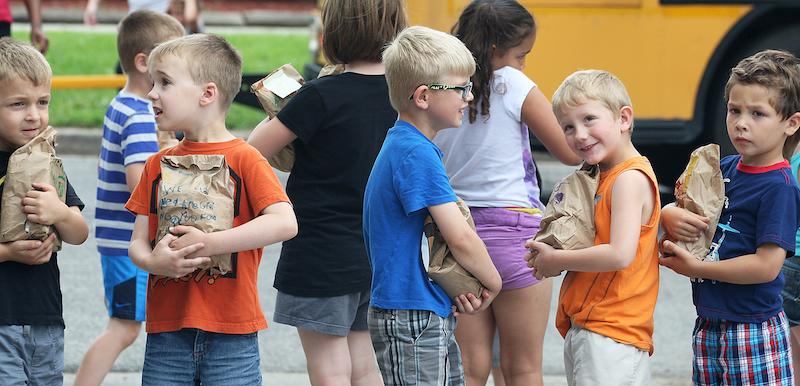 FEATURE
Kindergarteners Building Community One Can at a Time
"So there's no more food left?"
I stood in front of the class holding an article about a major shortage at one of the largest food banks in our city. Thinking it might generate some interesting discussion I shared it during circle.
"But we gave so much food already! How is it all gone?"
"We gave 472 things last food drive!"
"What will people eat?"
The carpet buzzed with discussion. I could tell the children were worried. "I know," Cruz stated firmly. "We just need to have another food drive, a bigger food drive this time, one for the whole school." The children nodded their heads in agreement.
As a full-day kindergarten educator in Windsor, Ontario I intertwine children's ideas into my classroom programming whenever possible. I encourage children to follow their interests and empower them to be co-constructors of our learning environment. The children were highly motivated to explore how to help The Downtown Mission replenish its food inventory. From this beginning, our class began a journey that would collect more than 5,000 items for donation in a little over a week's time!
---
Building Background to Support the Inquiry
The children had some big ideas. They wanted to organize a food drive, reach out to the greater community and use social media as platforms for spreading The Mission's message of need. If we were to be successful, I would need to actively support and scaffold the children's ideas through the use of rich materials and experiences.
---
Reading Mentor Texts
Using mentor texts is an excellent way to help children understand a situation more deeply. I wanted our class to consider how serious an issue The Mission's food shortage was, and connect emotionally to the problem. We read two books. In Eve Bunting's Fly Away Home, readers meet a homeless boy and learn about the hardships he must face each day. Rebecca Upjohn's Lily and the Paper Man helps readers understand the issues of homelessness and need through the eyes of Lily, who at first is scared of a homeless man, and eventually inspires her family to help him. Like Lily, we could inspire others to learn about and donate to our cause.
---
Seeking the Guidance of Others
To share our vision, the children had to ask for the support of the entire school. They wrote a persuasive letter to our principal, informing her of The Mission's need, and sharing our ideas for how we could help. Our administration met with the children and agreed that having a food drive was important. Having their ideas valued and endorsed inspired the students. They got busy. They wrote letters to the school community, shared their message in the morning announcements and spoke to classes throughout the school. The older children were also inspired. Our youngest learners were informing the entire school community about a social situation and issuing an urgent call to action!
---
Sharing Beyond the School
We also wanted the greater community to be aware of our food drive. We created a display that shared our vision of why it was important to collect food and asked for the public's help. We put the display in the front foyer of the school. The display helped members of our school community understand and connect emotionally with our inquiry. It outlined in detail how the children's work related to the curriculum and made explicit the rich learning happening in our classroom. We encouraged people to put their donated items next to the display.
The children used our class blog to spread their message beyond the 'walls' of the classroom. As one child stated, "We can put this on the blog so that people who don't come to our school can see it, and then they can give food too." Using the class iPad the children helped construct messages of support and change. As well, we created a class Twitter account; up to this point in the year we had not used Twitter, but learned from others how quickly messages can spread and felt the food drive would benefit.
---
Connecting with the Community
The Internet also helped us make connections with others outside our school. Roger Chauvin of the Windsor Essex County Canoe Club was encouraging his members to donate their annual dues to The Mission. We reached out to Mr. Chauvin who in turn wrote an inspiring letter and donated cases of food for our drive. The Wyandotte Street Metro had a donation bin. We asked the management if we could advertise the food drive at their store. Not only did managers Paul and Mike agree to display the children's posters, they offered everything collected in the donation bins for our food drive. The posters would remain in the store encouraging shoppers to contribute to the donation bins. Our children's vision for social change would continue long after our inquiry had ended.
The students' extended family members also became involved. One grandmother's tireless campaigning resulted in the donation of thousands of items. Many parents said their children had never been more enthusiastic about a project. The communication between home and school created a positive cycle of continued learning.
---
Curriculum Connections
As an educator who believes in emergent curriculum, I am always considering ways our inquiries are successfully fulfilling the Ministry of Education's Full-Day Kindergarten expectations. When classroom activities are authentic and deeply rooted in children's interests, it is easy to engage them in rich math and literacy experiences and collect valid information for evaluation purposes.
Math: Calculating how many items were donated each day was a big part of our project. Children proudly brought food and placed it on the carpet as they entered the room each morning. We would estimate how many items were in the collection before placing the objects into groups. Some days the children sorted the food by shape of container; other days it was the size or type of the contents. They worked cooperatively to count the items and then reported how many had been donated in our classroom at the beginning of circle.
The children were confident in their number sense and computation abilities. Number talks had been a major focus during our whole group discussions and the children were confident using tools (e.g., ten frames, hundreds charts) and strategies (e.g., counting by tens, working with 'friendly numbers') to solve difficult math problems.
Each day the children suggested a number of ways to conduct an accurate count of the items. At first they worked with friendly numbers, placing the items in groups of five and counting by fives to get a total. The next day they counted using groups of 10. With experience and confidence they suggested more advanced strategies such as counting by groups of 25 or using 'unfriendly numbers' such as 13 for a challenge.
When the time came to calculate the final number of items our 'counting crew' worked to group objects into collections of 25 and 100 and added everything together to get a sum of 967. Onlookers were astonished at the confidence and accuracy our kindergarten children demonstrated in this very challenging math problem. This authentic situation helped to differentiate the math experience for learners in a collaborative and meaningful way. Children created groupings of their own choice and these were added together; each child worked at his or her comfort level.  It also demonstrated what children can accomplish when they are highly motivated, personally invested and challenged to independently solve a complex problem.
Literacy: There were also many opportunities for children to excel in literacy-based activities. Planned, purposeful writing and oral communication helped us successfully articulate our vision. Unlike more traditional writing practices (e.g., worksheets, journals), creating displays, posters and letters to the school community required the children to communicate in a more persuasive way as they tried to convince others to donate. The children had to consider their audience, purpose and voice, and focus on conveying their message in a clear and polished format.
We spent much time examining effective models of written and oral communication. We decided that it would be effective to write letters to all the teachers in the school and share a message during opening announcements. It was rewarding to see the children's perseverance as they rewrote and redrew until they were completely satisfied with their work.
In addition to writing, the children worked to refine their oral language abilities. We decided we needed to visit each classroom in order to share our message with the whole school community. Because we didn't always attend assemblies and tended to ebb and flow in our little sheltered world, we were unknown to many in our school. Bringing the children directly into every classroom demystified them; they became powerful and passionate advocates as they voiced their knowledge and persuaded others to help.
---
Building Empathy in Children
The personal and social development of children is a major component of our program. Young children learn to recognize themselves as capable members in cohesive community that includes all as equal. Children take care of one another and this positive emphasis on social interaction helps set the foundation for future personal and academic success.
It was with great interest that I watched the children blossom throughout this inquiry. Children willingly spent hours engaged in activities to promote their cause. Many families told us children were initiating discussions at home. As the week wound down we continued to receive large amounts of food and even monetary donations. One grandmother said, "Max even asked me if I could empty our penny jar so that he could give it to the donation box at our local church because there are people there who are in need too." Like the roots of a mighty oak tree, the children had been successful in spreading their message well beyond the walls of our school.
---
Hunger Heroes
We ended the food drive feeling victorious! We were amazed that the final count of items totaled just over 5,000 – an unbelievable number in such a short time. We felt that after such a successful project it was imperative the children deliver the items in person. The children spent the final day decorating paper bags with images and words of hope; hearts, flowers and the words We care, We want to help, I love you covered each bag. The sight of those decorated bags, full of food and gathered in the front foyer of the school awaiting delivery, brought tears to my eyes.
We were greeted like celebrities when we arrived at The Mission. The administrative staff was waiting for us, along with many of the children's family members. But the biggest surprise of all was a reporter from The Windsor Star – the very newspaper that had printed the article that sparked our call to action. The children were so excited!  After having their pictures taken the children went on a tour of The Mission and learned about all the different services available to the community. They visited the kitchen and eating area and presented their decorated bags of food to the staff.
As the children left The Mission that day they were thanked again and again for being "hunger heroes" who had helped those in need. They had completed the cycle of social change - recognizing a need, engaging in action, and helping to solve the problem so quickly and effectively.
The next day The Windsor Star prominently featured a picture of the children arriving at The Mission, clutching their decorated bags close to their hearts. As this inquiry ended I wondered what big idea they would think of next. What lasting influence would they have on the community? True change is most effective when it continues to call others to action, over and over again. Our young kindergarten children became heroes. What would our community be inspired to do next?
To see this inquiry in action please visit our class blog at www.mrsmclennan.blogspot.ca or follow us on Twitter @McLennan1977. An iMovie connecting photos, videos and other artifacts of learning from this inquiry can be viewed at http://youtu.be/iMNgpJMkkgg.
This inquiry was specific to our class. We hope that by sharing it with Voice readers others will be inspired to conduct similar projects to help those in need within their communities and beyond.
---
Tips For Organizing A Food Drive
Recognize a need in the community and discuss the problem with children in a comfortable format.
Use mentor texts to build background knowledge and help children connect emotionally to the problem.
Ask children for their ideas about how to help. What do they think needs to be done?
Once a solution is generated, encourage children to think about how they can invite others in the school and greater community to help.
Consider how and where the collected items will be stored. Will each class store their own donations or will all donations in the school be kept in a common area? How will the items be counted? Transported?
Share what is happening with the greater community in order to inspire others to help and keep the positive cycle of change moving forward. Contribute to the school newsletter, contact local media, update on the class blog, etc.
Once the drive is complete, consolidate learning by encouraging children to reflect upon the event and celebrate their achievement!
Deanna Pecaski McLennan is a member of the Greater Essex County Teacher Local.