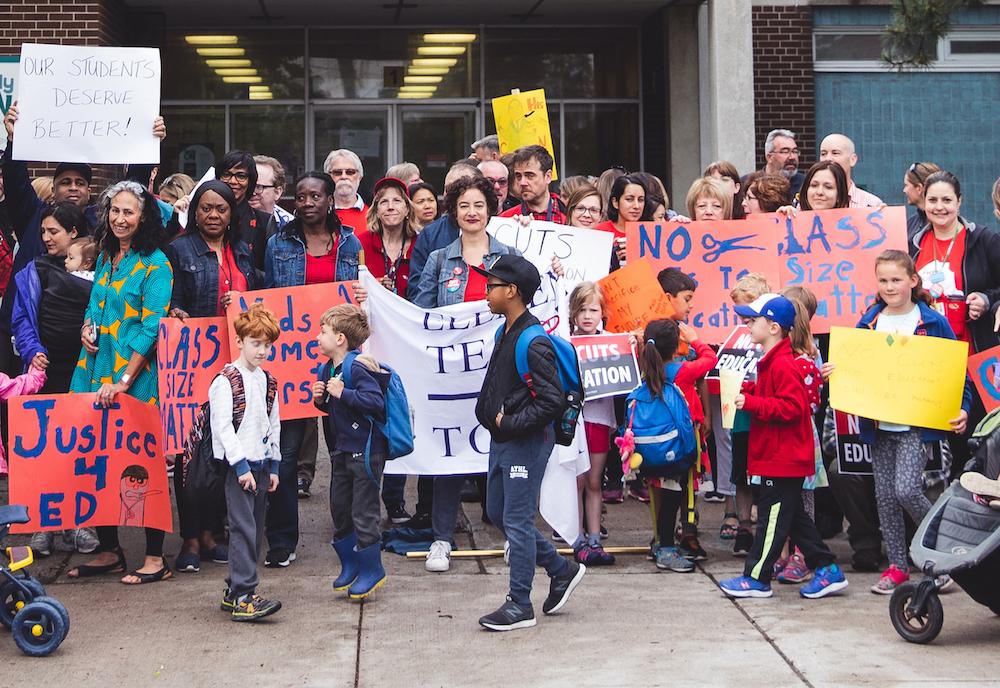 FEATURE
Parents Standing with Teachers: Organizing to Build Strong Alliances and Deep Connections
On the morning of June 6, 2019, something inspirational happened at more than 300 schools, mainly in Toronto, but also in Peel, Hamilton, Waterloo, Kawartha Pine Ridge, Avon Maitland, Simcoe, Limestone and Bluewater.
Before the first bell of the day rang, parents, teachers, education workers, students and supporters gathered together in front of their schools, colourful homemade signs and banners on display, chanting, marching, singing and sending a common message to this government: We are outraged by the attacks on our schools and our communities. We won't be divided in our common demand now and going forward to reverse the cuts and reinvest across the public sector so we can create the schools and communities we need and deserve.
Called "Walk Ins" and modelled after the hugely successful examples of these actions across the United States over the last two years, they were an awesome display of grassroots organizing and solidarity between parents and education workers.
The site of the organizing for these actions was the school. No PR campaign or billboard ad was responsible. At the elementary level, the success of the Walk Ins was directly attributable to the groundwork laid over the last few years by teachers and parents beginning to find ways to talk face to face about the issues in our public education system that matter to them. Together they are building the relationships necessary to protect and push for the public schools our students deserve.
The issues we are fighting for – smaller classes, supports to meet the diverse needs of all our students, healthy and safe working and learning environments, respect for educators, to name a few – are not just teacher and educator issues and they never have been. This is the power behind the statement that our working conditions are our students' learning conditions.
As we head into bargaining, we must recognize that collective bargaining can be and has been one of the most powerful tools we have to push for the common good, for equity and social justice in our schools. In this coming round, it will be important to figure out how to communicate early and often with the broader community about what's at stake and what the issues are.
Strong Alliances and Deep Connections
As teachers and education workers, we know in our bones that the struggle for schools where all our students can thrive, and where the working conditions for educators support them, must involve the broadest alliance possible with our parent/guardian communities, particularly those experiencing heightened attacks under this government.
We know that the most successful teacher struggles in the United States – including those in Los Angeles, Chicago, Kentucky, West Virginia and Wisconsin – owed their success to organizing and methodical alliance-building with parents, guardians and the school community. These relationships with communities and stakeholders ensured that the court of public opinion and sometimes even the corporate media were on the side of educators during contract fights.
There is no substitute for teachers and education workers sharing our stories about the impact of underfunding and what we know our students need with parents/guardians and the broader community. We have known for years that, even if unions weren't particularly popular, the level of public trust and respect for teachers and education workers has always been strong. Without our actual stories from the classroom, shared through our relationships, the government will fill the gap with their own narrative about what is wrong with our schools, which often takes the form of teacher/education worker blaming.
This current moment in Ontario is ripe for organizing and alliance building. Attacks on our public education system have emerged as a key issue with the public. There has been tremendous organizing among high school students and parents. We've witnessed two of the largest high school student-led walkouts ever, this year alone in Ontario, protesting the roll back of the Health and Physical Education Curriculum and the cuts to schools. Parent groups across the province have developed resources, tool kits, letters, petitions and other materials demonstrating to the government that they cannot divide parents from educators.
How Do We Build Connections?
Figuring out how to start building connections with our parent and other communities can feel challenging. What is the first step? Can we talk with parents about the issues we see in our schools on school board property? Will this be interpreted as being critical of our employers? Can we wear buttons and hand out leaflets at our schools? Is asking parents to sign a petition acceptable?
In Toronto, we've tried different approaches, some more successful than others. It took a while to learn that school-based, teacher-led organizing could be more powerful than events organized by the local, but there is a place for both.
The voices and experiences of classroom teachers who have done this work are inspiring and demonstrate that, although there may be hurdles, these can be overcome. The benefit is incredible, from increasing the confidence of members to share their stories to building powerful alliances from the ground up.
Local Level Organizing
Site-based outreach to parents is incredibly important. One-on-one conversations with parents builds relationships that can't be achieved by the few elected people in the local union office. But we've also tried to support and encourage our alliances centrally.
At our first meeting of the Political Action Political Education Committee (PA/PE) this year, we spent some time sharing what we considered the biggest threats under the Ford government and the stakes for our local, for our members and for working people in general.
Our planning as a committee is grounded in the belief that the majority of families in Ontario will not permit the privatization of our public school system.
One of our initiatives was a teacher/parent network that connected the parent groups organically springing up across the city. We knew we had something special when the inaugural meeting of the GTA Parent Action Network took place on the day of one of the worst – if not the worst – snow storms of the winter. Twenty-five teachers, parents, grandparents and students gathered in a community circle inside the cozy confines of A Different Booklist Store/Cultural Centre.
The meeting marked an early step in a journey that has produced actions including petitions, online campaigns and building solidarity among teachers, education workers and the families they teach.
Conclusion and Key Learnings
This is an unprecedented time. We are in a political climate where parents are joining forces and standing in solidarity with teachers. The public recognizes that teachers' working conditions are students' learning conditions. They have vowed to stand shoulder to shoulder with educators to protect our shared common good – our childrens' schools.
Key Principles and Steps:
We need to see ourselves as workers who are involved in our communities socially, in sports leagues, clubs, community and faith groups. We have many opportunities to meet community members and parents outside of our schools. This allows us to work from our strengths and passions and meet people where they are comfortable. 
Relationships that last are formed by having personal conversations. 
Consider how you will stay connected with your parent and community partners when we are bargaining, how you will be able to communicate early and often about the issues at the centre of our education struggles so everyone remains united. 
People are more likely to participate if they are given concrete tasks. 
Show up for the struggles in your communities outside of your schools. We get support when we give support and the ills of our society, poverty, diminishing public services, heightened racism and xenophobia, all have an impact on our students and families. Is there a local $15 and Fairness organizing group, a committee to deal with housing or child care or transit issues? Join. 
Create teams in schools to share the work, coordinate efforts and support each other. Include members from other bargaining units, e.g. occasional teachers and education workers. 
Build your contact list of parents and community members each time you hold an event. 
Remove barriers and reduce challenges to increase participation (provide child care at events, translate materials, make sure your venues are accessible). 
Go to ETFO's BuildingBetterSchools.ca for updated flyers and speaking points to share with other educators and parents. 
Create shifts for participation. Can speaking with parents outside the school, off-the-clock be a regular part of your staff team's work? 
Follow up and thank participants and parents. Give updates on the next ask or event.
Nigel Barriffe, Yolanda B'Dacy and Helen Victoros are Executive members of Elementary Teachers of Toronto.
---
Devon Zacharopoulos, Parkdale Public School in Toronto
Our journey to organizing with parents started by building power within our own members at our school. We held monthly meetings and established a Building Better Schools Action Team. Establishing a team meant there were more teachers who could share the load of reaching out to other members in our school so it wasn't all on just one steward. At every meeting, we would end with an action plan directly connected with our school community. We needed small wins within our own staff to build our confidence for collective action.
Our first interactions with parents began with a small group of teachers circulating a class-size petition. We talked with parents on our own time and off-board property on the sidewalk in front of our school. Some teachers actively approached parents for signatures, while others chose to observe. This was okay; they were present and they were learning.
Once we were successful with the class-size petition, we realized the importance of demonstrating solidarity with our students' families' challenges. For example, we got involved in the $15 and Fairness campaign, which was all about fighting for a decent minimum wage and fairness in the workplace like paid sick days for all workers. We circulated the $15 and Fairness petitions. Families were quickly becoming aware that teachers genuinely cared about the issues outside our schools that were affecting their lives. We now had a relationship with our school community based on a shared struggle for social equity.
During a meeting of our local, we decided we were ready to begin organizing with parents. We decided to invite the school community to join us at an Education Rally. We handed out flyers that included our meeting spot at the rally. A parent volunteered to post the event on a parent Facebook page. Meeting at the rally served as an opportunity for further dialogue between teachers and families.
At this rally, we confirmed who our parent-leaders were and invited them to join our core network as liaisons. These parent-leaders were crucial in organizing our future actions, in particular, our School Walk-In. We co-planned the event using personal email and face-to-face conversations. We met together before and after school to flyer the neighbourhood. We were no longer "Teachers and Parents", but rather "Teachers and Parents in Solidarity" against any attack on our community (e.g., minimum wage, housing, legal aid) and we had a homemade banner full of signatures to prove it.
Sonia Henri, Valleyfield Junior School
The campaign to organize parents and community was not an easy one for us. There were many challenges, especially because our school is in the heart of Ford Nation. Many in the community had supported Doug Ford in the election and teachers knew they risked offending parents in asking them to stand up against this government. Nevertheless, we persisted.
We organized teams to speak with parents so members felt more comfortable. We mapped the workplace and identified the strengths of the staff. We were fortunate to have members on staff who speak the same language and share a culture with many in the community. These members reached out to parents and could put parents at ease and make conversations easier.
Teachers who had formed good relationships with guardians and their children were able to focus on common ground and team members tailored their appeal to the needs of particular families. For example, a typical exchange might go like this: "Hello you're Daniel's mother! He's in Kindergarten with Madame H. The provincial cuts will continue to have a negative effect on class sizes. Do you know that Daniel is in a class of 33 students? How do you think the proposed cuts will impact his learning, with more children and fewer supports?" When speaking to parents of students in French Immersion, the discussion turned to talk about the board's proposed cancellation of bussing since so many students were bussed into the school.
With these experiences under our belts, we began to plan for the June 6 Walk In event. To reach out to our community, teachers spoke with a few parents who were picking up their children after school and asked them to spread the word. Teachers who were not comfortable speaking were able to participate by helping with the preparations and set up of the events. They volunteered to take on others' supervision duties so they could be available to leaflet. Others helped to print and copy materials to distribute.
For the actual Walk In event, teachers organized three teams. This activity allowed teachers and parents to build solidarity. We learned that organizing with parents and guardians isn't a quick venture, that we needed to divide the workload and work over the long term.
West End Parents for Public Education
We will continue to grow this movement, organize and resist until the cuts to education are reversed and until we've won the schools our children deserve and can thrive in. 
There is a growing network of parent/guardian-led groups all over the GTA and around the province. We know that many education workers are also parents and are welcome in these organizing spaces. Please see the links below to find out more and get involved in your area. 
Our Demands for Strong and Equitable Fully-Funded Public Education 
A reversal of the cuts to public education, the cuts that have already happened and those planned for the future.
A reversal of the harmful changes made; a reinstatement of Indigenous curriculum writing sessions and the 2015 Health Curriculum.
No elimination of education worker jobs.
A fully-funded public education system that includes low class size caps, excellent needs support, no mandatory e-learning and well-maintained buildings.
Funding that provides equitable enrichment opportunities across the system and reduces the burden on school-based fundraising.
An inclusive curriculum and respect for the diversity of our students and educators.
A protected Full-Day Kindergarten pro-gram, and quality, free, safe, universal public childcare.
Please check these links for more information and upcoming actions. https://linktr.ee/schoolwalkins https://www.facebook.com/WEPPEToronto/