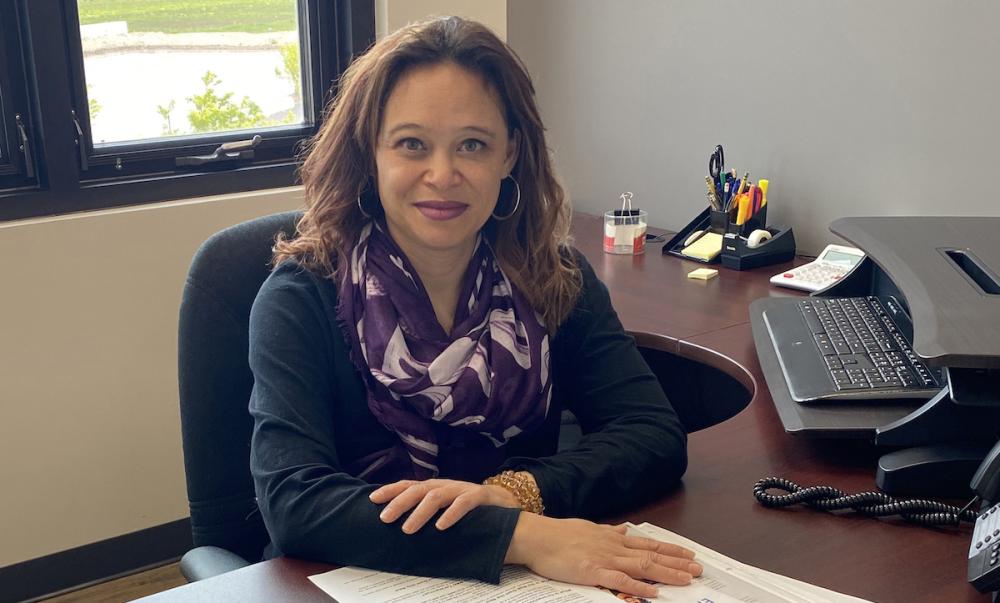 FEATURE
The Power and Impact of ETFO Women's Programs
I am a product of ETFO's women's programs. In my first few years as an ETFO member, I had no idea of the journey of learning I was about to embark upon. Balancing a home and a career was difficult and left little time for my own learning, but through networking and involvement in ETFO and its women's programs, many of those barriers were removed. I did not have to worry about paying for child care to attend professional development (PD) sessions through ETFO, unlike with the school board whose after-hours PD were the only opportunities available for occasional teachers. I did not have to worry that I might not know the latest jargon because the learning happening in women's programs was about developing a social unionist and social justice approach to teaching and learning. I am a first-generation Canadian woman and a single mother and, in my early years as an occasional teacher, I was earning below the poverty line. However, I was also fortunate to have a supportive parent, an education and the physical ability to work a second job. I held multiple identities and those identities fostered many opportunities, but also created barriers.
As I think back to that time in my career, I can't help but reflect on the difference my allies made in my life; people who, both personally and professionally, removed barriers for me around child care access and costs; people who acknowledged and respected my different experiences by listening and allowing me space to express my concerns. Without women's programs, I would not have been able to take part in important learning about equity and social justice or to become a strong ally myself.
Provincial and Local Women's Programs
Women, if you have not yet attended an ETFO women's program, I urge you now to consider how this may change your life. ETFO allocates six percent of its annual budget to women's programming and the professional development that is made available through this funding is unparalleled. Women from all over the province and from all facets of ETFO's membership (including occasional teachers, Designated Early Childhood Educators, Professional Support Personnel and Educational Support Personnel) come together to grow their voices and leadership skills in a safe and inclusive environment.  Women's programs, such as Health and Safety Training, Political Action, Leaders for Tomorrow, Mobilizing for Social Justice, Visions, Beyond the Basics and many others allow women to nurture their strengths, their skills and their connections to one another. Additionally, ETFO offers an annual conference called, "...And Still We Rise," usually held in February. "…And Still We Rise" has taken place for the past 20 years and is always well attended by participants from across the province. A place to celebrate women's achievements through workshops and keynote speakers, this event is unlike any other. To gain access to and information about women's programs, log into the ETFO events portal and read about a multitude of professional development opportunities offered by provincial office throughout the school year.
At the local level, your status of women chair and committee members work hard to provide women's programming in line with ETFO's pursuit of equity, social justice, professional development and advancement of women members. If you are looking for opportunities to reflect, grow and become involved in your local, contact your local status of women chair about upcoming events at the local level. These events can range from an evening of learning together to a weekend retreat. Your local status chair may also have information about other professional development opportunities available through ETFO Provincial and offered in partnership with neighbouring locals, such as Women In Action. This three-part series offers a window into leadership and provides an opportunity to answer the call to action within ETFO. Local women's programs and events provide a great entry point into our union and are a wonderful way to build relationships with other educators in your local community.  
International Women's Day Celebrations
While women's programs always have a powerful impact for women members who are looking for ways to participate in their union and strengthen their connections, International Women's Day events are opportunities to connect more broadly. International Women's Day is March 8 every year. Many locals participate in a Women's Day March, but there are many other possibilities your status of women chair and committee members may be involved in hosting in your local area that do not require the time and travel commitment of programs at ETFO's provincial office.  
In 2019, the ETFO Durham Occasional Teacher Local presented a workshop called Courageous Conversations. In this interactive workshop, participants learned the art of having difficult/courageous conversations to support an equitable working environment. Women who attended were given the opportunity to learn skills that are important for their growth both personally and professionally. Interested women from the Renfrew County Teacher and Education Support Personnel Locals were invited to join in watching the movie "Hidden Figures." A casual and welcoming environment was encouraged with lawn chairs, yoga mats, sleeping bags and comfy clothes. The movie itself raised many of the issues, both past and present, which women face every day. It also was a celebration of achievements and abilities of women to break barriers and build their circles of strength with one another.  
The ETFO Limestone Local developed an innovative, multi-session Limestone Visions Leadership Program for women members in their first 10 years of ETFO membership. A highlight of the March session was a celebration of International Women's Day, with two women keynote speakers discussed leadership through the lens of equity and social justice. In Niagara, women were invited to attend a catered dinner where a local feminist leader addressed the intersectional oppression women face, such as gender, poverty, racism, gender identity, ability etc.
 
These are just a few examples of how locals across the province are working to meet the needs of women members in a local context. At these workshops and events, you can find out more about what ETFO has to offer, engage in your professional community and discover and reflect more deeply on issues that affect women. You might find yourself "bitten" by the union bug or moved so greatly by social justice that you want to expand your experiences. For me, women's programs began a journey that is ongoing and provided the opportunity to build connections with strong, like-minded women across the province. My own network of ETFO women leaders is one where we support one another in our pursuit of social justice and equity. These women have helped shape the person I am today. I like to think, whichever level of involvement you choose, you too will be changed by the strength, courage and determination of the women you meet.
Five Ways to Get Involved in Women's Programs
Contact your ETFO local status of women chair. Ask to be put on the mailing list for upcoming events and where you can find information on events that are open for women members.
Check out your ETFO local web page or go to etfo.ca and sign up to receive the ETFO member newsletter delivered right to your mailbox with information about professional development opportunities.
Log in to your portal at events.etfo.org to see the latest offering of professional development and women's programming.
Chat with your school steward. It is likely they are receiving notifications about upcoming local events and can pass that information on to you.
Connect with ETFO locally and provincially on social media and make sure you sign up to the ETFO eNewsletter. These platforms will allow you a quick glimpse into upcoming events and provide registration information for you.
Sharon Ethier is a member of the Niagara Teacher Local.