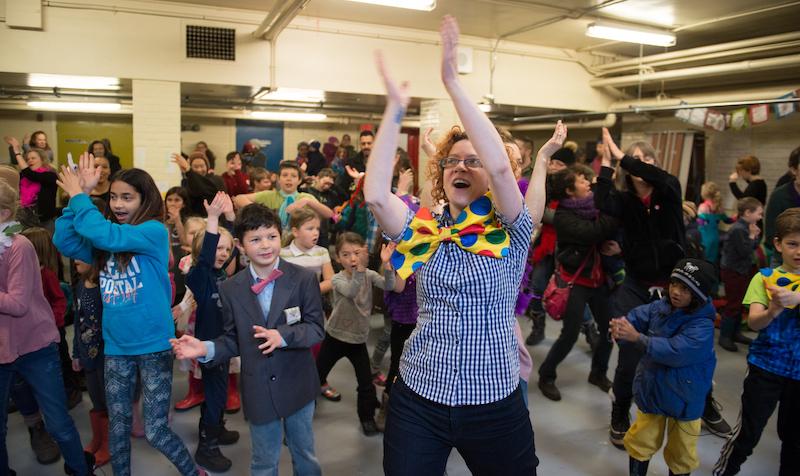 FEATURE
Singing in Solidarity: Social Justice in Music Education
I am sitting with The Grove Choir at lunchtime, in our school in downtown Toronto. We are sharing ideas about how we might re-write the lyrics to an 80s pop song as part of our Gender Splendour curriculum. "Girls Just Wanna Have Fundamental Rights" will be about the messages we receive about what it means to be a "girl," and how we might respond to gender inequality. Music education is a powerful way to explore social justice issues in the classroom. Playing and listening to music creates opportunities for critical thinking and reflection and encourages students to imagine the possibilities of transformation and change.
Elementary students are smart and curious and critical. After drawing two boxes labelled "girl" and "boy," it's easy to generate a long list of expectations around behaviour, clothing, preferences, appearance and attitude. Everyone understands there are consequences for "stepping outside of the box" and challenging the rules around gender identity and expression, including bullying, exclusion and gender-based violence. We discuss where these gendered expectations come from, and how they reinforce binaries, power and heterosexism.
As an educator, I am always trying to create brave and inclusive spaces for my students to ask questions and share their ideas and diverse lived experiences. I know that explicit discussions about power and exclusion can feel validating and overwhelming at the same time, which is why I try to focus on stories of resistance and how we might respond to systemic oppression by taking action. Together, we are learning what it means to be an ally, and we are using music to join our voices in solidarity and struggle.
"Some folks think that girls should like pink
No thanks – please don't tell me what
I should think.
I want to be the one to walk or to run
Oh girls, they wanna have fundamental rights
Oh girls, just wanna have rights!"
Critical Pedagogy
As a classroom teacher who is learning how to integrate social justice and the arts throughout the curriculum, I wonder: How can we implement music curriculum that is inclusive and culturally relevant and responsive? How can we disrupt the dominant way of hearing, which privileges and centres Western European concepts of music and excludes many diverse voices and musical expressions?
In their chapter, "Social Justice and Urban Music Education," Gaztambide-Fernandez and Stewart Rose (2015) argue that to confront the social, economic and cultural reproduction of inequality in our classrooms, educators need to rethink and reimagine how music is being taught. Gaztambide-Fernandez and Stewart Rose offer a framework with critical questions about access, pedagogy, representation and ideology. For example, "Who is participating?"
"What and whose music is being taught?" "How is music political?" "What are the politics of music?"
In "Stumbling towards Clarity: Practical Issues in Teaching Global Musics" (2015), June Countryman encourages educators to use student-led inquiry to address issues of social consciousness, equity, power and privilege in the music classroom. Countryman offers additional questions to explore: "Who made this music and why?" "How would it be used in its place/time of origin?" "How did we come to have access to it?"
 Women's History Month in October is an opportunity to explore powerful questions about access and representation by asking "Whose voices are represented, and whose voices are missing?" One of the ways we can support women's equality is to ensure that we are sharing stories of women who have created/ are creating music as performers, composers, songwriters, producers, studio musicians, DJs, conductors, sound engineers, promoters and festival organizers.
Educators can amplify the voices and experiences of women in music education by creating opportunities for students to research different musical expressions or genres around the world throughout history and celebrating the achievements of women in music. Students can choose social issues that they are passionate about and share or compose their own music to make connections between the arts, artists and social movements.
WOMEN'S EQUALITY PROJECT
ETFO recently published the Women' Equality Project, which provides junior and intermediate lesson plans for students to explore gender inequities and engage in social justice work. There are seven modules available at ShopETFO including "Women and Pop Culture and the Arts." These integrated lesson plans provide educators with background information, guiding questions, arts-infused instruction and invitations for advocacy and resistance. Check them out!
Activity #5 is called "Protest Songs: Women Using Music to Build Solidarity." It begins with an exploration of different quotes and invites students to think about how the arts are used to organize people to address inequalities and call for change in their local and global communities. For example:
"The role of the artist is to make the revolution irresistible." Toni Cade Bambara
"I want to remind us all that art is dangerous. Somebody's out to get you. You have to know it before you start, and do it under those circumstances, because it is one of the most important things that human beings can do." Toni Morrison
"All great art comes from a sense of outrage." Glenn Close
After reflecting on the quotes, educators are supported to lead a discussion with the following prompts: "Art is a radical form of expression that is a disruptive force against systems of oppression. Art is used to get people to think differently, to reimagine an equitable society and to take action. Because of its potential and reach, artists can sometimes face repercussions from the status quo in some parts of the world." (The ETFO Women's Equality Project, Module 7, Page 91.)
Where Do I Begin?
To transform curriculum, educators must include students and families and build relationships and movements. We need to create collaborative spaces to share ideas and resources about what critical pedagogy and social justice education looks like in the elementary classroom. We must include student voices in our curriculum and support students to ask critical questions about access and representation.
As a classroom teacher, I have been teaching my own music for the past 10 years at The Grove Community School. Here are some examples of what social justice music education sounds like at our school.
Example #1: Faith Nolan
I want my students to understand that music is a powerful way to share stories and express our feelings. During African Heritage Month, I use different songs to explore the impact music can have to make change. I was thrilled to discover Faith Nolan, a Toronto-based musician and activist, and I have used many of her songs to support our learning about Black excellence and resistance.
Faith Nolan has an extensive history of social justice activism and music making. Faith was born in Halifax, Nova Scotia. She is of African, Mi'kmaq and Irish descent and identifies as a feminist and a lesbian. Since the 1980s, Faith has been singing songs about women's equality, anti-poverty, systemic racism, 2SLGBTQ+ issues, prison justice, worker's rights, peace and the environment. Faith has released 16 albums, collaborated on several film and radio projects and received many awards. She also leads workshops and choirs.
Her album, "One World," was recorded with members of Elementary Teachers of Toronto. I use the song "We're Different" to explore concepts of power, privilege and anti-racism with my students. As we build our brave and inclusive classroom community, we acknowledge and celebrate the ways we are different from each other. With support, my students begin to understand how these differences impact the ways we are excluded or included in certain spaces. Being an ally means identifying and confronting injustice and discrimination when we see or hear it. In her song, Faith celebrates many of the ways we are different, and at the end, she reminds us we are all similar in one very important way: "We all need kindness, we all need love."
Every March 21, we recognize the International Day for the Elimination of Racial Discrimination with a whole-school assembly. Students from Kindergarten to Grade 8 share their learning about anti-racism and environmental justice. One year, we invited Faith to perform an interactive concert inspired by African Diasporic and Canadian history. She sang songs about Mary Ann Shadd and Viola Desmond, and she invited the audience to sing along. Her songs are fun, engaging and educational. Her album, "Africville," was a source of inspiration and guidance during my grade 2/3 Social Studies inquiry.
Example #2: Ansley Simpson
Music is a powerful way to communicate and connect with one another and with the land. It has been used throughout history to tell stories and to teach. In many Indigenous communities, music is also an important part of ceremony and celebration. Singing and dancing are helping to heal and revitalize cultural traditions impacted by colonization and state violence. As part of our ongoing commitment to reconciliation through education, it is important for educators to amplify the voices of those who have been systemically silenced, including First Nations, Métis and Inuit artists.
Ansley Simpson is an Anishinaabe singer-songwriter. She was nominated for two Indigenous Music awards in 2018 and she was the winner of "Best New Artist." Her new album, "She Fell from the Sky," will be released in 2020. Ansley has a child who attends The Grove, and she has shared music and teachings with our community to support the core values of environmental justice, equity and community activism. As an ally, I am learning about the importance of listening, asking for permission and sourcing the teachings that are shared with me.
"The Humble Song" was recorded by Odemin Kwe Singers. Ansley taught us "The Humble Song" in preparation for Indigenous Peoples Day on June 21. Each of the verses honours the wisdom of all living beings and invites us to "bend down low" to "know what they know." As a community, we learned the song together and sang it as we participated in a Round Dance outside in the field. "The Humble Song" helps us to understand the Seven Grandfather Teachings, which include humility, truth and love. These teachings deepen our understanding of how we are all connected in relationship.
"We will raise each other up, higher
and higher
We will raise each other up."
Example #3: Raw
I had the privilege of studying with Leslie Stewart Rose at OISE and taking her course called "Sounds of Change." Throughout the course, we discussed the importance of creating opportunities for students to compose and improvise music. This creative process requires educators to let go of control and power and trust our students. We explored this transformative pedagogy as we played musical instruments and other found sounds together, layering and listening to each other. I discovered that playing drums is a powerful way to have a conversation, to honour the individual sounds that we create and to celebrate the powerful sounds that we can create together.
Raging Asian Women Taiko Drummers (RAW) is a community arts collective made up of East and Southeast Asian women. Their website describes their music: "We are a Japanese Taiko drumming group that exists as a critical response and challenge to both systemic and internalized oppressions. Through performance, education and community outreach, we seek to challenge, redefine and represent ourselves, and to inspire ourselves and others in striving for racial and gender equality. Through collective membership, artistic creation and active development, we carve space for self-expression, authentic engagement, community and empowerment." (ragingasianwomen.ca/about/)
One year during Asian Heritage Month, we invited members of RAW to come to our school to perform. The performance was strong, athletic and loud. In preparation, we learned how the ancient art of taiko drumming was traditionally performed by men and how it is being used as a tool of resistance to revitalize Japanese Canadian communities. We learned the history of Japanese Canadians and the systemic racism they experienced. RAW helped us understand the concept of intersectionality and how our different social and cultural identities (e.g., race, class, gender) intersect and overlap to create experiences of privilege and oppression depending on where we are. We also learned the collective power and joy of making music together.
Chorus of Change
"Musicking" is a word inspired by the verb "to music." It was created by Christopher Small in 1988 to describe music that is created in relationship by the active participation of everyone involved in making and sharing music. When we empower our students to express themselves through the creative process and amplify the musicking of artists who have been systemically silenced, we can begin to reimagine and transform our school communities as a chorus of change.
Velvet Lacasse is a member of the Elementary Teachers of Toronto. She and Natasha Henry wrote the module "Women and Social Movements" for ETFO's Women's Equality Project.
---
Women Musicians to Explore in the Classroom:
Maylee Todd
LAL
Susan Aglukark
Aqua
Alessia Cara
Jessie Reyez
Veronica Johnny
Ruth B
Jully Black
​Lights
Sarah McLachlan
Celine Dion
Joni Mitchell
Buffy Sainte-Marie
Anjulie Persaud
Keshia Chante
​Esthero
Diana Krall
Loreena McKennitt

Cold Specks
Grimes
Régine Chassagne
Fefe Dobson
Melissa Auf der Maur
Serena Ryder
Shania Twain
Nelly Furtado
Anne Murray
Alanis Morissette
k.d. lang
Carly Rae Jepsen
Charlotte Cardin
Shay Lia
Ria Mae
Kirsten Collins
Nikki Yanofsky
Emmalyn Estrada