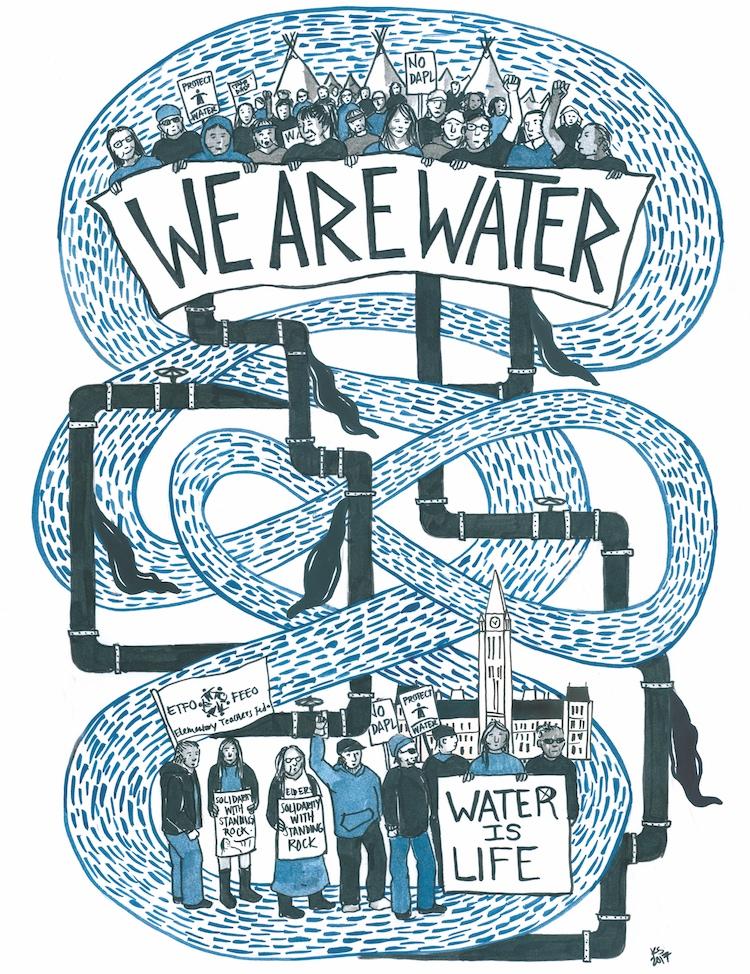 FEATURE
Strategies to Support Climate Justice
In November, I took my two-month old baby on his first political protest. With thousands of others, we marched from Queen's Park to Nathan Phillips Square to stand in solidarity with land defenders fighting the Dakota Access Pipeline. The proposed pipeline threatens local water supplies and sites that are sacred to the Sioux First Nation. Authorities have been brutal and violent in their treatment of protesters at Standing Rock. The march in Toronto was one of the largest in recent years, and many teachers were there to show their support for the land defenders in North Dakota.
The gathering of land defenders at Standing Rock is unprecedented and has captured the attention of people across the globe. The scale of the protests, with 500 tribes and thousands of supporters making their way to North Dakota, has inspired environmental activists all over the world. Although the protests are primarily an assertion of sovereignty in protecting water, they have been re-shaping the conversation about Indigenous rights in the US while making strong connections to the climate justice movement and the impact of the fossil fuel industry on everyone. The protests have included prayer and an articulation of the sense of interconnectedness of all things, issuing a challenge to the dominant worldview that profit comes before all else. The clash of world views is also demonstrated in the ways in which land defenders have responded with love and strength as they have confronted violence from the state and corporations.
As a rule, teachers are thoughtful and progressive. Most care passionately about their students having a bright future and are concerned about social justice. This commitment is reflected in teacher unions including our own, the Elementary Teachers' Federation of Ontario (ETFO). Unions support teachers in integrating environmental stewardship and Indigenous perspectives into our classrooms and teaching practices, and many teachers strive to foster a love of the natural world in the children they teach. This has resulted in an explosion of interest in outdoor and environmental education, and an emphasis on environmental responsibility in the revised Science and Social Studies curricula.
Connecting to Climate Justice
When climate change first emerged as a topic of public debate, it was largely seen as an environmental issue separate from the people and economies responsible for its creation or feeling its impacts. Over the last decade, climate change has increasingly come to be seen as a political, economic and ethical issue that impacts communities unequally. The climate justice movement connects the impacts of climate change with racial, social, gender and economic inequities. Although the entire planet feels the impacts of climate change, climate justice acknowledges that communities and nations with less privilege feel the greatest impacts, while having the least political and economic power to make change. Activists like Naomi Klein have talked extensively about how, in the current economic and political system, wealth is consolidated in the hands of a small minority of people who make decisions with broad reaching environmental impacts.
Climate justice is not just about the interconnectedness of environmental issues and social justice. It is focused on solutions and new economies that have a human and nature-centred approach to development that serves the needs of the global majority without destroying the planet. The goals are to defend communities and the global commons by defending the right to a healthy environment. The climate justice movement seeks to resist policies that perpetuate the climate crisis and to push for policies that will transform social and economic structures away from profit-driven, growth-oriented, exploitative systems and replace them with a just transition to a world that is people driven, equitable, democratic and post carbon (see demandclimatejustice.org).
The climate justice movement was especially vocal and visible during the UN climate meetings in Marrakech, Morocco in November 2016, where climate justice groups such as the Women's Earth and Climate Action Network, the Indigenous Environmental Network, 350.org and the Climate Justice Alliance underlined the mismatch between the Paris commitment to keeping the global target of 1.5 degrees warming and actual emissions and government plans to meet the target. For Canadian climate justice activists such as the Canadian Youth Climate Coalition, this involved demanding no new fossil fuel infrastructure including pipelines such as the Kinder Morgan and Keystone XL. Canadian climate justice activists also included demands for investment in a justice-based transition to a green economy and green jobs as well as constitutional ratification of the United Nations Declaration on the Rights of Indigenous Peoples.
One of the tactics increasingly looked to by the climate justice movement is divestment from fossil fuels. Go Fossil Free (gofossilfree.org) is "an international network of campaigns and campaigners working toward freeing communities from fossil fuels" and a project of 350.org, one of the major international organizations involved in grassroots climate change activism. They have had a great deal of success supporting organizations, foundations and pensions in divesting from fossil fuels over the last few years.
What is Divestment?
Divestment is essentially the opposite of investment. It means getting rid of stocks, bonds or investment funds. Divestment from fossil fuel is an important strategy for those concerned with climate change because it conveys dissent, stigmatizes the fossil fuel industry, exposes the extent to which this industry influences our systems and institutions and redirects investment. "Divestment brings to light a concrete, tangible, practical way to start dealing with a problem as complex and daunting as the climate crisis (climatejusticebc.com/why-divest/).
Divestment from fossil fuels is premised on the notion that if it is wrong to wreck the climate, it is equally wrong to profit from that wreckage. It is especially important that institutions serving the public good such as universities, religious institutions, governments, unions and pension plans divest from fossil fuels. To date, Go Fossil Free estimates that 5.44 trillion dollars has been divested from fossil fuels either by a full commitment to go fossil free or through partial commitments such as divesting from coal or the tar sands. There are currently 644 institutions divesting and 12 percent of the institutional divestments are pension funds.
Lets Talk Pensions
Most pension plans that have already divested from fossil fuels are Australian or European with a few American pension plans including the largest public pension fund in Washington DC and the New York City teachers' pension fund among others. So far, no Canadian pension plans have committed to fossil fuel divestment of any kind.
Pension plans very rarely undertake divestment on ethical grounds because they have a fiduciary duty to get the highest returns. The exception to this was a global movement, in which the Ontario Teachers' Pension Plan (OTPP) participated, to divest from all South African holdings to fight apartheid. Massive global divestment coupled with social movements led to Nelson Mandela's release from prison and the creation of democracy in South Africa. No one looks back on that decision with regret. Teachers were clearly on the right side of history. Today, we face another global movement, this time combatting climate change and teachers are once again faced with an important choice.
The Ontario Teachers' Pension Plan is financially strong, and is Canada's largest single-profession pension plan with $171.4 billion in net assets. OTPP prides itself as having built "an international reputation for innovation and leadership in investment management and member services." Given the large size of the pension plan, it is very influential and often impacts decisions made by other large pension plans. While there have been calls in the past for divestment, the pension plan continually reminds those calling for change that its purpose is to generate superior long-term returns while minimizing and controlling risk. For the last number of years, I have joined teachers who care about climate change at the annual meeting of our pension plan where we called for divestment from fossil fuels. The demands for divestment are steeped in science and an understanding of how critical the issue of climate change is. Fifteen of the 16 warmest years on record occurred since 2001 and a NASA press release from January 2016, reported that 2015 was the first time global average temperatures were one degree Celsius or more above the 1880- 1899 average. Canada's temperatures have risen 1.6 degrees since 1880. Two degrees is considered the tipping point and many scientists fear we have already gone well past this point and serious, catastrophic climate change is inevitable.
The climate movement accepts the fact that the world has exceeded its carbon budget as the organization 350.org suggests in its movie Do The Math (math.350.org). Our planet has almost 2,800 gigatons of carbon reserves the fossil fuel corporations would like to burn but, if we wish to avoid catastrophic climate tipping points that would push us well past two degrees Celsius of global heating, we can only use 565 gigatons.
This past spring, media began limited coverage of the protests being held by the Standing Rock Sioux Tribe. The Dakota and Lakota peoples who live at the reservation have a vast traditional territory that includes the land being proposed for the 1,100-mile pipeline. The tribe has strongly objected to the pipeline, which, if built, is slated to carry more than half a million barrels of crude oil across four states, potentially endangering numerous waterways and aquifers. The current proposal would see the construction of the pipeline less than half a mile from the tribe's reservation border, encroaching on sites of religious and cultural significance, as well as traditional and ancestral lands. Throughout the summer the camp that housed the resistance to the pipeline attracted people from around the world who support the land rights of the Standing Rock Tribe and their call to protect the sacred waters threatened by the pipeline.
As I am writing, unarmed peacful people are being brutalized with rubber bullets, tear gas, pepper spray and water cannons. Hundreds have been seriously injured. Thoughtful teachers will talk about how awful this is, and some wil, no doubt, show up to the next rally in solidarity with Standing rock. our next step, however, is to reckon with the impact of investment in fossil fuels and our responsibility to object to projects that violate human rights and destroy our planet. As teachers, we can and must ensure the value and durability of our pension fund while moving away from dependence on fossil fuels and toward building a sustainable green economy that values human rights and respects that treaty rights of FNMI Peoples. Let the courage of the land defenders at Standing Rock be our touchstone as we make a bold leap towards investment.
Thanks to Adam Davidson-Harden for many suggestions and editing support.
Kim Fry is a member of the Elementary Teachers of Toronto.