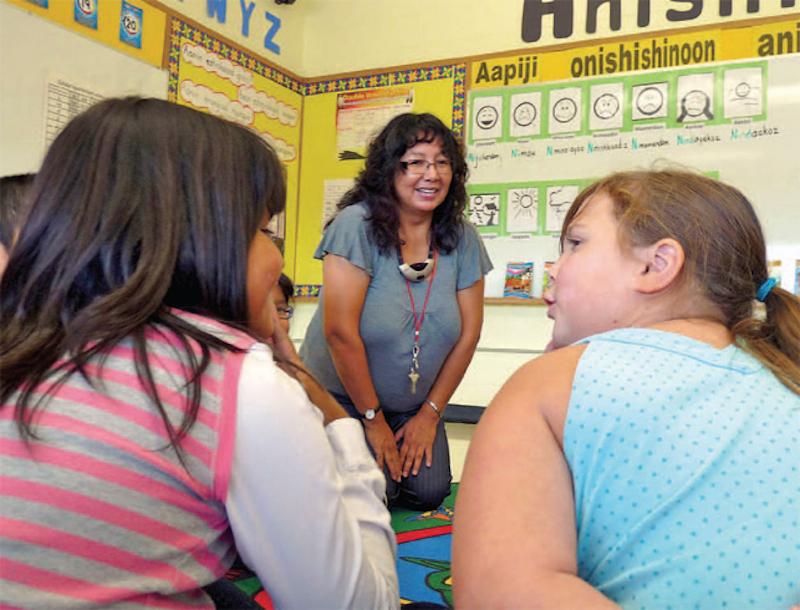 FEATURE
Understanding the Legacy of Residential Schools
The education of First Nations children in Canada has a dark history. Today, as Grand Chief Stan Beardy told ETFO's annual meeting, inadequate funding means many students have to leave their families and communities to get an education. In the last century, they were forced to leave to attend residential schools. This had disastrous consequences. An estimated 80,000 former students of residential schools are still living today. The impact of the residential school experience has not faded away.
Bernice Greene is an Ojibwe woman living in Iskatewizaagegan #39 who currently works for the Keewatin-Patricia District School Board. She is a classroom teacher and has been a Native Language/Native Studies special assignment teacher, responsible for facilitating the development of curriculum resources, supporting teacher practice, acquiring resources, and co-ordinating and providing professional learning to both Ojibwe and Oji-Cree teachers.
Bernice attended the Cecilia Jeffrey Indian Residential School in Kenora, operated by the Presbyterian Church from 1900 until 1964, after which it was operated by the federal government. She shared her story with Darline Pomeroy.
I was born and raised in Iskatewizaagegan or Shoal Lake #39 Independent First Nation and I attended the Cecilia Jeffrey Residential School in Kenora from 1967 to 1973. The old residential school built on our reserve in 1902 was closed in 1929. The school was moved to Kenora to accommodate students from surrounding communities. It closed in 1974.
My mom and dad and their parents attended the same residential school. My grandparents did not talk about it. They accepted that they had no choice. Parents always feared being jailed if they tried to keep their children from attending. Gradually, resistance grew toward the schools and there were some who tried to hide their children.
My mom spoke about her experiences at the residential school and they weren't very good experiences at all. Students were encouraged to get involved in hockey, the school band, or dancing for local competitions. If they did not achieve well they were severely disciplined. My mom was a dancer and she was often hit across the shins if she or her partner missed a step. To this day, she remembers all of those dances; but what a way to learn, through harsh discipline! She said that the students attended classes for part of the day and then worked on the farm, or in the kitchen and laundry.
My mom must have thought it was the thing to do as we were sent to residential school as well. I would never have sent my kids.
Starting school
I can clearly recall my first day at Cecilia Jeffrey and the long steps leading to the main doorway, people speaking only English, and then my mom leaving and my sister and I being dragged down a long hallway. Our hair was cut, we were checked for lice, and a solution was put on our heads for delousing, and then we were showered. All of this in spite of the fact that my mom kept us clean and our home was always immaculate. We were then taken to the sewing room to be given our new clothes, and then to the dormitory and shown our cubbies and our beds.
From then on, everything happened according to the ringing of a bell. If you didn't follow the routine, you would be punished. I can remember standing, looking out the window, and through my tears hoping to see something or someone familiar and wishing I was back at home with my mom. We were sent to bed early and siblings were not allowed to communicate, nor were other students. My older sister was determined to go home to look after our baby sister because she knew that our mom was struggling with an illness. My sister was a "runner" and she would run every chance that she got, and she was finally told to stay at home.
I stayed, and I suppose that I was one of the lucky ones who was never punished as severely as the others because my father was the chief at the time, and my grandparents were prominent in the community. They were commercial fishermen and so had the money to come and take us home almost every weekend.
A soul-destroying experience
By the time that I was in grade 4, Cecilia Jeffrey became a public school and accepted other students from the surrounding communities. Later all the CJ students were allowed to attend the public school system in Kenora.
As a child and then when getting into my teens, I encountered a lot of racism at school. Being Indian was not seen as a good thing; another bad seed that was planted into our heads. These years destroyed my pride and self-esteem. I became fearful. The school buildings were frightening, even in how they were constructed. I was introverted and shy. The whispered comments of others stayed in my mind. I had no trust and I looked for the negative. I watched everyone and questioned everything. I still do today. I think if I had known about my own history and that of my people, I could have spoken up for myself when people would say we got everything for free.
Education was something to avoid. It was destructive and harmful and I look back to a bleak, dark past. I didn't want anything to do with education! Just when I think that I am past residential schools and their impact, I break up (quietly sobbing).
Overcoming the past
As a young girl, I got involved in some church groups in my community over the summers, and I came to admire some supervisors and some of my teachers. There were some people who were accepting and didn't judge. I believe that this played a part in my career choice as I remember a few times wondering what it would be like to be standing in front of a classroom.
I've been fortunate to have many relatives, aunts and uncles, who played important roles in my upbringing. They have maintained and retained the traditional teachings, and so I've learned to change my attitude and how I perceived things. I feel very honoured to have had the opportunity to listen to their teachings and the words from our Elders. They share so much knowledge of our ways of knowing and how we fit in this circle of life. This has helped me to overcome the negative effects of the residential school system and has influenced me to become the teacher that I am today.
When I got my teaching qualifications, I taught for several years on my own reserve and then decided to teach off-reserve. I remember my first day of teaching at a high school. As I was walking up those stairs and down the hallway, I reverted back to my high school days and began thinking, "What are they going to say about me?" and I felt so insecure and fearful at that moment. I had to really pull myself together and remind myself that it was another time and another place and that now I was where I needed to be, "teaching"! It was such an awakening for me and to realize that the non-Native students were just as unsure of me because they had never had a Native teacher before. Over several days there was a shift and we accepted and respected each other.
Lasting scars
What is so important for today's educator's to know is that residential schools affected the whole community. It is Canadian history, everyone's burden. Many people have long-lasting scars from being in those schools, and you see it when you're around your own community or towns. There are those who are not well, who are consumed by alcohol and drugs. There is that whole ripple effect that happened. People did not know how to parent because they never got that in residential school; the basic needs of being nurtured and of nurturing weren't there. There are many things that occurred in those schools that people are not aware of. Both students and families became suspicious and distrustful, and even today it takes a while for me to gain trust in people. Would you trust a government or school that subjected you to all of that abuse? Probably not!
The government apology didn't do too much for me. It seemed insincere, too little, too late. The Truth and Reconciliation process might bring some closure for some people. For some families it is too late.
What teachers can do
How should we teach First Nations students? Be real. Be respectful. Children quickly interpret body language and facial expression. Teachers need to be receptive and to bring out the "shine" of each student. As an educator and most importantly an Anishinaabe, I believe that it is very important for students to know about their own history, their own teachings, their own language and culture. It is important to empower them with that knowledge so they can become the best they can be. We are told by our Elders to share our knowledge, share our own stories, in the hope that it will have a positive impact on others. I believe that there is good in everybody and that everyone has a special gift, and that as teachers we have that responsibility to continue to work at getting the students to share their gift with everyone.
Teachers should make an effort to educate themselves about the First Nations peoples and to make information readily available about residential schools. We need to continue to integrate the history and customs of First Nations people into what we do. There should be a link between language and culture for First Nations students, as they are inseparable. Look and listen. That is what Anishinaabe people are told and it is still good advice. That is how I survived tough situations.
Residential Schools in Canada
Residential education was at the centre of the federal government's policy of assimilation of First Nations peoples. Residential schools were first established by religious communities, before Confederation. However, in the 1880s, the federal government decided that these schools would become the model for Aboriginal children's education and began funding them. In 1897 attendance became compulsory. The government began closing schools in the 1960s, but continued to operate some as residences or hostels. The last school closed in late 1996.
Compulsory attendance at residential schools meant First Nations children were removed from their homes and communities. The Report of the Royal Commission on Aboriginal Peoplescharacterized the process this way: "Aboriginal languages, customs and habits of mind were suppressed. The bonds between many hundreds of Aboriginal children and their families and nations were bent and broken, with disastrous results."1 As Trent University professor John Malloy states in A National Crime, the concept was violent and abusive in its intent.
The schools were desperately underfunded, which led to a level of care and education far below an acceptable standard. Many students were physically and sexually abused by school administrators and staff. A lack of medical care and sanitation led to disease and death.
In the 1980s students began disclosing the abuse they had experienced at residential schools. By the late 1990s they had begun to launch lawsuits against the churches and the federal government. A settlement agreement included compensation for residential school survivors and provided for the establishment of the Truth and Reconciliation Commission. As well, on June 11, 2008, Prime Minister Stephen Harper issued a formal apology on behalf of the federal government.2 He apologized to former students, their families, and communities for both the excesses of residential schools and the creation of the system itself.
Notes
1. trc..ca/website/trcinstitution/index..php?p=12
2. The full text of the Prime Minister's apology can be found atainc-inac.gc.ca/ai/rqpi/apo/index-eng.asp.