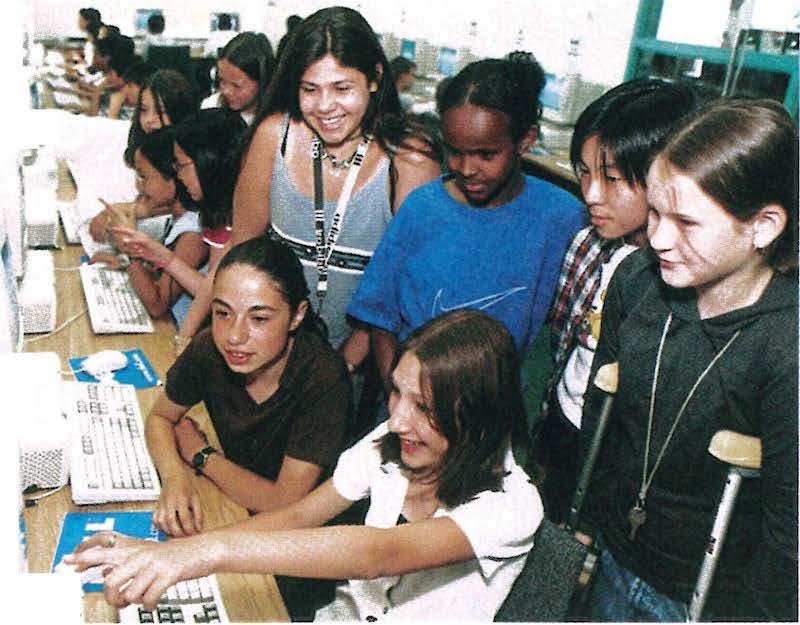 FEATURE
In a world increasingly dependent on technology, technology is everybody's business — or should be. Girls' and women's enrolment in math and science courses has improved over the last few decades. However, females remain under-represented in the higher-level courses in these disciplines. (AAUW, 1999).
Frequently, girls lack self confidence, not believing themselves capable of coping with technical matters. People around them might also take boys' interests in these subjects for granted and assume girls are not interested in these areas of study. Most computer games are more appealing to boys' interests than girls'. These early games help to build a child's confidence with using computers and other technology. (Furger, 1998)
An increasing number of occupations are technical in nature. Girls who study math, science and technology have access to more interesting and expanding occupations. These occupations also tend to be the highest paid.
At Sixteenth Avenue Public School in Richmond Hill, we noticed that, although our computer lab was open to all students during noon hours, very few girls were making use of this opportunity. It was time to take action!
To increase girls' interest in technology, and to change girls' traditional choices of subjects and course programs, we decided to create Women in the Web. We invited our grades six, seven and eight girls to join Women in the Web, an ongoing voluntary program designed to help them to feel more comfortable with technology. Forty-five students signed up and we were ready to go.
Women In The Web had several exciting components:
Women in the Web met once a month.
We used the school's computer lab during the lunch period to help the girls become more comfortable with the hardware and software.
We taught the girls how to take photographs using a digital camera.
We helped the girls create and publish their own Women In The Web newsletter.
We offered "real work experiences" in the form of field trips. We visited Black's Photo Laboratories, the Ontario Science Centre Computer Laboratory, Ontario Place, the Toronto School of Business, as well as the control tower at nearby Buttonville Airport.
We invited four guest presenters to talk to the students about their occupations. Having a large corporation as a neighbour proved to be an advantage when our first invited guest, IBM's Mona Kirageu, used the LCD projector to make her presentation to the group.
At the end of the year, the girls used hyperstudio and presented a slideshow (using the LCD projector) for students and parents, highlighting the various technological events they had attended.
In its first year, Women In The Web was a great success. We are running it again during 1999- 2000. The staff at Sixteenth Avenue look forward to continuing to expand girls' horizons through building their confidence in using technology.
Marilyn Millar is a Teacher Librarian at Sixteenth Avenue Public School, Richmond Hill. Vanessa Rabinowitz, a tutor with the Tutors in the Classroom initiative, is currently a pre-service teacher at York University.
---
References
See for example, American Association of University Women. Gender Gaps, Where Schools Still Fail Our Children. New York: Marlowe & Company,1999.
Furger, Roberta. Does Jane Compute? Preserving Our Daughters' Place in the Cyber Revolution.