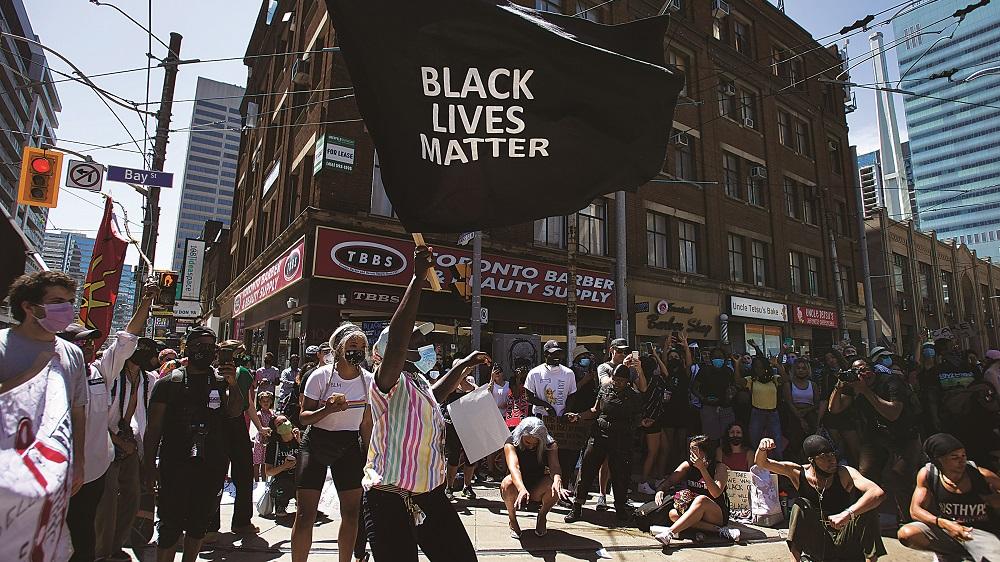 FEATURE
Anti-Racism and the Fight for Black Lives
I recently joined educators from across the province to participate in ETFO's powerful four-part webinar series called "Anti-Racism and the Fight for Black Lives." It was an amazing professional learning opportunity, and it should be mandatory for all ETFO staff and members.
The program involves watching a short video clip each week and engaging in courageous and critical conversations about anti- Black racism with other educators. ETFO released the video, "Anti-Racism and the Fight for Black Lives," during the 2020 Annual Meeting, as part of the ETFO's Anti-Black Racism Strategy. This video is available to all members on etfo.ca, along with guiding questions to explore on your own or with your colleagues.
In the video, we hear the voices of Sandy Hudson, who is a political activist, writer and founder of Black Lives Matter Toronto, and Phillip Dwight Morgan, who is a journalist, poet and researcher. The interview is moderated by Alejandra Bravo, who has a history of working for progressive social change with grassroots, immigrant and labour groups.
What Does It Mean to Fight For Black Lives?
Throughout the interview, Sandy Hudson and Phillip Dwight Morgan share knowledge and insights about how educators might use this moment of "awakening" to fight for Black lives and demand systemic change. One of the issues we discussed each week was the impact of police in schools and in communities, and the call to action to defund or abolish the police and re-imagine different ways to respond and care for each other.
Each session was organized and facilitated by ETFO staff and included opportunities to break out into smaller groups to share ideas and reflect on the guiding questions. The active and deep engagement of the participants was inspiring. Educators from Kindergarten to Grade 8 leaned in to listen, learn, ask questions and share resources.
What Is Your Positionality?
In our first session, the facilitators shared a definition of anti-oppression work as the "active and consistent process of change to eliminate individual and systemic oppression." ETFO staff acknowledged that we are all in different places on our learning journey towards equity and racial justice and that being an ally sometimes means standing up, standing behind or standing with others depending on your positionality.
Throughout the program, we were encouraged to move from individual to collective action and think critically about how we can use our privilege as educators to work towards systemic change. As an educator committed to learning and unlearning what anti-oppression looks like in schools, I am always grateful for the opportunity to learn from and with other educators about how to disrupt institutional racism.
How Can We Transform Canadian Institutions?
To change or transform systems of education, we must first recognize that schools are not safe or equitable spaces for all students, families, staff and community members. Schools continue to reinforce White privilege, and create barriers for Black, Indigenous and other racialized students. Please read the following Voice articles about the impact of institutionalized racism in schools:
Anti-Black Racism in Education and Black Students Navigating the Pandemic by Stephanie Fearon
Sisters in the Struggles: Racialized Women and Microaggressions in the Workplace by Angelique Cancino-Thompson
Can You Spare Some Change?
In Part one, Sandy Hudson invites us to think about the difference between fighting for Black lives and fighting against anti-Black racism. She says, "It is not enough to be a good person. You have to be ready to accept a change in your living conditions, so that everyone else's living conditions, in particular Black people's living conditions, can change." Alejandra Bravo agrees; "Solidarity is only real if it costs you something."
Educators have a lot of political and economic privilege that can be used to fight against anti-Black racism. As we consider how we might change or transform our institutions, we need to be ready to put our money where our mouth is and fund direct action. We also need to recognize how institutions are interconnected and advocate for change so that all communities have equal access to health care, housing, paid sick days, food security, accessible transit, etc.
Two organizations that are working hard and deserve our financial support are parentsofblackchildren.org and showingupforracialjustice.org
Why Defund Police?
Part Two focuses on defunding the police. In the video, Sandy Hudson challenges us to shift how we think of safety and security in our society. She explains that police have historically harmed many communities, including Black, racialized, Indigenous, 2SLGBTQ+ and the under-housed. This harm and violence is still ongoing, and police make some folks feel less safe. Hudson shares facts about how police budgets are allocated, and argues that funding must be provided to support services that are more effective and build alternatives.
Why Are Police In Schools?
As part of this program, we were very fortunate to meet Phillip Dwight Morgan, and hear more about his personal experiences and his advocacy work. Morgan encouraged us to critically reflect on the role of School Resource Officers (SROs) and police in schools and to consider the impact for Black staff, students and their families. He also questioned where police are located in Toronto schools, and the racial bias inherent in defining "high priority" neighbourhoods as areas with a higher percentage of racialized families. These discussions helped me to understand where the call to defund the police comes from and how it connects to the fight for Black lives.
What Is The Role Of Educators?
In Part Three, we discussed other forms of anti-Black racism, racial profiling and bias that need to be addressed in schools and other spaces for youth. We also shared ideas about how we can use our position to best create and promote changes in our school and local community.
In our break-out groups, we talked about the importance of representation, and the need to hire more Black educators. We also talked about centering stories of Black resilience, pride, innovation, love and joy. Educators from rural and northern communities talked about how they might teach students about anti-oppression without "othering" or reinforcing "us/them" inequities in their predominantly White communities. Everyone agreed that addressing anti-Black racism in our schools benefits everyone.
ETFO has developed many resources to support educators to engage in this work, including White Privilege Lesson Plans and ETFO Black 365 Canadian Curriculum.
What Does Solidarity Look Like?
Part four focuses on the need for awareness and action. In the video, Alejandra Bravo asks if changing our individual behaviour will help make Black lives better. Sandy Hudson and Phillip Dwight Morgan criticize the impact of individual acts of solidarity if they do not include the call to action for systemic change. For example, many folks are comfortable hanging a poster that says "Black Lives Matter" or posting a black square on their social media, but they are not comfortable advocating for the abolishment of police.
The discussion in our break-out group was interesting because we all have colleagues at the beginning of their learning journey who need to do the individual work to recognize how they are impacted by and complicit in reinforcing oppression and privilege. We talked about how we might support all members in our school community to engage in courageous conversations about racial justice and anti-oppression work. After participating in this program, I understand that fighting for Black lives must also include advocating for systemic change and funding direct action to fight against anti-Black racism.
What Are The Next Steps?
ETFO has a lot of privilege and political power to advocate for systemic change. I look forward to hearing about the next steps ETFO will take to continue to fight for Black lives.
I am grateful to ETFO and all the educators who created this professional learning opportunity, and I am inspired by the members who showed up every week to actively engage in this critical work. I encourage everyone to watch the videos, and to participate in the webinar series when it is offered again.
(Originally published on the Heart and Art Blog)
Velvet Lacasse is a member of Elementary Teachers of Toronto.