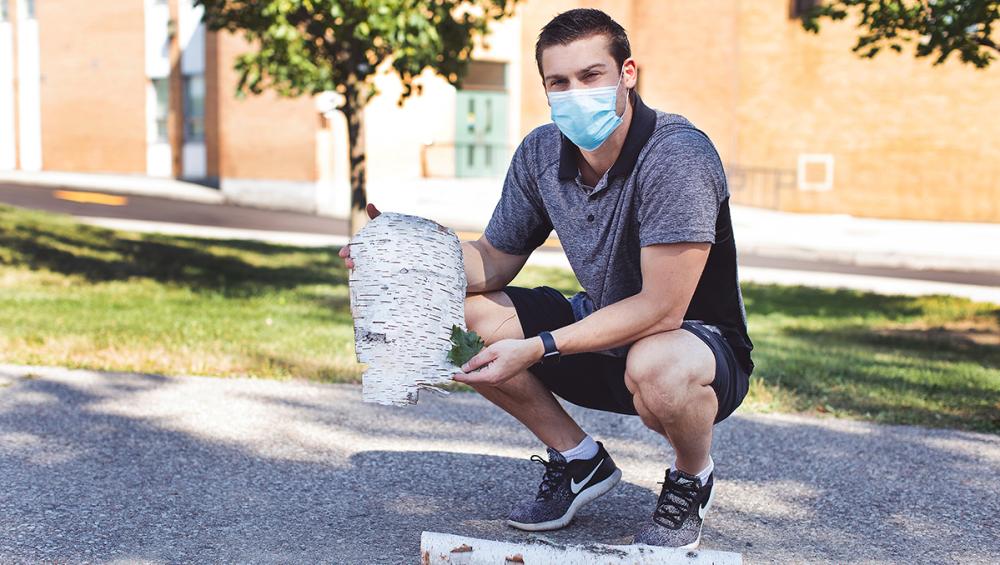 FEATURE
Building Equity and Inclusion in the Classroom
Last summer, as I was preparing for my return to school, I found myself scrambling to collect last minute resources and classroom materials and to make changes to classroom building activities, as if planning throughout the summer wasn't enough time. It was a new school year, a new group of eager Grade 1 students and another chance to foster an inclusive space. Teaching primary grades is always an exciting opportunity, especially in French Immersion. Students are at the age where learning is about exploring new ideas and interests. Due to the disruptions of COVID-19 at the end of the year, distance learning became a new challenge for all of us – parents, students and educators. The classroom suddenly took a new shape and students missed out on opportunities for face-to-face learning, social interactions with friends and collaboration. This summer, while we prepare to head back to school, I want to highlight the need to take a step back to look at your classroom and emphasize the importance of building empathy and a sense of community. We need to commit to fostering identities and reintroducing students to the classroom with care and compassion.
Having most students come from an inquiry play-based model in Kindergarten, it is always a goal of mine to mimic as closely as possible an inquiry play-based learning environment in Grade 1, while setting specific curriculum expectations that hold students accountable for their own work. As simple as that sounds I would find myself addressing student anxieties, fears and total shutdowns as the change from Kindergarten to Grade 1 can take some time to adjust to. One way to combat these challenges is to develop trust and inclusivity. As educators, we know that before diving into the curriculum it is essential to create a safe environment in our classrooms for our students. Part of our work at the beginning of each year is creating a community in which students work side-by-side, while respecting each other's thoughts, space and identities. I realized that for students to thrive and excel with their own learning they first need to feel comfortable they are being heard and seen in the classroom. This is important regardless of whether we are teaching in class or online.
I would go through my usual classroom building ice breakers and management approaches such as Tribes Learning Community (which is fantastic); however, I always seemed to be falling short of the ideal classroom community I envisioned. The school I currently work at has students who have come from all over the world, so I asked myself, how I could create an authentic learning environment that fostered my students' cultural backgrounds and embraced their differences.
An Educator's Responsibility
In the early months of the school year, my administrators suggested that I join our school's Indigenous education committee. I saw it as a great opportunity to attend PD sessions and learn more about the history of Canada and Indigenous cultures. Little did I know, I would start a new journey of my own that would completely reshape my classroom landscape to make it more equitable and inclusive. Students thrived academically and socially as I introduced an Indigenous education lens to our learning and our classroom community.
The Truth and Reconciliation Commission of Canada (TRC) issued 94 Calls to Action in 2015, which included calls for schools and communities to teach students about Canada's history of residential schools. It was a workshop with guest speaker Kevin Lamoureux (then Associate Vice-President Indigenous Affairs and faculty member at University of Winnipeg) on the role of educators with respect to the 94 Calls to Action that helped challenge my teaching practice. As he spoke about the importance of culture and identity, as well as our role as educators in truth and reconciliation, he addressed those of us who might be hesitant to re-learn history: "Even though you didn't create the problem you can be part of the solution, and what we don't transform, we transmit." I decided to do some re-learning of my own to further understand Indigenous education, its cultural significance and history. I attended Indigenous workshops and listened to speakers sponsored by the Peel District School Board. I noticed a common theme shared by Indigenous voices: Identity and the importance of cultural values.
Historical Context
Back in my classroom, I began by laying a foundation of historical context for the students, discussing what the land acknowledgement means and why it is read every morning on the announcements. The false notion I had that primary students were not ready to understand the significance of historical events was immediately erased. We kept conversations easy to understand and covered life prior to contact with European settlers and land disruptions that took place all over Turtle Island. Students then expressed their own appreciation for the land and what it meant to them, making immediate connections. Throughout the year, I incorporated provocations around the classroom to spark student interest. Students explored the use of natural resources and various inventions from Indigenous Peoples such canoes, sunglasses and to boggans. The provocations allowed students to interact with physical artifacts and make their own connections to their lives.
The Importance of Identity
We continued by exploring how Indigenous knowledge and teachings were learned and passed down through stories and discovered the Seven Sacred Teachings. The students started understanding how each animal represented a teaching and were able to relate to the teachings and reflect on their own identities and what they already brought to the class through their own cultures, traditions and histories.
I began to see an immediate impact on the class. Student interactions became more meaningful, caring and respectful. I created portfolios in the classroom for each student; whenever someone had finished a task or a drawing or wanted to share an artifact of significance to them, they would attach it to their portfolio. As student interests changed over weeks, months and years, so did the portfolios. I understood more about my students by going through the portfolios each week and seeing how their identities were constantly changing and being seen within the classroom. After covering the Seven Sacred Teachings the students found they most connected with the Buffalo and Eagle, the teachings of respect and love. We created two mailboxes with the teachings, hung them on the wall and had students fill the boxes anytime they created something or wanted to share work that resembled the teachings. I would find drawings of nature and friendship and, surprisingly, apology notes in the mailboxes addressed to me after having a tough day with the class.
As we got deeper into the school year, the empathy that was displayed during times of conflict was vastly different from September. Student relationships were genuine, and apologies were soon done in groups. When a student had an issue, it was never a one-word apology, it was a consolidation from multiple friends. As we gained an understanding of and compared Indigenous cultural values with those of our own, students began to submit their work while writing their names in their own native language, without being asked. It took me by surprise and really spoke to how students became proud of their own cultural heritage. I finally felt as if the abundance of culture the students brought with them was being acknowledged and activated to create an inclusive environment.
Earlier on in the year we had issues with students being teased about the foods in their lunches. Nearing the end of the school year, I saw students proudly show off their cultural dishes along with their countries of origin, no longer hiding their heritage and identities. The entire climate of the classroom changed and took shape over the course of the year as each student was able to explore their own cultural identity.
A New Perspective to Building Classroom Communities
It was guest speaker Kevin Lamoureux who reshaped my approach to the classroom with his views on Indigenous education and having a holistic approach to teaching. I did a lot of relearning for my own practice by taking a more holistic view of the classroom, valuing creativity, culture and identity as equally critical components to curricular subjects and other competencies. Through this understanding I decided to guide my students to spend equal amounts of time exploring creativity, personal interests and mastery of daily skills. Students took pride in showing others how to tie shoes, draw animals and create physical education activities, moving away from traditional learning within the standardized curriculum. In spending time to foster student interests with a holistic whole-body approach, when it came down to performing our traditional tasks within the curriculum students demonstrated more willingness to learn and participate. In the past, I had emphasized to my students the importance of reading, writing and developing work stamina in completing daily tasks at school. I am not downplaying the importance of these competencies; rather I'm suggesting how critical it is to provide students with a model of education that embodies spiritual, physical, emotional and intellectual domains.
Along with rethinking my educational approach to the curriculum I sought to provide a more universal design learning environment for the students. I noticed students constantly standing at desks while performing writing tasks, drawing while spread out on the carpet or reading in a corner of the room. Our school desks and chairs were barely being used. I decided to raise a handful of desks and attach therabands on the bottom for sensory stimulation, lower desks and replace chairs with pillows and contact local gyms to donate yoga balls. The new seating arrangement took time for students to adjust to. They had to learn how to share and respect one another's preferences, but I soon saw students working more enthusiastically and efficiently.
Indigenous Points of View
What I have learned through this experience with my students is that creating a classroom community while incorporating Indigenous education is not only about teaching significant historical events. We can approach our class with an Indigenous point of view, seeing education beyond test scores and curriculum and providing opportunities for students to engage in meaningful conversations. Remember Lev Vygotsky's social development theory from our Bachelor of Education programs? He believed learning was a social act where teachers and students engaged in constructive dialogue and created knowledge together, contrary to a traditional style of the teacher being the only voice in the room. This theory goes hand in hand with teaching through an Indigenous lens as we provide students the chance to develop their own unique gifts in a respectful space. As we head into this unprecedented year with an even greater community building challenge ahead of us as a result of COVID-19, it is more important than ever to allow students to take part in meaningful conversations and contribute to the classroom in their own way, just as citizens contribute to their own growing communities. Without an equitable and inclusive classroom, student success can never be maximized. Overall, student knowledge about Indigenous cultures, their own culture and their own identities increased. Students showed growth in their social interactions with peers (modeling the Seven Sacred Teachings) and were successful in creating a brave and equitable learning environment. We acknowledged the classroom would never be free of error, but we also committed to taking appropriate actions to remedy our mistakes.
Erik Hakim is a member of Peel Elementary Teacher Local.