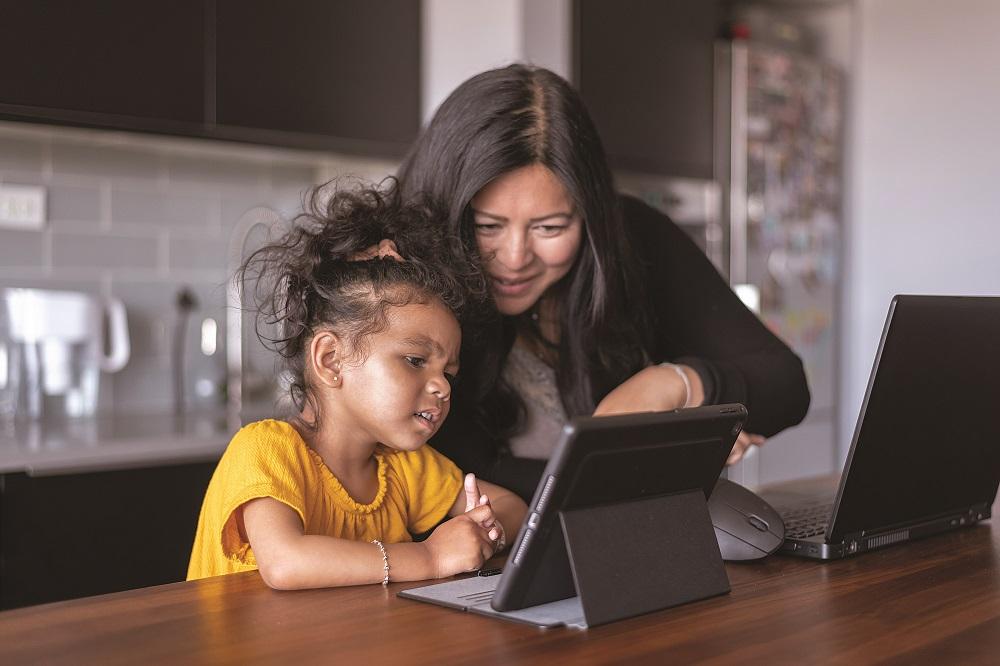 FEATURE
Building School Community Using Google Meet
As we embarked on this unprecedented year of masks, COVID-19 tests, restrictions and concerns about student and staff health and safety, I wanted to find a way to connect my students to the rest of the school despite our need to stay separate. How could we build school community and reach beyond our small group in the classroom to create moments as a school and mark both important moments and everyday ones together?
I wanted to create a way for students to feel we were all together, even though we are using a virtual space. I thought, what if my class created a Google Meet and invited all the classes in the school to join. My VP loved this idea and so it began. Daily announcements on Google Meet.
To start off, I surveyed the staff to see what time worked best for everyone. Once survey results were gathered, we began the programming. I wanted to combine a traditional announcement with technology to make it engaging for students. So that's where we started, with the date, the cycle day and a quote. Now here's where the fun began, and where you get to add a bit of personalization!
Connecting Over Google Meet "O Canada"
Our daily announcements include different versions of "O Canada." Since we are able to do our announcements in a video format, we get to choose different versions every day thanks to YouTube. Several times a week we will have a version that is not in English, celebrating the diversity in our school and the diverse cultural makeup of Canada. We are also able to highlight many of Canada's Indigenous communities and celebrate their languages. The exciting part is that we have been doing this since September and haven't had a repeat!
Daily Weather Report
We wanted to set up our announcements like a newscast, so we decided we needed a weather report. For this portion of our announcements, I have a student check the weather forecast for the day and then read it to the others. This helps teachers and students prepare for recess and, in some cases, prepare for the next day (if there is a big snowstorm coming). For the students reading the forecast, there are many benefits. They get to practice their fluency and vocabulary. New weather words and phrases come up (forecast, precipitation, extreme weather alert), and the student in this role has to become familiar with them to present as a newscaster.
Celebrate The Languages Within Our School!
Our school has a French Immersion program, so after we do the quote of the day in English, we pass it over to one of our French classrooms and hear the quote done by a student in French. But that is only one way of doing it. As students become more involved you could challenge everyone to see how many languages are in your school, and students or teachers who feel comfortable could then translate the quote into another language they speak. This allows students to see their peers and other teachers in a different way, as experts in a language new to them. Instead of our ELL learners feeling like their first language isn't important, this gives us a forum to celebrate them and honour the language they first learned.
Equity and Inclusion
First, make sure you seek out the land acknowledgement for your particular school.
We chose a day and do weekly readings of our land acknowledgement. Now, instead of students just hearing this once in a while during announcements or on special occasions, they hear it weekly. We acknowledge that the land we teach, learn and live on was first home to the Indigeneous people from across Turtle Island, the Missisaugas of the Credit and the First Nation of the Anishinabek Peoples (for our particular school in Orangeville).
Use your school board's equity and inclusion calendar. Using the equity and inclusion calendar exposes your students to celebrations and traditions they may not celebrate. There are many short videos on YouTube that provide an explanation of how traditions are celebrated and the importance they hold for the community.
Using this format, we've highlighted many important dates such as Every Child Matters, recognizing the impact of residential schools, Bullying Awareness and Prevention Week, Transgender Day of Remembrance (2SLGBTQ+), International Week of the Deaf and World Cerebral Palsy Day (to name a few). Most school boards have developed these calendars. They enable you to plan ahead and allow for the creation of engaging content.
Highlighting Sustainability Initiatives in Your Community
With Earth Day around the corner, the Google Meet forum offers a plethora of opportunities to reach out to local experts. To prepare for Earth Day 2021, I decided to reach out to local town councillor Grant Peters to inquire about the sustainability efforts taking place in Orangeville. The results were surprising and encouraging. If I hadn't reached out, I never would have known what our little town was up to in helping the world do its part. Here are a few of our town's initiatives:
The town has an official guiding document, known as the Sustainable Neighbourhood Action Plan (SNAP).
The Sustainable Orangeville Committee has several ongoing projects, including restaurant waste reduction, urban harvest program, active transportation (bike lanes, etc.) and tree planting events.
The town also has a Communities in Bloom Committee. The town has competed at the national level. It won the national award for environmental stewardship in 2019.
In Orangeville, we hold two tree plantings every year and have a canopy target of 40 percent by 2040.
The town of Orangeville gives Environmental Awards each year and hosts a number of Earth Week events.
During Earth Week 2021, my class and I intend to find out more about these initiatives by recording a Google Meet interview with Grant Peters. We are looking at collaborating with the town to present classes with eco-challenges.
Troubleshooting
Here are a few tips that have helped us meet the needs of our school as well as follow board protocols along the way:
There is a feature on Google Meet that allows you to record the meeting you are having. We do this daily and post the recording on the school's staff Google classroom.
Make sure you check your school's FOI (Freedom of Information) policy before posting anything on a Google Classroom.
Prewatch, prewatch, and one more time... prewatch any video you plan to use. There are many great educational videos on YouTube, but prewatching is still a must. Regardless of the title or tags claiming the video is intended for elementary audiences, it is still on you to determine if the video is appropriate to show at school.
The Shift Back To Online – January 2021
When the news broke that we would be switching to online learning in January, I knew immediately that I would continue doing announcements for our school. Because we had a format that worked so well, it didn't matter if we were in school or not. Initially I recorded them on my own but then opened it up to my students and asked if they wanted to participate. Those who did had time to practice their script, and we would meet during school hours to record. We also had "special guests" – these were some of our French teachers in the school who weren't regulars in our announcements but agreed to join remotely to say our quote of the day in French. To address student privacy, I made sure the students involved had all the proper paperwork signed and the permission settings only allowed students and teachers with our board email addresses to view the video. Continuing with announcements was important to me because it had become a regular part of everyone's day. We now had a format that didn't need to be watched live; it could still be just as effective now that we had gone to remote learning.
Preparing Them For The Future
When I went into this, I knew my students would be up for the challenge and had high hopes that there would be a few classes that took an interest. What I couldn't initially see were the benefits. The students involved in the roles take them seriously and look forward to preparing for the next day. They give suggestions for the script and help their peers by listening to each other and giving feedback on fluency. Before we go live, the students who are not directly involved have a role as well. They watch the door to make sure we are not interrupted, work the lights and remind others to stay quiet. This sort of experience allows them to see all the preparation that is involved in a production like this. It allows them to see that the people who do this as a career didn't start off being able to read a script perfectly. They get to see how far they've come. They see their confidence grow and their reading abilities increase, and they become celebrities within their own school! This project did more than build community within my classroom. It did it for the entire school. The feedback from staff, students and parent council has been nothing but supportive. For many teachers it has become part of their morning routine. Despite these challenging times, these announcements prove that we really are "virtually" all in this together.
Google Meet announcements cover many areas of the curriculum. They encourage my students to seek out different areas of knowledge and look to experts in our community. The students in charge of presenting the announcements gain new knowledge and the confidence to share that knowledge with others. Students of all ages are exposed to many celebrations and traditions outside of their own experiences. The community is empowered when kids make an effort to learn more about the people who live around them, the traditions that exist and what is being done to ensure that the town they live in is doing its part to protect the environment. These students are proud to live and learn in their town. I see my students as experts other students will seek out one day. I couldn't be more proud to be a part of this incredible initiative. Personally, I will look back on 2020-21 as the year that encouraged me to think outside the box and come up with an innovative way to connect with my school.
Lindsay Mall is a member of the Upper Grand Teacher Local.