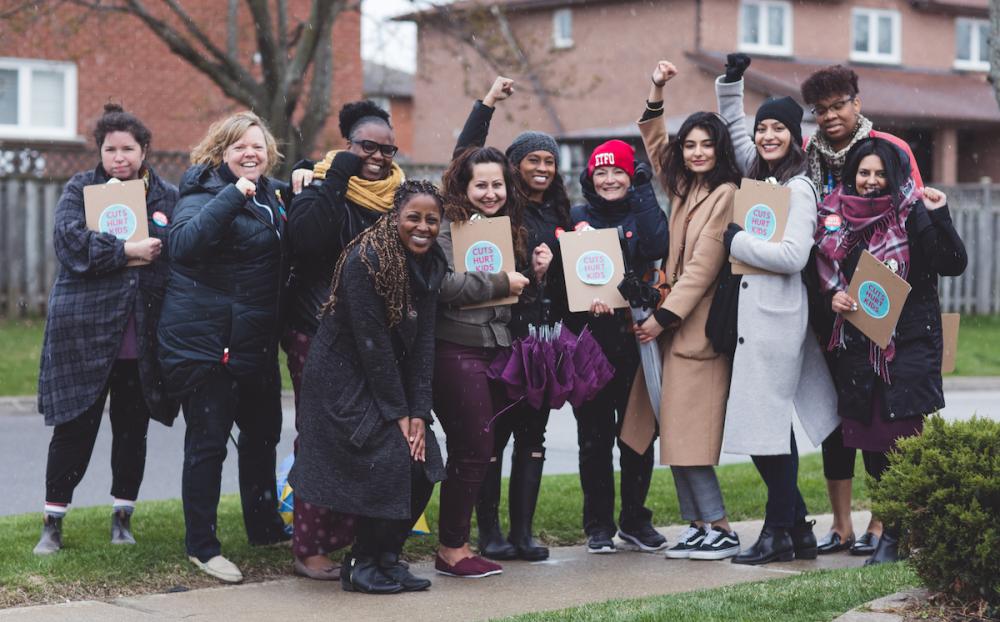 FEATURE
Building Solidarity Through Community
Last year, the face of Ontario politics changed for the worse with the election of Doug Ford and the Conservative Party. With their first budget, the Conservatives implemented deep cuts to the public sector; everything from public education and autism services to public health, libraries and legal aid were on the chopping block. They simultaneously allocated billions to corporate tax breaks. Although cuts and rollbacks are the hallmarks of any Conservative government, this government's laser focus on slashing support to Ontario's most vulnerable communities is dangerous and undermines Ontario's social safety net.
The provincial budget has shaken the very foundation our public services are built on and clearly shows that the Conservative government does not care about equity in education or any other public service. For education, the cuts mean ballooning class sizes, the disappearance of grants and programs that benefit Indigenous and racialized youth, the defunding of programs for students with special needs and the loss of early intervention programs.
Budgets are political documents that outline the priorities of a government. It is clear that the well-being of Ontarians is not a priority of this government. In response, we need to consider how we can organize in our communities to build social movements to protect the public services we rely on every day.
Action Through Community
On March 15, when Minister Lisa Thompson announced the plan for cuts to education, frustration would be the best way to describe the tone of my conversations with colleagues. As front-line workers, we know how significantly these cuts impact our students, but awareness of the impact without knowing what to do about it can be paralyzing. As a new teacher, the cuts were difficult for me to navigate. This quickly changed as I found inspiration from educators, online and in person, who reminded me of our long and successful history of collective activism. Whether it was responding to Rae Days in the 90s, Mike Harris' austerity measures or the Liberal's Bill 115, we, as educators, have a history of mobilizing our communities and being vigilant for our students.
Understanding our past gave me the strength to start thinking about the future and the ways in which we can move from awareness to action in our communities. My teacher friend Navreet and I started brainstorming. Though these cuts impact us, it is students, their parents and our neighbour hoods that will end up feeling the long-term losses. So, how do we share our knowledge about the cuts to public education? The answer was simple. We go directly to the people affected, meeting them where they are, at their homes, and talking to them about the long-term impact of cuts to the public education system in an authentic way.
At the same time, we wanted our action to affect political change in our region. Despite the fact that the Conservative government won a majority in the last election, some of those seats were won by thin margins. Our hope was that the conversations we would have at the door could potentially change minds and impact the next election. Using publicly available data from Elections Ontario, we picked three ridings that had swung right in this round but have the potential to be won by a more progressive MPP in the future and decided to organize door-to-door canvasses in those ridings. It was an idea born out of a chat among friends; go around our ridings, knock on doors, have conversations and seek support for our Building Better Schools Action Plan (BuildingBetterSchools.ca). We decided that we had to try to do something.
Conversations Matter
There is a misconception that canvassing is only for the experienced. In reality, all you need is an issue that matters to you and a desire to tell your story. That is all it takes to form a real connection with the person on the other side of the door.
We used the Building Better Schools Action Plan to make a petition and spark conversation at the door and created a small list of talking points that revolved around our mutual goal of preserving a just and fairly-funded public education system. It did not take much convincing to gather a few of our friends and family to come out and canvass for public education. As I had canvassed before, I also developed a cheat sheet of best practices and a FAQ for folks who were canvassing for the first time.
Over the course of a month, we organized two canvasses. Both times, we were a small but mighty crew made up of teacher friends and family. The conversations at the door were overwhelmingly positive. Responses ranged from wanting more information regarding the cuts to venting about how angry people felt about being left out of the consultation process. We even encountered Conservatives who felt betrayed by a premier who had repeatedly promised no job losses under his tenure, and instead delivered cuts that will inevitably result in losses. The stories we heard were so powerful that I began to jot a few down. One story came from a woman recounting her educational experience growing up in rural Ontario. She was in a class of 40 students and spoke of the direct impact of overcrowding on graduation rates. Only a third of her class actually graduated high school. This is an example of the very real ramifications of an underfunded public education system.
More than anything, there was a desire to act. Not only did community members sign our petition, they wanted to receive more information about future actions teachers were hosting in order to get involved. The experience left us all feeling renewed. Instead of living in our anger and hurt we were able to connect with others and from that connection organize together and feel empowered.
Our small group of canvassers initially began knocking on doors to spread awareness on the impacts of the funding cuts on public education. However, as we spoke to people within our communities, we realized that what they really wanted was to get involved, to work together to build coalitions of solidarity around public education as well as the broader issues that affect us all.
This is when I turned to the Political Action Committee at my local as well as educators from secondary schools. I walked them through what we had done and wanted to do: go out into our communities, knock on doors, have authentic conversations and build our networks of community contacts so together we could fight to protect public education and other public services. Both partners were interested and excited by the opportunity to engage with community members. We decided on a few goals:
Holding our next action in a public space. This would have twice the impact, as we will not only be engaging with community members but also speaking to people we do not necessarily speak to when canvassing.
Growing our small squad of canvassers.
Planning a coalition meeting with educators and community groups.
Hosting a town hall meeting and inviting elected representatives and community partners to ensure that our message of stopping the cuts to education is heard by as many people as we can reach.
Moving Forward Together
Activism is a work-in-progress. It is constantly in flux and if this experience has taught me anything, it is that a small idea can grow into a larger one only so long as we try. We are not alone in our struggles, but it is incumbent on each of us to find and engage those who care about our issues. This is how we build coalitions. Our partners help us every step of the way and together we set goals for the future, grow our movement and support one another.
Doug Ford may have callously delivered devastating cuts to public services but he has most certainly underestimated the power of our collective voice and the tenacity of our spirit. From an influx of parent and community support to students organizing walkouts in order to protect their future, we are seeing an unprecedented wave of solidarity in opposition to cuts to funding for public services. This is where I find hope – in the solidarity we develop as we organize together. The fight to defend public education from the Conservative government will require all of us, but in the words of Arundhati Roy: "A better world is not only possible, she is on her way. On a quiet day, I can hear her breathing."
Vickita Bhatt is a member of Peel Teacher Local.
---
8 Ways to Engage in Action in Your Community Starting Small and Aiming Big
 
As educators, our work is political. We engage our students in critical thinking, self-reflection and promote agency within our classrooms. As Paulo Freire said, the information we present changes "how they see the world and how they participate in society." Clinging to the idea of neutrality doesn't serve us in today's current political climate; we cannot afford to take a step back from engaging in politics. In fact, doing so would be a show of privilege. The time to act is now.
Subscribe to email updates from your local! Our power comes from having knowledge, so make sure that you are up to date on the latest news regarding the cuts this government is pushing through and what we are doing about it.
Engage with teachers on Twitter, Facebook and other social media sites. Building and participating in an online community is a great way to find allies and share best practices on what teachers across the province are doing to mobilize.
Be visible! Wear Red for Ed, wear your buttons, change your Facebook profile picture. You never know who might notice one of those and come up to you to chat about the cuts.
Don't be afraid to have conversations. As educators, we are well equipped to have conversations rooted in real life examples with people who may not understand the dangers of an austerity budget. Talk to your friends, your family, really anybody who will lend you an ear.
Tap a peer to come out to a committee meeting or event within your local. It is incumbent on us to activate our networks to find the next group of members to get involved in fighting back against austerity.
Grab a friend or three, go out and canvass your neighbourhood, talk about the cuts to education, hand out material, have conversations with your neighbours. Your local can help get you those materials.
Collect email addresses of supporters so that you can continue to build a larger coalition. We need to make sure we stay in touch with folks, and the easiest way is through email.
Organize your own event through the coalition! From town hall meetings to handing out literature outside an MPP's office, it can be small or large – the number should never be a factor. Every conversation we have puts pressure on the Conservative government.