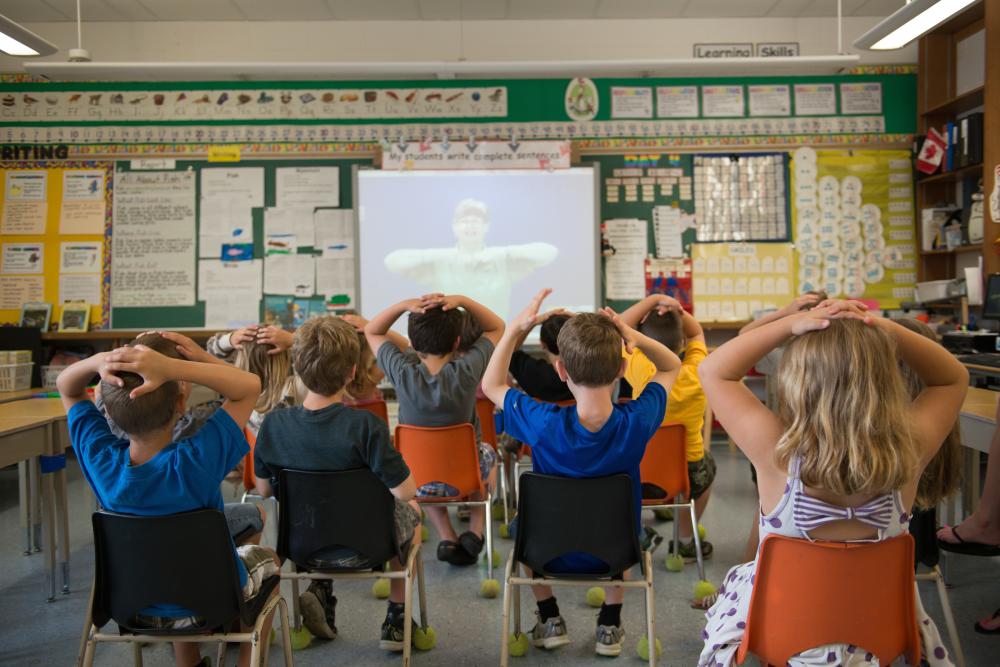 FEATURE
Digital Human Library: Bring The Field Trip Experience Into Your Classroom
"Who are we videoconferencing with today, Mrs. Cassell?" These are the first words I hear as my students enter the room. I have been a full-time elementary teacher with the Avon Maitland District School Board for the past nine years, teaching students in the primary and intermediate grades. Shortly after I started teaching I began integrating technology into my classroom program using a variety of SMART products, Edublogs, Google Apps for Education and iPads. One of my goals is to inspire in children an appreciation of how their lives are continuously enriched through the process of learning. And connecting my students with the world of learning that exists beyond the walls of our classroom is why I founded the Digital Human Library.
Take Me There
In 2011, I began experimenting with videoconferencing in my classroom to provide my students with new and exciting twenty-first-century opportunities for learning. Beginning in March of that year, my Grade 2s started to inquire about what it is like to live in different communities around the world. During one of our Community Circle Check-In Chats (this is when we talk about what we love about our learning community and share one wish), Kara said, "Mrs. Cassell, I wish we could talk to kids living in different countries, instead of just reading about them on the computer and in books."
After sourcing out new learning partners using ePals, in countries like Mexico, the United States and Russia, we revisited our learning goals and created our success criteria. I purchased a webcam and we downloaded Skype. It was time to connect with the world.
In three months we had videoconferenced with students in over 12 different countries, including Kenya, Argentina, the United Kingdom and Colombia, to learn about other cultures, traditions, celebrations and languages. We also exchanged emails, videos and presentations with students living in countries where time zones didn't permit a face-to-face connection. After reflecting on our learning during our next Check-In Chat, we agreed that it was the most exciting learning experience we had ever had. We felt connected to the world – it was exhilarating.
Fuelled by our enthusiasm to connect with people who wanted to share in our learning, our next wish was to collaborate with experts in the sciences to help us answer our questions about animals. One of our more challenging questions was "How do scientists learn about animals that live in the wild?" So we contacted Field Trip Earth (fieldtripearth.org) at the North Carolina Zoo to find out. The following week, we videoconferenced with Conservation Associate Mark MacAllister. Mark taught us about how the U.S. Fish and Wildlife Service tracks and tags wild animals. He showed us a video that was taken from a helicopter using an infrared camera as they pursued a red wolf. Infrared cameras are used because the vegetative cover is so thick that animals are not visible. With the infrared camera, the heat from the red wolf's body was picked up and we could see the animal clearly. We also saw pictures of animals captured in the wild, and researchers recording their observations. Two weeks later, when we were inquiring about reptiles, Mark joined our class again to teach us about turtles. We were able to see a live box turtle up close and ask Mark all of our questions about reptiles. It was nothing short of amazing. Did I mention that all of these incredible learning experiences were free?
As my students and I continued to connect with new learning partners around the world and my "human library" began to take form, the school year came to an end. The possibilities were endless. Later that summer I founded the Digital Human Library – a new kind of library designed for teaching and learning in the digital age.
Collaborative Problem Solving
Our Grade 2 classroom is a collaborative community of thinkers, problem finders and problem solvers. We investigate the curriculum in concrete, colourful and imaginative ways. We extend our learning community beyond the walls of our classroom by collaborating with students and experts from around the world using the Digital Human Library, our class blog, individual student blogs and Google Apps for Education. Using new technologies to connect with the world inspires us to think more critically about what we think we know, and collaborate with others to make decisions about the process and products of our learning. We understand that "making mistakes = new learning" and when we take the time to reflect on our learning, we have some really exciting aha! moments.
This past spring my students started bringing in living things from outside after recess. They were most interested in caterpillars and snails and began asking a lot of questions. And so our inquiries began. We explored and photographed nature using our iPads, identified plants and wildlife, and recorded our observations in Field Notes. Soon our very own caterpillars arrived and we raised painted lady butterflies, observing the complete life cycle. Throughout our inquiry we collaborated with Digital Human Library meBook expert Karin Davidson-Taylor, an educator at Royal Botanical Gardens (RBG) in Burlington ON, using Padlet, our class blog and individual student blogs. We later videoconferenced with Digital Human Library meBook expert Cheryl Tyndall from the Butterfly Conservatory in Niagara Falls ON, to help us answer our new wonderings about the differences between butterflies and moths.
During this time other groups of students had started inquiries about different living things like frogs, snakes and bears. After weeks of observing live tadpoles, a leech and a corn snake, we engaged in a series of videoconferences and blog conversations with Digital Human Library meBook expert Field Trip Earth at the North Carolina Zoo. This time Steve Gerkin joined our class to help us explore our thinking about amphibians, reptiles, mammals and birds. We got to see several different live animals up close, including a snake, turtle, prairie dog and owl. Steve also showed us animal skeletons, shells, furs, feathers, teeth and eggs. We asked him a lot of questions and learned so much.
Creepy-crawly Things
Our final inquiry about living things brought us back to insects, after observing so many fascinating insects outdoors. We reconnected by videoconference with Digital Human Library meBook expert Karin Davidson-Taylor from Royal Botanical Gardens to help us with our inquiry. Karin began by showing us different habitats at RBG, and then asked us to explain what insects we would find in these places. Then she showed us live ladybugs and aphids in two different habitats. Karin reviewed the characteristics of an insect before leading us in an action song – "Head and Thorax, Abdomen" – sung to the tune of "Head, Shoulders, Knees and Toes." Later we were challenged to observe and identify whether live snails, millipedes, sow bugs, ants and beetles were insects or not. We learned about the purposes of an insect's antennae, and saw a luna moth's antennae under Karin's document camera. It was so magnified we could count the individual hairs on each antenna.
Did you know that insects don't have noses? Karin showed us live caterpillar larvae and a dragonfly nymph up close and taught us about their different breathing holes. Needless to say we were surprised to learn that the dragonfly nymph is a butt breather! Karin made connections to the conversations we had on our blogs and reviewed the way a butterfly sips nectar though its proboscis. Then we watched a live caterpillar's jaws up close as it ate a leaf and we imitated how its jaws moved from side to side, which Josh pointed out is different from the way mammals chew. After a series of final questions we said goodbye to Karin and thanked her for collaborating with us.
Critter-cal Thinking Skills
Following our videoconference about insects, we revisited our Reading and Analyzing Non-Fiction (RAN) chart. We use this adaptation of the KWL chart by Tony Stead to help us think critically about our wonderings, whether it's something we read in a book, learned online, or discovered during a videoconference. We revisited what we thought we knew, and confirmed our thinking by moving our sticky notes with our questions and ideas into the appropriate columns: Confirmed, New Learning, and Misconceptions (what we couldn't prove).
Next I created a shared wall on Padlet for the students to add what they still wondered about. My students quickly retrieved their iPads and used Qrafter to scan the QR code. Our collaborative brainstorm had begun. Students took the next 20 minutes to read each other's ideas and questions, and to publish their own for further inquiry. During this time I created a small guided-writing group to collaborate on a shared Google Doc. We worked together to summarize what we learned during our inquiry, which we later posted on our class blog.
Collaboration Is How the Real World Works
As educators we are challenged with the responsibility of engaging students in learning so that they develop the skills and knowledge they need to be successful in today's world. By supporting our inquiries using tools like Google, iPads or other tablets, and the Digital Human Library, we show our students what is possible. We teach them new ways to be creative, to improve on the quality of conversations they have with others by collaborating and problem solving with a global audience, to think critically about their thinking, and to document their learning journey. It is about reciprocating with an emphasis on quality, providing students with authentic experiences to read and write in digital spaces, and observing digital citizenship responsibilities and rights. It is about making learning and thinking visible, searchable and available to others.
If we continue to be the sole providers of content by only teaching what we know, then our students will only be capable of our best. I see this as one of our greatest challenges. Instead, we need to teach our students to become knowledge builders, by finding creative ways to introduce students to ideas that are of interest to them – ideas that offer inquiry potential or promise in terms of opportunities that will motivate students to engage in sustained inquiry on their own. It is then our responsibility to be responsive to our students' learning needs by supporting their creative problem finding and problem solving. Our role is now one of facilitator, skill developer, questioner, collaborator and critical cheerleader as we connect our students to the world using resources like the Digital Human Library.
Digital Human Library
The Digital Human Library is a free educational resource designed to support K-12 student inquiry, by connecting Canadian teachers and students with organizations and experts around the world who are delivering interactive curriculum-based programs using videoconferencing technology. My vision is to create a more equitable educational experience for all by engaging students in modern collaborative learning using the technologies that inspire them to learn.
Geography should not be a barrier to great conversations and meaningful experiences for students. I believe that all students should experience the world of learning that exists beyond the walls of the classroom. I believe in using simple and easily available technologies to create global connections for today's learners. And I believe that when relationships are strengthened between global communities and schools, all students succeed. Brandon, one of my Grade 2 students, said it best: "Mrs. Cassell, we love videoconferencing. It's so exciting to meet people all over the world because then we don't have to listen to you anymore."
By creating the Digital Human Library, I hope to inspire other teachers to think differently about how they engage their students with the curriculum in our digital world.
Never doubt that a small group of thoughtful citizens can change the world. Indeed it is the only thing that ever has. — Margaret Mead
If you would like to learn more about the Digital Human Library, or to connect with Leigh Cassell's class, please visit digitalhumanlibrary.com and edublog.amdsb.ca/cassell.
Leigh Cassell is an Avon Maitland District School Board Technology Coach, SMART Exemplary Educator, SMART Certified Interactive Teacher, Google Educator, and Founder of the Digital Human Library. She is a member of the Avon Maitland Teacher Local.