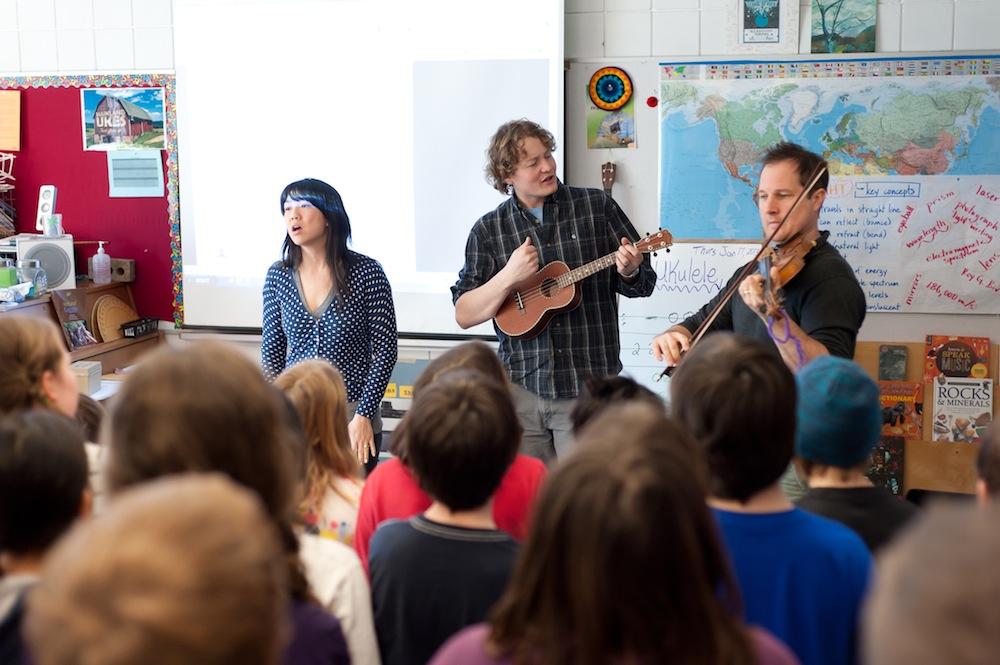 FEATURE
Discovering the Magic of Music: Ottawa Elementary Students Write a Song about
In the summer of 2012, Dana Campbell, a grade 2/3 teacher at Churchill Alternative School in Ottawa, heard a song that resonated so much for her that she called a fellow teacher so that she could play it for her. The song "Safe Here," by Juno-nominated folk singer Craig Cardiff, talks about community, contribution, and turning words into actions. Together, the teachers decided to take this experience into their classrooms by inviting Cardiff to work with their students on creating a song that resonated with them.
In November 2012, after months of brainstorming and planning, Dana and her colleague Natalie Shorkey, who teaches Grade 4/5 at Churchill Alternative, had Cardiff join their classes and the whole school to participate in a day-long workshop to talk about "Music as Magic" and to work together to compose a song: "Love Turns I into We."
Lindsay Chung spoke with Dana and Natalie about their experiences a week after the workshop.
How did you come to invite a singer-songwriter into your classroom?
Dana Campbell: There was a song on Craig's album Floods and Fires that I heard called "Safe Here" that really resonated with me. I wanted to find a way to bring it into the classroom. I met with my colleague Natalie and we listened to the song together. There are quite a few lines that embody a lot of what we focus on at our school. We wanted our kids to understand that having a safe environment is not just being physically safe, but also having a place where you can make mistakes and learn. We also wanted to talk to them about the difference between having one person contributing, versus a collective all working together. We felt that this idea was very powerful because it talks about how to make change happen both on a global scale and in our school community. It comes down to the idea of reminding children that they can make a difference.
Natalie and I ended up going to Craig's concert at the Black Sheep Inn in Wakefield, Quebec. After the show, we approached him with the idea of coming into our school to work with our community and it snowballed from there.
Is music a big part of school life?
Natalie Shorkey: We're fortunate in that we have a lot of knowledgeable and musically inclined teachers at the school. For kids who struggle with academics, music can provide an opportunity for them to excel.
How did you incorporate "safe here" into your classes?
DC: We started by introducing the song in mid-October and focused on a few Big Ideas, including what community, contribution, and "I" versus "we" thinking are. We brought our classes together four or five times, brainstorming and working in teams. It was a nice time frame – it gave students time to talk about what they heard in the song and come up with ideas for what they wanted to sing about. The students felt that the song's lyrics had many layers: we are all needed and valuable, we all have important things to share, and we need to take action to make positive changes in our communities. To get my little ones engaged in breaking down the song, I'd say, "We will be detectives and ask, 'What is the author secretly trying to tell us?'"
NS: At the junior level, we talked about big-picture thinking and how important it is not to get overwhelmed. It was quite nice to bring together the different ages. It really gave my older students a chance to mentor, and Dana's students a chance to work with older students – and feel safe doing it. In preparation for the workshop with Craig, we shared the song with the school, had multiple discussions around "Safe Here" and its Big Ideas with our students and had them think about "Music as Magic."
How did this project connect to the curriculum?
NS: It links to several layers of the curriculum and some that are not part of the official curriculum but are equally important. In terms of the song, we were composing a piece of music and collaborating with others and learning rhythm and beat.
With language arts, we were making inferences and using our schemas and what we saw in the text to make sense of it. Text busting, which is a process where you look at any piece of text and break it down to explore its meaning, relates to reading comprehension and writing. We take the text and break it apart into various pieces in order to understand it on a deeper level. We look at the intended audience and purpose, and then have the kids identify the Big Ideas and write a summary.
Social studies, as part of the grade 3 curriculum, related to our discussions about community. We talked about social justice and feeling safe, taking risks, and contribution. We also had multi-aged groups and students working together.
What happened when Craig came to churchill?
DC: He stayed for the whole day and the entire school participated in creating a song called "Love Turns I into We," which speaks to some of the key messages we heard in Safe Here but makes it the students' own. We again had multi-aged class groups that got together. We created a schedule that incorporated one Primary and one Junior class that were paired to participate in a 50-minute session. Each class had the opportunity to pool their ideas and add their own verses to the song, which resulted in a song that reflected the entire school's ideas of what love is.
Craig listened to and wrote down the children's ideas and helped solidify them to create "Love Turns I into We."
What stood out for you most about the day?
DC: I think what we saw in the students and in ourselves was inspiration. A few teachers came up to me and said they had never seen some of their students so engaged. From a teacher's perspective, it was sheer pride.
This was a real labour of love that we worked on for a number of weeks, and to see it unfold and blossom was amazing. The word transformative comes to mind. It really transformed the kids in a positive way, especially those kids that don't engage as much in what's going on.
NS: In our workshop, every student had their hand up. Music is something that I think moves and connects all of us; it brought the lessons to life.
What will you remember most about the day?
NS: I don't think there is one thing. It's the whole process. Learning the song, creating lessons around it, and then meeting the songwriter – were all equally important because all of these parts form building blocks for learning.
 What do you hope your students have taken away from this experience?
DC: In the big picture, a further understanding of working together and how it takes a group of people and community to make great things happen, along with the importance of acceptance and inclusion.
NS: I also hope that they walked away with more confidence, that they will feel more comfortable taking risks and sharing. I don't know if they realized it, but that was one of the lessons as well!
What some participating students thought:
What did you think when you started listening to "safe here" and talking about writing a song together?
Sharky Dwyer (grade 5): I know when we first heard it, a lot of people in my class thought it was about war, but after we heard it some more, we thought it was about community. After I listened to it a couple times, I thought it was sort of a quiet song but with a loud message.
Colin McGee Woods (grade 3): The thing is that if you think about it, the first time you're not really thinking about the message, but after you hear it a few times, there's a message about don't misjudge people before you've even talked to them and met them.
Anna Lavan (grade 3): We were talking about what we wanted our song to be about and were talking about love; we put little things in there, and community is really important because there's not going to be any change unless people work together.