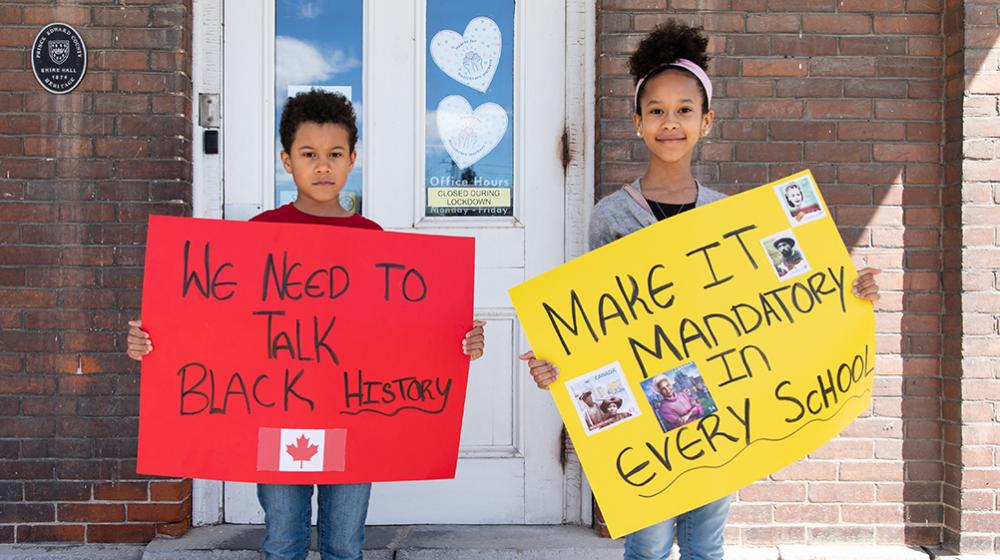 FEATURE
Grade Six and Just Getting Started: VOICE in Conversation with Student Activist Rihanna Harris
VOICE: Tell me a little about yourself and how you became an activist. What grade are you in? What is the community like where you live? How have your personal experiences informed your activism?
RIHANNA HARRIS: My name is Rihanna Harris and I am currently in Grade 6 attending Hastings Prince Edward Virtual School. I am looking forward to starting the Destinations program at Queen Elizabeth School in Belleville for Grade 7.
I live in Wellington, which is in Prince Edward County. It's a small village. Prince Edward County is a beautiful place, but it is not a very diverse community. I am proud to be a county girl, but I´d love to see our community become more inclusive.
I became an activist because I have had many experiences of racism in our local school community and in our community in general. It really started for me when I was in Grade 1. My teacher taught a lesson about segregation and apartheid. We discussed how people of colour were not allowed to attend the same schools and use the same bathrooms as white people. When I went to use the bathroom at school that day, a bunch of kids from my class blocked the door and told me that I could not use it and did not belong at the school. I spent a few days using the janitor's washroom and I eventually told my parents about it. We went to the school and talked with the principal. Over the years, the incidents of racism I experienced grew and my parents told me to use my voice. This inspired me to find ways to make change.
In Grade 5, my class went on a field trip to the Shire Hall. That's our city hall in Picton. We attended a committee meeting where anybody from the community can bring up an issue and then make a statement about it. This inspired me to put together a deputation to the school board asking for Black history to be taught in our schools. I believe that racism is taught, and if we are not teaching kids about our history or having conversations about race and other cultures how will they learn? Education is the root for development in children, so why are we not talking about our full history in Canada and having better conversations with students about race?
VOICE: Can you tell me why it's important for girls, in particular, to speak up about social justice issues?
RH: I think that it is important for girls to speak up about social justice issues because girls and women in general already face inequality. I also think that there is nothing more powerful than a young woman using her voice to make change.
VOICE: How did your work to get more people thinking about why it's important to teach Black history as an integrated part of the curriculum get started?
RH: I emailed the director of education in my area, Sean Monteith, regarding why Black history should be integrated in the curriculum in our local schools. I researched the current curriculum and equity program and found many areas where we could highlight and add to the curriculum. I also found where we are not fulfilling it. I sent this in my email and I received an email back from him asking if he could come to my house to talk with me about my email and what my ideas were. I prepared for my meeting by highlighting my research and wrote a list of questions for Sean.
I made a presentation to the school board in October virtually and it instantly created a huge presence in our local media. If you search Rihanna Harris on Google you can see many different media outlets talking about what I said and what I was trying to get implemented. I also wrote an article for the Times, my local newspaper. I was a special junior reporter on our local radio station (Country FM 99.3) for Black History Month where I interviewed many people of colour who have contributed to our country. I interviewed Jean Augustine, Rosemary Sadlier, Donovan Bailey and our local MPP Todd Smith.
VOICE: What did you say in your deputation to the Hastings Prince Edward School Board about why Black history should be included in the local curriculum.
RH: I started my deputation with "I'm doing this for every other child who's a person of colour and for our generations to come. It's important that I stand up for what is right and be part of making a change for the better. If I could change the perspective or add perspective to one person's mind this would start a chain of positive reaction."
We have an opportunity to make positive change and make our education more inclusive. I 100 percent believe that this will only make a more positive environment for all students.
We will be opening doors, changing perspectives, shedding light on, having conversations about and having opportunities for a more diverse and inclusive education. Black history being mandatory in our curriculum can do so many positive things. I think that it is time for change and there is no more appropriate time than the present.
Teaching Black history can only improve all students' education, not only the racialized students who are attending school, but all of our students who attend our schools locally.
VOICE: How have other kids reacted to your activism. What would you say to other kids your age about why it's important to speak up for what they believe in and how they can get active?
RH: Many kids in my community have reached out to me through email, social media and contacting my parents to tell me how I have inspired them to speak up and to thank me for having the courage to do so. Many children of colour have been experiencing racist incidents and have been too afraid to speak up. This has been one of the greatest things that could have happened, knowing that by using my voice I can make a difference in other children's lives. I think that it is important to speak up for what you believe in. We are the next generation and if we would like to see the world be a better place we need to be a part of making the change to do so. Using your voice is such a powerful tool. I would love to see Black history be part of our daily education and mandatory for all schools across Canada.