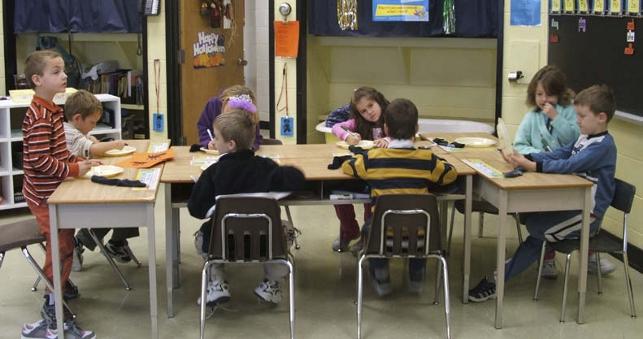 FEATURE
The Hidden Poverty of Rural Ontario
Colleen Purdon is a researcher and community activist working on a multi-year project to address poverty for rural women and their families in grey, Bruce, Huron, and Perth counties. Marsha Mclean teaches at two elementary schools in Owen Sound and sees about 200 children every week. In this article, they reflect on the challenges facing women living in poverty in rural areas and the impact poverty has on their children. 
Colleen Purdon: In 2007 the Rural Women Take Action on Poverty Committee conducted a Report Card on Rural Women and Poverty in Grey, Bruce, Huron and Perth counties. Over 170 people took part in surveys and focus groups to provide information for the report card. The voices of children were not included in our data collection and we didn't consult with schools directly.
We collected information on four community benchmarks:
Basic needs for food, housing, health and safety are met.
Women are treated with respect and dignity.
Women have access to training, education, information, and supports.
Women and men have equal opportunities and status.
Meeting Basic Needs
CP: Over two-thirds of survey participants said their ability to meet basic needs for food and housing was poor or fair. That's a failing grade on the basic needs benchmark. Half reported their ability to meet school expenses was poor– another failing grade.
Marsha McLean: Children show the impact of poverty in many different ways – they may be tired, or sad, or angry. Their lunches have no fresh fruit or veggies; they bring food that's not nutritious, but is cheap. Children come with inadequate winter clothing, or no winter boots. There are families that can't pay for field trips.
You can also see it in their faces. You can see the concern, the sadness, and the worry. Sometimes when kids haven't eaten they act out. Their blood sugar levels go down, they can't concentrate, and then they lose it in the classroom. Other kids lose their focus, don't co-operate, or they are just "gone" and can't be reached. We want to believe that our children's basic needs are being met, so we don't always make the connection between the struggles of children and poverty. And people do their best not to show their need so it's not always easy to know which families are struggling.
Housing
CP: It's not just in schools that this issue is invisible. Report card respondents said that we underestimate the amount of poverty in the area and the serious impact it has on the health and welfare of people and communities.
Women who depend on social assistance or minimum wage jobs can't make ends meet. Survey respondents reported that when they can't pay rent, or lose their homes, they often move to temporary places, living with friends or family, or in women's shelters. We even had reports of women living in cars.
MM: Children who are not doing well in school are also often those who have moved a lot. When you look at their records you see that this is their eighth school in four years.
Respect
CP: Women in our studies said respectful treatment is critical for their sense of worth and hope. Respect is demonstrated when people listen, provide practical supports, and make connections to other services. Women reported they experienced high levels of disrespectful behaviour from organizations and agencies they deal with. Services like Ontario Works, children's aid societies, banks, and employment insurance all got failing grades. Women said they were treated inconsistently or unfairly, not told of their rights, and treated in arbitrary ways by these agencies. When advocates were present, women were treated better. One advocate said she would never let a woman go to Ontario Works by herself.
MM: In the schools I'm in now there is a lot of work done to treat children with respect and they are truly loved for who they are. Teachers look at the strengths of the children and for ways to help them. But I have worked in schools where that wasn't the case.
When the school leadership demonstrates respect, and values building relationships with children, children learn that too. Leadership that supports respect, dignity, fairness, relationship building and play doesn't just happen by itself; it needs to be taught – by administrators, teachers, and parents.
Access to Information and Support
CP: Respondents in our studies said it's hard for single women raising families to access supports when they spend all of their time and resources trying to meet basic needs. They also said that lack of transportation, poorly coordinated services, stigma, isolation, the welfare system, and government cutbacks were barriers to information and support.
MM: There is a lack of funding for psychological and academic testing for children. It can take years. By that time children can be in the Junior levels and they can't read. We desperately need more student services, educational assistants, and teaching resources.
CP: The report card shows that recreation, the arts, and organized sports are not affordable for most families living with poverty. School programs can help children develop interests and skills that they wouldn't get any other way.
MM: Our school has a really well-developed intramural program so kids can participate in sports and activities at no cost. There are lots of clubs and extracurricular activities that help make up for what kids may not be able to afford at home. The parent council works to make sure all children can participate in school activities. But some schools and teachers don't have a real understanding of the realities parents face.
Equality
CP: Most women in our study had little or no control over the circumstances that pushed them into poverty, and all of them want out. Half of the women in our study worked, but were still poor. Women earn less, can't find well-paid jobs in rural communities, and often have to work part-time to care for their families. There is a lack of affordable child care. Women are also more likely to be abused. Because men don't always pay child support, if the marriage ends, women and children are often left in poverty.
MM: There are practical things that we are doing that really make a difference – like the breakfast program that provides 20 to 30 students with a nutritious breakfast every day. And the food is left out for the children at lunch.
We help all children to keep up in school when we have homework clubs and adult volunteers. We can make space at schools so they are a community resource and can be used for activities for all children.
We need a more balanced approach to education. It has become so focused on test scores and curriculum expectations that some children fall through the cracks. If children are to succeed teachers need enough time with them; having fewer children in the Junior classes would help to make sure that no child is over-looked.