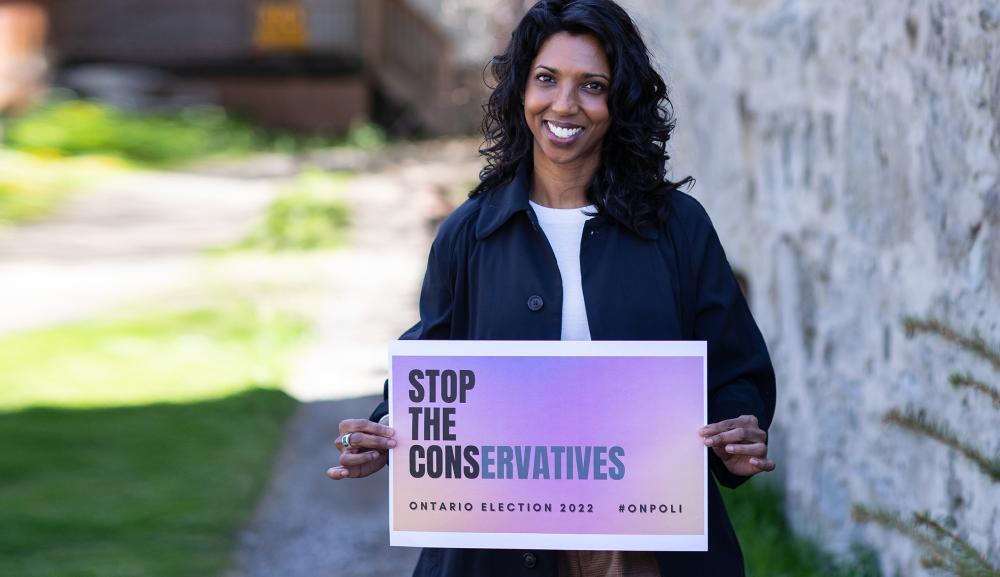 test test
FEATURE
Increasing Our Political Engagement: Why You Should Care About the Upcoming 2022 Provincial Election
I don't know about you, but for me, the last few years have been exhausting. It all started in June 2018, when I went from hopeful that we might elect a provincial government that believed in building better schools and free child care for low income families, to my total shock at the Ford Conservatives winning a majority government despite getting less than 25 percent of the popular vote. I bet many of you were thinking what I was thinking: this is going to be a long four years.
Three years into their government and the picture couldn't be clearer. To ensure the well-being of all Ontarians we need the Conservatives out of provincial office. Their government has harmed so many communities, while acting to support wealthy Conservative interests. Their continued attacks on public education and on educators have made their desire to dismantle and privatize our worldclass public education system clear. By disrespecting education workers, our working conditions and the learning conditions of students, the government has put everyone in the public education system at risk.
So, I know we're tired, but we have to give each other a boost. Maybe you're only a little interested in politics and elections; maybe you're already a little involved. Whatever your current level of political engagement, educators need to increase the depth of our involvement in the run up to the 2022 provincial election. We need to work together with our communities to unseat the Ford Conservatives. We owe it to ourselves, and we can help make it happen for Ontarians if we organize and mobilize together.
Reflecting on the Pandemic
The pandemic has shone a light on the provincial government's incompetence and its inability to prioritize the well-being of Ontarians in this crisis. It has failed to keep people and communities healthy and safe. As I write this in late April, Ontario's ICUs are over capacity and COVID-19 infections are spreading rapidly, particularly among frontline workers and their families. The virus has proliferated as the Ford Conservatives ignored the recommendations and projections of their own scientific advisors. So many people have died and continue to die unnecessarily. Although it is clear that what is needed is immediate paid sick days for all Ontario workers and support for those communities already marginalized before the pandemic, the Ford government's recent response was to expand police powers. We have watched repeated and avoidable tragedy in long-term care facilities. We heard words of appreciation for frontline workers with no commitment to increased pay, paid sick days or adequate health and safety measures despite knowing virus exposure and transmission happens at work for the most vulnerable and marginalized workers. As we head into May, it is increasingly clear that the Conservatives have no strategy for the vaccine rollout and, worse yet, have shown gross negligence in failing to prioritize those who need it most.
The pandemic has hit women hard and many of us are tired. Women are more likely to work in precarious and frontline jobs in deeply impacted sectors like retail, hospitality, education and health care. While some have struggled with being laid off or having reduced hours, others are working to their breaking points. Domestic abuse has risen significantly and stay at home orders make options to leave or get help harder to access. The vast majority of women are struggling with the burden of the double day, with no way to get help or relief with household tasks or with raising their children. During shutdowns, kids have nowhere to go and most often the burden of care falls to women, sometimes while they work full time from home themselves. This has been the situation for a very large number of ETFO members this year – a feminist crisis largely ignored in mainstream discourse.
As educators, we have witnessed what happens when children and families lack access to necessary supports. We see what happens when families are facing eviction and being unhoused, when families can't afford internet, when children struggle with learning in isolation, when basic nutritional needs can't be met and when there are mental health crises in the home. These crises are even more dire this year, and we are now supporting children who have lost their caregivers to illness and hospitalization. As educators, we have witnessed what happens when children and families lack access to necessary supports. We see what happens when families are facing eviction and being unhoused, when families can't afford internet, when children struggle with learning in isolation, when basic nutritional needs can't be met and when there are mental health crises in the home. These crises are even more dire this year, and we are now supporting children who have lost their caregivers to illness and hospitalization.
We have to find a way forward together and we need to work to elect a government that values the collective well-being of all its citizens and prioritizes the public services and social safety nets we rely on.
Moving Forward
With this difficult year in mind, and with the exhaustion I know all of us are feeling, I hope that organizing together for the change we need for ourselves, our students and our communities will bring renewed energy and hope. Massive engagement from educators, especially women, in the upcoming election could seriously influence the outcome and, in doing so, change policies in Ontario to benefit women and the marginalized communities who are struggling the most.
In the last three years we have proven we can mobilize, organize and fight this government's attacks on education. We have built strong alliances with community members, parents, scientists, other educator unions and so many others. Together, we successfully fought the Ford government's regressive policies and, during the pandemic, we've forced them to increase funding and health and safety measures. We know that organizing works and that we are good at it. The Conservatives have made us fight for what we need at every turn, showing their inherent disrespect for educators and public education. The provincial election is our opportunity to get rid of them once and for all, but we will all need to get politically engaged and active.
Getting Active
Political engagement can happen on a spectrum. It can involve simply paying attention to the news and election issues to actually running for office…and everything in between. Attending political events, rallies and actions, talking to friends and neighbours about education and other issues, watching, attending or even organizing local debates are all great ways to be involved. You can also get active on social media around issues of concern, connect with like-minded community groups and join with them in their advocacy. Take part in your ETFO local's election activities/campaigns/leafleting, volunteer on a candidate's political campaign for MPP, sign a petition or send a letter through BuildingBetterSchools.ca. There are so many ways to get active!
Your entry point for deepening your own engagement can be wherever you're at. If you're brand new to provincial politics, start with paying attention. Learn about the issues you care most about and consider how the party platforms (once released) fit with your concerns and what the Ford government has done since they came into office. From there, find others (organizations or individuals) who care about the same things you do and get active and connected. The Ontario Federation of Labour's website is a great place to get information on political issues and campaigns that benefit workers and marginalized communities. Make sure you are signed up to the ETFO enewsletter at etfo.ca and are registered at BuildingBetterSchools.ca to stay connected with the provincial campaign and provincial opportunities.
Make a commitment to equity and anti-oppression as you become more engaged. This means centring the voices and perspectives of those most impacted by the issues in your organizing including Black, Indigneous, and racialized people, people living with disabilities, 2SLGBTQ+ communities and people facing multiple layers of discrimination and oppression. These groups need to be centred in the policy changes ahead.
It may seem tiring to get involved, but it will be even more tiring to face four more years of Conservative rule. As Margaret Mead reminds us: Never doubt that a small group of thoughtful, committed, citizens can change the world. Indeed, it is the only thing that ever has. Imagine what 83000 strong can do?! Let's Engage. Politicize. Mobilize. Organize. Energize. Yes, we can!
10 Ways Educators Can Get Engaged in the 2022 Provincial Election
1. Be an informed voter: We can get informed on election issues right at our computers; we can attend webinars, expert talks, read websites for information, search the hashtag #onpoli on Twitter and so much more. Be sure to familiarize yourself with the parties' platforms (read them in full on the political parties' websites or in summary form from trusted organizations like ETFO or OFL).
2. Talk with family, friends and neighbours: Learn about the challenges around you and how they relate to the major issues and proposed policies; discuss the issues and why they're important; share what you learn and try to learn more. Get known for wanting to talk politics.
3. Engage via social media: Follow organizations fighting for workers' power, who offer rich resources related to elections; visit the Ontario Federation of Labour (OFL) and their Power of Many campaign or Fight for 15 and Fairness; visit ETFO's BuildingBetterSchools.ca; and more, including organizations local to your region.
4. Show up: When there are activities happening, in person or online, related to issues that matter to you in the election, be sure to attend. Show up for rallies, demonstrations/ political actions, events, local meetings and more. Being present is the first step to getting involved and meeting others committed to the same issues.
5. Join your ETFO local's political action committee (PAC): Your ETFO local's PAC will not only be engaged in the election, it may even endorse a candidate in your area. Your local PAC will also be able to direct you to opportunities to engage with the election through your local union. This could mean attending rallies, leafleting, hosting a debate for the local candidates, to list a few possibilities.
6. Find your election issue and join a campaign: For many of us, the issue is public education, but there are so many others that affect our public schools and communities. Some people prefer to get deeply engaged in one policy area or political issue. If this is how you feel, find an organization working toward the same goals you are and ask how you can take part. Between phone zaps, events and other campaign activities, your help is needed and your participation is wanted. Even if it's a bit awkward to connect with a new group the first time you show up, people will be glad you came out and the awkwardness will pass and I bet you'll find it was worth it.
7. Join a political campaign for a local candidate: If there is a local candidate you want to actively support, call up their campaign and ask how you can help. Depending on the time you have to contribute, help can look like anything from counting signs and leafleting to canvassing door to door or on the phone.
8. Engage with the district labour council: Similar to joining a PAC, and potentially connected with your local PAC's election activities, the regional labour council will coordinate larger political events and campaigns for the area generally in line with your ETFO local. This is another great place to get engaged by attending events, joining campaigns and participating in political actions.
9. Attend a debate: Every riding will have local debate(s) throughout the election period, and engaged audiences with great questions make debates better; register to attend one in your area – it's a powerful way to become informed on the candidate actually getting your vote.
10. Contribute/donate and support: Whatever you can offer helps and money isn't the only way to contribute to a campaign. Activists and civic leaders can tell you of the importance of meals and babysitting as contributions that support them. Help and donated expertise can also be incredibly valuable. Whatever you do, I hope you can find a way to contribute, help out and be engaged.
Cindy Gangaram is a member of the Hamilton-Wentworth Teacher Local.