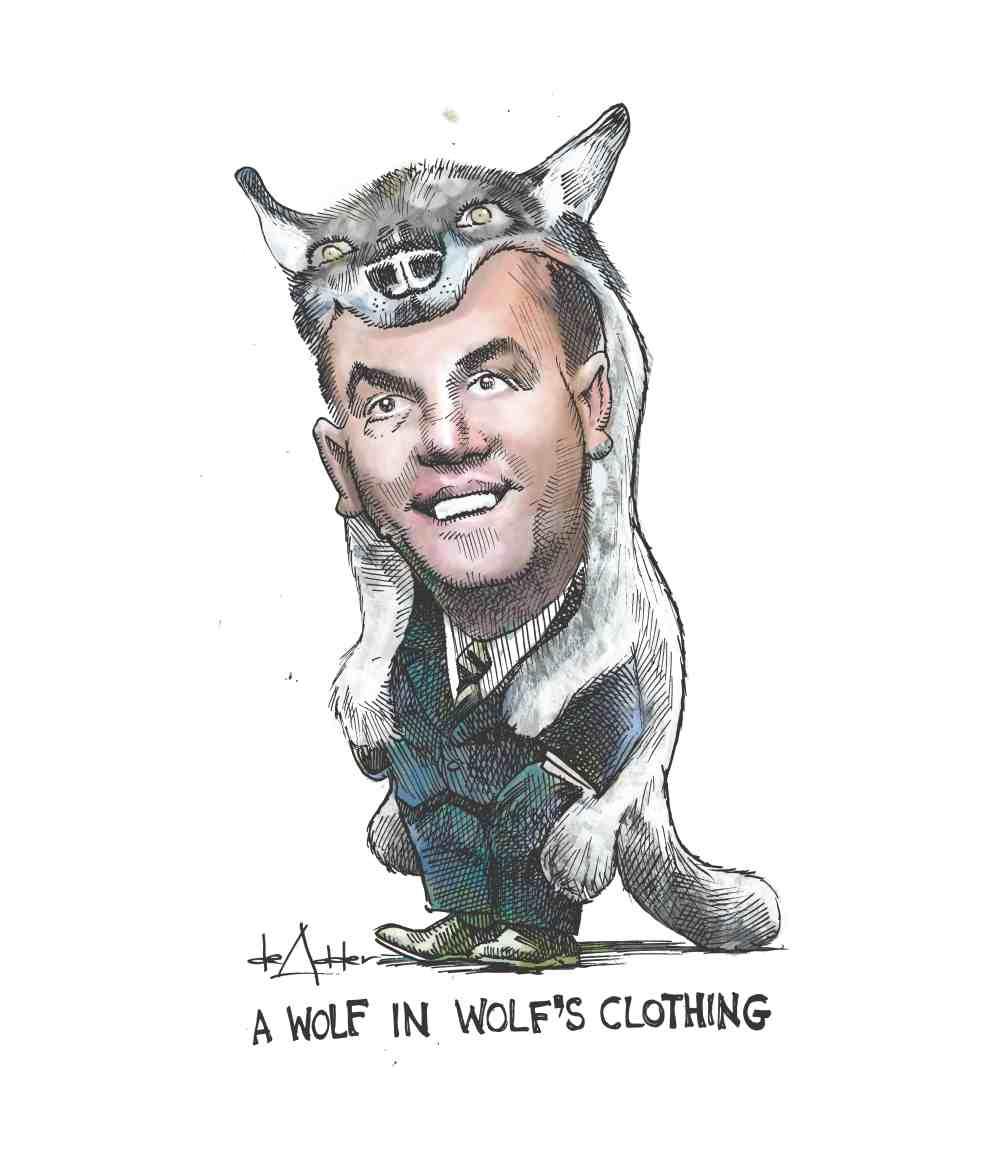 FEATURE
Painting Ontario Blue: What Would a Tory Government Mean to ETFO Members? (Ideas)
The minority government at Queen's Park means Ontario could face an election this school year. ETFO members may still harbour strong feelings about the Liberal government's attack on collective bargaining rights and the failure of anyone in the legislature to vigorously defend them, but we should not overlook the bigger threat to the public sector and to unions: the agenda of the Ontario Progressive Conservative Party.
A prevailing narrative within the Ontario PC Party is that it squandered the chance to regain government in 2011. Party activists blame the loss on leader Tim Hudak's failure to connect with voters, a platform that was too "middle-of-the-road," and the impact of ad campaigns sponsored by various unions, including ETFO. This analysis is driving the party's  current  election  platform  development. It also explains its  decision to look backward to the 1995–2003 Harris/Eves governments for guidance, a period dominated by attacks on public spending, public sector unions, and education workers in particular.
In terms of  platform development, the Tories  are  more  prepared  than  either  the Liberals or NDP. Since May 2012, the party has released 15 white papers and a plethora of private member's bills. These documents give us ample opportunity to assess what a future  Tory  government  would  mean  for public education, the labour movement, and the broader social good.
Making Ontario The Next "Right To Work State"
The most egregious Tory policies are those that deal with unions and labour relations. Borrowing heavily from  Republican  states that have introduced "right to work" legislation, the PC party is promising to give workers the right to choose whether to belong to a union. The party refers to this as "modernizing" labour laws. Speaking at a party fundraiser in April 2013, Hudak stated: "We will modernize our labour laws so that no worker will be forced to join a union as a condition for taking a job." Using teachers as an example to defend the policy, he added: "There's a distance between the union and classroom teachers." He obviously didn't take note of the thousands of teachers who turned out for provincial and local protests against Bill 115 and who voted overwhelmingly for a day of political protest and then, ultimately, to support the provincial agreement for bargaining.
The party also talks about ending the dues check-off afforded to all unionized Ontario workers, the process whereby the employer is required to deduct union dues and forward them to the union. This policy, known as the Rand Formula, goes back to a 1946 arbitration. It is at the core  of  union democratic principles serving the collective. The party has also promoted a similar concept, through a private member's bill, that proposes continuing employers' collection of dues but allowing workers to remove themselves entirely from the collective agreement and negotiate an individual contract with their employer. Both options are designed to weaken unions and undermine their ability to represent and advocate for their members.
Targeting Public Sector Compensation 
Hudak and his caucus have made no secret of their plan to institute a two-year compensation freeze across the public sector. The party has also put forward legislation that maps out how the authority of the Ontario Labour Relations Board would be curtailed and how arbitrators would be restricted in determining fair compensation for those public sector workers without the right to strike. A private member's bill also profiles the plan to prohibit public sector employees from receiving a pay-out for unused sick days and override collective agreements to require specific documentation to take a sick day.
Eroding Defined Benefit Plans
ETFO  members  contribute a significant portion of their salary to "defined benefit" pension plans, plans the employer also contributes to. This form of pension plan is common in Canadian unionized workplaces but, given the declining rate of unionized workers, is no longer the norm. In an editorial meeting reported in the Mississauga News (March 19, 2013),  Hudak stated: "Seventy-five per cent of Ontario workers don't have pension plans and it's not right they should be taxed more to cover gold-plated pensions for public sector workers." The Toronto Star (March 18, 2013) cites him as saying: "Ontario needs to negotiate new deals for pensions with public sector unions, raising retirement ages and making the plans more in line with what's  available to private sector workers." The Tories are pitting Ontarians with defined benefit plans against those without.
The  Tories  promote  plans  where  individuals pay into registered savings accounts that don't necessarily require employer contributions and where there is less security in terms of pension income. They are responding to employers who want to be relieved of the  longstanding responsibility to  support workers' pensions. A private member's bill proposes setting up the legal framework for "pooled RRSP" plans where the only income is from individual contributions. These pension  policies  are  designed  to  undermine decades of political and labour struggle to establish pensions that ensure workers don't face poverty in their retirement. They  are pension plans that have served as models for other Canadians. The Tories are using them to foster resentment and social discord.
Tory Education Agenda
The 2011 Tory election platform was designed to ensure that education was not a wedge issue in the campaign; it committed to  full implementation of full-day kindergarten and to increasing education funding by $2 billion by the end of a four-year mandate. Contrary to expectations, there was no talk of merit pay for teachers or expanded standardized testing. In anticipation of the next  provincial race, the Tories have returned to their traditional stance on these and other issues.
Imposing merit pay: In his address to the April 2013 party fundraiser, Hudak outlined his commitment to the merit pay concept: "If a nurse applies the latest training to get a patient back on his feet faster than anyone else thought possible . . .or a teacher performs minor miracles helping a child who always struggled to learn the joy of reading a book . . . We should reward them based on performance – not solely on seniority." The party position ignores the evidence that such schemes are fraught with implementation issues and, where tried by U.S. states, have failed to demonstrate any connection to improved student outcomes.
Stalling full-day kindergarten: The party's education white paper promises to delay the complete phase-in of full-day kindergarten until the provincial budget is balanced. It also commits to undertaking "an intensive study" of the program benefits, including "whether the program's 'play-based learning' produces real academic benefits."
To save an estimated $200 million, the party is considering changing the staffing model by assigning DECEs to junior and senior kindergarten classes with 20 pupils and with a teacher only half-time in the SK program. The proposals fly in the face of the early research on the success of Ontario's full-day kindergarten model and threaten to set the province back years in terms of the recent progress made in terms of reintroducing activity-based, experiential learning to the early grades.
Increasing class size:  A Tory government would increase Primary class size from 20 to 23 and other elementary grades from 24.5 to 26. Secondary class sizes would increase from 22 to 26. The party points to the 2011 Drummond Report on public sector restraint to claim that this policy would save $460 million from the education budget. This policy ignores recent Ontario research that attributes important improvements in student achievement to the Primary class cap, gains that could be further enhanced with expanded teacher in-service. The Tories should research the issue by talking directly to Ontario teachers about what difference smaller classes make for them and their students.
Expanding standardized testing: At a time when the provincial government and its education advisors are finally revisiting the merits of EQAO tests, the Tories are promising to expand testing to include a science test in grade 8. This ignores that grade 8 students are already tested in science, on a random-sample basis, through the Trends in International Mathematics and Science Study (TIMSS) administered by the Organization for Economic Co-operation and Development (OECD).
Redefining teachers' duties: The Tories are using teachers' withdrawal from extracurricular activities and other job actions during their legal strike last fall as rationale for redefining teachers' duties.
The education white paper indicates a Tory government would "adopt a definition of the academic work day that reflects what teachers already do, not the bare minimum defined in the contract."
Looking Forward to the Next Election
ETFO and its members have a great deal to consider before deciding how to approach the next provincial election. There is considerable work to be done to ensure that the parties' election platforms speak to the issues we face in our classrooms and workplaces. Along with the broader union movement, we must also fight the austerity agenda embedded throughout Tory policies. As a result of ETFO's defence of collective bargaining last year, we are poised to take on those challenges from a position of renewed strength and solidarity.
The Tory Agenda
Selected Ontario PC Caucus white papers (which all  fall  under the  title "Paths  to Prosperity")
Preparing Students for the Challenges of the Twenty-First Century (January 2013)
Flexible Labour Markets (June 2012)
A New Deal for the Public Sector (December 2012)
Sustainable Retirement Security (November 2012)
for the remaining 11  white  papers,  see: www.ontariopc.com/policy/
Selected ontario PC Caucus Private Member's Bills
 Bill 5,  the Comprehensive Public Sector Compensation Freeze Act, 2013
would  impose  a two-year compensation freeze  across the public  sector
 Bill 17, the Workplace  Safety and Insurance Amendment Act (Alternate Insurance Plans), 2013
would  allow  employers to opt out of the WSIB and seek private  insurance coverage  to cut costs
 Bill 25, the Sick Days  are for Sick People Act, 2013
would  prevent  public  sector  employees from  being  compensated for any unused  sick days
would  override  collective agreements in requiring documentation to support  use of sick days
 Bill 44, the Public Sector Capacity  to Pay Act, 2013
would  place  limitations on ability  of arbitrators to determine compensation  of public  sector  workers who do not have  the right  to strike
 Bill 50, the Pooled Registered Pension Plans Act, 2013
would  establish  the legal framework for pooled  RRSP plans,  a savings plan based solely  on individual contributions
 Bill 62, the Defending  Employees' Rights Act (Certification of TradeUnions),  2013
would  remove  the "card-based"  certification option  for the construction trades,  making it more  difficult to organize  a union  in that sector
 Bill 63, the Labour Relations Amendment Act (Ontario Labour Relations Board), 2013
would  give the provincial government more  control  over this quasi-judicial body
 Bill 64, the Defending  Employees' Rights Act (Collective Bargaining  and Financial Disclosure),  2013
would  allow  union  members to opt out of their  union  and require  unions to follow  financial disclosure rules  not applied  to any other  organization or entity.
For more information, see  www.ontla.on.ca