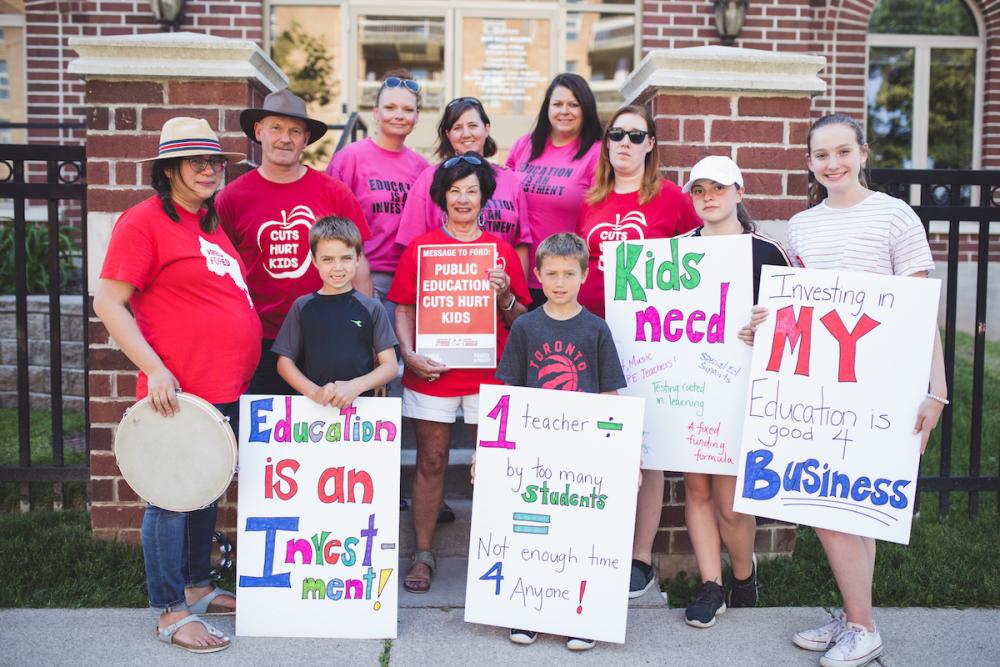 FEATURE
Planning a Rally at Your Local MPP's Office
Last fall, the news and social media were full of stories about the cuts proposed daily by Ford's Conservative government. This fall, we are beginning to see the effects of the cuts.
Ford's government took a fast and furious approach to implementing their austerity agenda, leaving public schools, students and families in the dust. The education consultations from last year targeted the most marginalized in our communities, our youngest students in Full-Day Kindergarten, our already overflowing junior/intermediate classrooms, racialized and Indigenous students and students with autism and special needs.
The funding formula was already broken, a result of Ontario's years under the Harris government, and this government's budget is poised to send our fractured system over the proverbial edge. Thankfully, parents, educators and others in the community have been actively organizing and challenging the government.
The Path to Planning Our Action
Letting local MPPs know we are outraged by the cuts to public education and organizing with our communities are critical as we move into the fall and continue bargaining. When we began planning a No Cuts to Education Rally, we wanted to ensure our MPP for Brantford-Brant, Will Bouma, knew his constituents wanted him to act to protect public education.
Organizing and mobilization begin with relationships and conversations. Once we set a date, we began sharing the event on social media. We connected with parent groups and families advocating for supports for public education and children with autism. We connected with our members, families and neighbours. Announcements were made at our local representative council meeting and individual committee meetings; conversations were happening at the local office, staff rooms, the grocery store, the dance studio, even at the local arenas. One by one, we talked together about taking action , took on organizing roles and built energy and momentum. We made flyers and placards, and tailored frequent social media posts to support the event.
Meeting With Our MPP
As word spread about our rally, an invitation was extended by MPP Bouma to discuss our concerns. We met with him and his staff. We brought our diverse perspectives to the table, speaking as teachers and parents of children in the public education system. We stressed that increasing class sizes and cuts to funding for public education would impact all children, but particularly those who are most vulnerable.
We asked him to share our concerns with the Minister of Education and followed up with a formal letter.
Rally Day
When the day of the rally arrived, we were not afraid to be loud and proud! Our signs spoke to the issues that most impacted our work. We planned a great song list of uplifting social justice music to play on a wireless speaker. We brought drums, whistles and noisemakers.
Our group consisted of teachers and other educators, retired educators, children, university students, parents and other community members. We talked about how these cuts were going to affect each of us differently. We built a network of community engagement and we have continued to connect with this group since the rally, supporting our continued efforts.
Practical Tips for Organizing a Rally
Organizing a rally at your local MPP's office is both possible and effective. Local MPPs rely on constituent support to get re-elected and can put pressure on the government. Protests by parents, educators, students and others already forced the government to back off on a number of issues. You do not need to be an experienced activist, professional relations wordsmith or released officer to organize a rally.
Know the issues. Follow the news and learn the policies and changes being put into effect. Read up on ETFO's building blocks for public education and sign up at BuildingBetterSchools.ca. This will help you answer questions posed by the MPP, or the MPP's staff, and counter their arguments.
Connect with local groups organizing for public education and broader social issues. There are many local groups of parents, healthcare professionals, 15 and Fairness organizers, labour councils, other teacher locals and secondary students looking to engage in political action against the austerity measures of this provincial government.
Connect with your friends, family and colleagues. Discuss the devastating impact these cuts will have on their lives too. If you take leadership by sharing how the cuts have impacted you and your students, others will hear you and be more likely to share their stories.
Pick your date. Consider weather (if possible), holidays and other actions happening. Your MPP may be hosting events you might consider attending, fundraising dinners for example. Try to pick a date when your MPP will be available in the constituency office.
Make signs. ETFO-made signs are great, but the best signs at a rally are the ones made by those attending. Ensure at least one sign encourages cars to honk to show support. This will help attract your MPP's attention. Have a sign-making party or post suggestions. Bring materials to make signs to the rally, allowing for some onsite inspiration. Keep them for your next action.
Promote. Promote. Promote. Send out invites via email. Call your friends; personal invitations go a long way. Create an event on social media and share the link. Ask people to share the event through their social media accounts. Add news articles and links connected with the issues to the site and keep the activity strong right up to the day of your event. Share pictures (with permission of course) preparing for the event and share pictures of the rally once it happens.
Invite the media. Connect with local newspapers and TV stations. Write a media release that details the issues and your response to government cuts. Make some noise. We used a Bluetooth speaker and provided hand drums to participants who were willing to play along.
Contact your local MPP. Invite them to meet with you and your group at the rally. Be prepared to counter their talking points and designate one of the organizers to be the main point of contact.
Safety first! If you anticipate a large group, you may require the local police to provide road safety; they can block a road for you during the protest. You can lawfully take up space and make noise on public property. Consider water filling stations, umbrellas and hats.
Designate one person as a greeter. It can be intimidating for folks who haven't been to an action before to walk up to the group. Make joiners feel comfortable and welcome and ask them to share their contact information for future events.
Plan for follow-up actions and stay connected to the people who met through your organizing. You may prepare a petition to present to your MPP after the rally or request a meeting to discuss the concerns of your group.
Everyone can make a difference and you have the democratic right to protest. Have a great rally!
Michaela Kargus and Carolyn Proulx-Wootton are members of the Grand Erie Teacher Local.