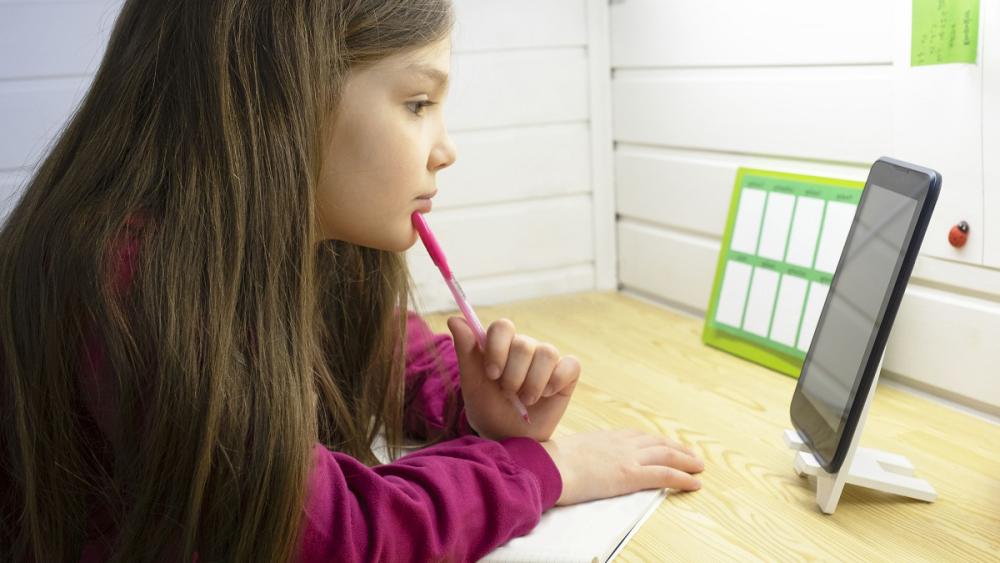 FEATURE
Technology and the Post Pandemic Era
When the 2019-2020 school year began, ETFO members braced for labour unrest that had not been seen since the Mike Harris days. Who could have predicted the events in early March 2020? Pivoting to a distance learning model was unchartered territory for educators. In September 2020, the continuation of the virtual learning model was mandated and ETFO members found themselves teaching online again. A roll out of virtual learning platforms and the move by some school boards to use a "hybrid" model in the current year has had many challenges. If this were not bad enough the government's decision to callously implement a new math curriculum last September in the middle of this crisis had educators dealing with further issues.
This year educators have been confronted with the learning gaps and learning loss students experienced as a result of the pandemic. The term "learning recovery" is very quickly becoming a buzz word, but it will be a reality for teachers and students particularly in Math and among already marginalized groups. Technology can have a role in supporting teachers as they address learning gaps/recovery.
A 2015 report from the Organization for Economic Development showed no appreciable improvements with learning since the onset of technology use in the classroom. "Teachers vs Tech," the latest book released by Daisy Christodoulou centres on reasons education technology has failed to deliver the transformation to more teacher technology delivery. Consider the Los Angeles Unified School Board decision in 2013 to spend 1.3 billion dollars to purchase iPads. Within two years of the roll out, all but two schools had abandoned using the devices for classroom learning. Internet safety, incomplete curriculum to use iPads and inadequate teacher training were cited as reasons for the abandonment. Christodoulou argues there is a place for technology in the classroom, particularly in direct instruction, but teacher expertise and professional judgement must be at the centre of technology implementation.
In 2018, we completed a technology project funded through the Teacher Leadership Learning Program (TLLP) to purchase iPads for our school. Commencing work with Grade 1 and 2 teachers, they would first use iPads for Math curriculum, lesson planning and to support learning through direct instruction. They would then use an assessment program (IXL) to assess student learning, and to create a teacher friendly workbook to support teachers when using iPads for Math learning at any grade. Our school is identified as a "priority school" by our board with many families struggling financially, the population can be transient and there is a growing English Language Learner (ELL) community.
Developing an understanding of specific Math apps is crucial. Some Math apps can support more than one strand of Math and in some cases up to three. Most Math apps do support more than one grade level and we needed to create lessons/instructional strategies for teachers when using iPads as purposeful tools in student learning. Split grades are an area that can maximize student learning using iPads since teachers can deliver instructions to use an app with two grades simultaneously. Using screenshots and voiceovers to teach concepts is a great way for students to learn. Videos can be posted using GOOGLE CLASSROOM that all students with a device and internet can access. We created a workbook with apps and ways to use them in the classroom to support whole class, guided and independent practice.
Click Here to Download a Sample Coding Lesson
Here are some examples of apps that are supported through iPads:
Colour Types
App offers three initial colours and shapes
Tap to access menu bars at top, offers numerous features including draw
Use with grid feature or plain space

Counting Activities for Primary or Remedial
Colour Tiles offers numerous activities, whole class, guided and individual instruction to support counting, counting on, addition and subtraction and multiplication.
On the right-side menu bar tap the multiple tab. Tap any colour tile and a tile bar will appear with the multiple selected.  A control panel will appear at the end of the bar. Tap on the icon which looks like a file with a black bar and the Controls will move to the right-hand side of the iPad screen.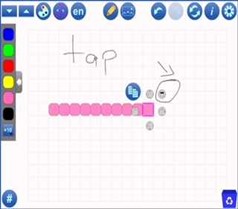 On the right-side menu bar tap the multiple tab. Tap any colour tile and a tile bar will appear with the multiple selected.  A control panel will appear at the end of the bar. Tap on the icon which looks like a file with a black bar and the Controls will move to the right-hand side of the iPad screen.
Money
Money tray with a screen - Canadian denominations
Numerous features and draw/create apparatus
Appropriate for whole group, guided and independent instruction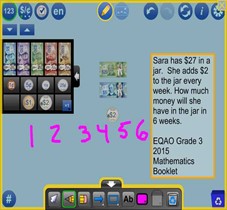 In this picture, the writing apparatus is on to display the features of drawing with pen, typing function, as well as other features teachers could use for instruction. They include arrows, pointers, text boxes (text box is used to display question).  Money questions in Grade 1 and 2 could eliminate larger denominations and focus only on expectations in money for these grades.
Pattern Shapes
App can be used across numerous grade strands
Features include an interactive protractor
Calculator is included with this app
Use the shapes to demonstrate counting fractions. Visual can provide direct and guided instruction.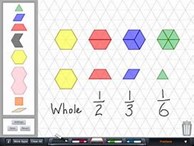 The two examples above indicate other ways to incorporate fractions using the app in Primary and Junior grades.
Number Frames
Excellent app for Primary
Can be used in Junior for multiplication & division
Excellent app for remedial in primary and junior
Some students at Tree Glen Public School collect items for recycling. Information about the number of items the girls and boys collect in two days is shown in the chart below.

The girls and boys collect a total of 50 items over the two days. Determine the number of items the boys collect on Tuesday.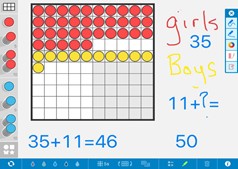 The 100 chart was used and the totals for each gender were colour coded. The calculator allows for neater work. Writing pens can also be colour coded. This could be an example of whole class, guided or independent.
Number Pieces
App is appropriate for Primary and Junior
Useful for remedial work
Provides effective organization for students when trading for different base 10 blocks  
Does not include 1000 base 10
Brock has 112 trading cards. His brother gives him 108 more. Brock then gives away 130 cards to a friend. How many trading cards does Brock have left?

Number Line
App has a variety of features for counting, multiplying and dividing
Useful for estimation and patterning activities
Has an integer feature
Top left feature allow change in range of numbers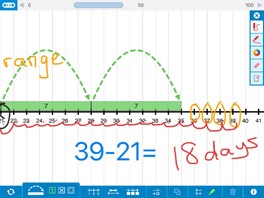 In the three diagrams, steps to showing work using the number line are identified using coloured pens, calculator and tools in this app. Number line is similar to other Mathies apps with writing tool bar and other tool bar features located on the bottom of the page.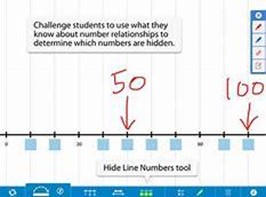 This activity could be used with any set of numbers in Primary or Junior. As a Hinge Point Question for estimation. Students identify where a number would be rounded by 10 and 100 as examples.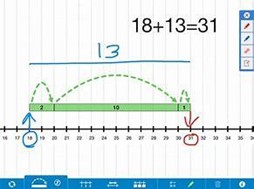 Addition of two-digit numbers using tool bar features.
Fractions
Fractions is one of the newest apps to be launched by The Math Learning Centre. Its options do not offer decimals as virtual manipulatives, but it is very user friendly, capable for whole class, guided and independent use.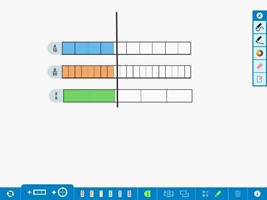 Fraction bar example using three different sizes and colours demonstrates fraction comparisons.
Fraction bar can reduce fractions by identifying a fraction and allowing student to create secondary fraction bars with smaller fractional amounts to identify lowest common denominator.
Here are three examples for adding fractions with modelling. Add or subtract fractions with common and different denominators. This could also be used to model multiplication and division of fractions.

Circle fractions can also be used for identifying and comparing.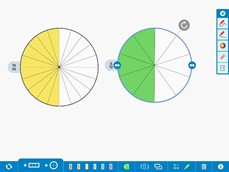 Click Here to Download a Sample Coding Lesson
Beverly Fiddler and Mike Clarke are members of the Durham Teachers Local.