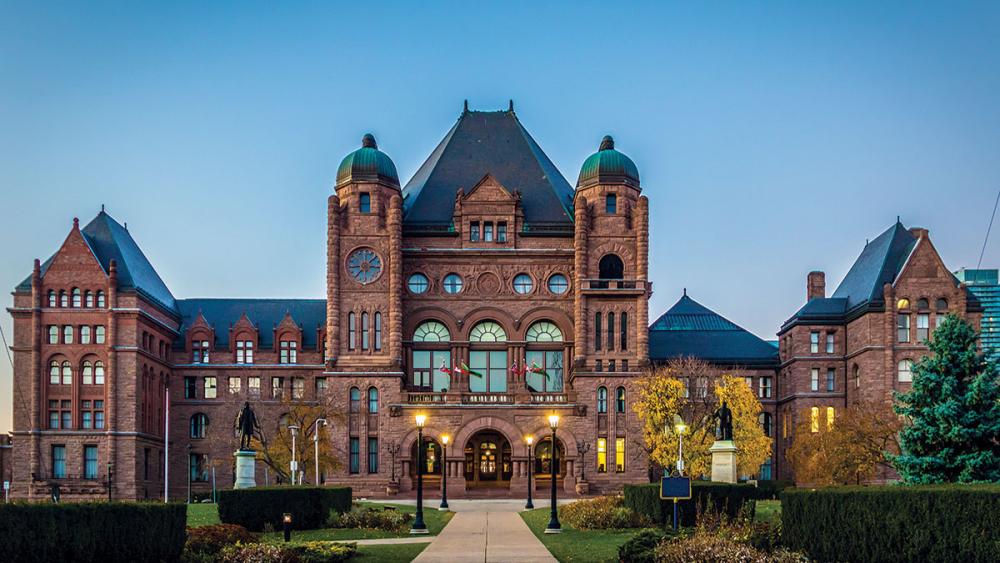 FEATURE
The Time is Now: Organizing for Election 2022
The countdown to the provincial election in Ontario is on and many communities are eager to voice their concerns at the ballot box. It feels so long ago, but in 2018, Premier Doug Ford and the Progressive Conservatives swept the province with a majority government. With little by way of policy or positions, they claimed to be "For the People." Very early on, they showed us exactly what their true intentions were and which "people" they were for. Throughout the last four years, and especially during the pandemic, we saw Black, Indigenous, racialized and low-income communities be further marginalized. As teachers and education workers, we have felt the cuts deeply, fighting for the investment and protections that epidemiologists, health and safety experts, parents and educators have been calling for from the beginning of the pandemic. Unfortunately, the Ford government made these investments late, half-heartedly or not at all – devastating so many aspects of community and public life. As we mobilize for the 2022 election, we must continue to work together to elect a government that is committed to an equitable and just recovery for all Ontarians and to the public services we all rely on.
It is important to grasp how deeply the Conservatives' decisions impacted already marginalized communities. Their tenure began with waves of cuts to public services, programs and infrastructure, targeting positions and organizations that were set up to combat racism and promote equity. With the establishment of the Anti-Racism Directorate in 2016, there was a glimmer of hope that the Ontario Government would begin a real process of challenging internal and systemic racism and discrimination. Shortly after being elected, Ford gutted the directorate. Many critics saw this as part of a larger agenda, as the Ford government went further to cancel the Indigenous writing curriculum, changed the titles and roles of many ministerial portfolios and disbanded major subcommittees responsible for providing advice to the government. All this foreshadowed the government's pandemic response. For these and many other reasons, communities across the province are mobilizing to defeat the Ford Conservative government.
Regions in Focus
Regions across the province were affected by these policies, but some were clearly more affected than others. Brampton, for instance, which has higher proportions of newcomer and racialized communities than other parts of the province, was one of the hardest hit by the pandemic. With a population of over 600,000, Bramptonians have been demanding a second hospital to meet the needs of the region for over a decade. Known for its diversity and booming logistics industry, it is also known as the birthplace of hallway medicine. This is a reality many newcomer Canadians come to learn. As the pandemic hit, thousands were infected with little or no access to PCR tests, no paid sick days and little enforcement of workplace health and safety protocols. With an already underfunded and over-extended public health system, the pandemic highlighted that COVID-19 doesn't discriminate but our provincial policies do.
Another community that has made headlines recently is Bearskin Lake First Nations, roughly 600 kilometres north of Thunder Bay. In January, over 50 percent of the reserve tested positive for COVID-19, including infants and young children. In an interview with ipolitics.com, Frank McKay of the Windigo Tribal Council, which serves remote northern Ontario communities including Bearskin Lake, stated, "Due to overcrowding and a lack of community infrastructure, where the infected could not be separated from the uninfected, the virus spread very quickly." While a request for military support for the remote community was finally granted, the situation lays bare how many First Nations communities have lacked support from both the federal and provincial governments since long before the pandemic. Lack of clean water, adequate roads, habitable and affordable housing and hospital access are endemic among Ontario's First Nations communities.
Our regions have distinct realities and more importantly have distinct communities. This pandemic has clearly highlighted how women, Black, Indigenous, racialized and low-income people are disproportionately affected by both cuts and systemic under-investment in public services. Since the cuts affect people in intersectional ways, our organizing must also take an intersectional approach.
Map Your Sites, Map Your Communities
As we look toward the June election, it is clear that our organizing efforts will be central to ensuring that the Ford government doesn't get another term in office. It's up to all of us to take action inside and outside our schools. You can lead organizing in your local community by identifying members and community leaders who are affected by the policies of our provincial government. A personal exercise can be to map your worksites and map your region. Mapping helps identify our allies and name some of the issues that are affecting local communities. Do you know a member who is involved in a committee in the local? Who volunteers their time at a local food bank? Maybe there are members who have joined an affinity group in your school board? There are so many ETFO members who are uniquely connected to their community-at-large. There are also so many leaders who are involved with particular religious and/or ethnic centres or halls. It is crucial to learn this as it will require a community effort to lead the resistance against the Ford Conservatives.
Take some time with a small group of members to sketch this out collectively. Perhaps there are others we need to reach out to. You are experts and you can mobilize when you take the time and identify others who can join the fight ahead.
Get Informed
Our ETFO organizer team has been working with hundreds of members to get them trained and ready for this election and we are calling on you to join the mobilization efforts. Our best hope for an equitable recovery from the COVID-19 pandemic and for the investment and resources our public schools and other public services need, is in the election of a new government. We have been conducting training for members since the beginning of the year. For those who weren't able to catch our previous training series live, we are excited to offer our mobilization resource page. Access it anytime if you want to learn how to map your community for worksites, new ways to have effective conversations with members or family or simply learn how elections work and ways to get involved in local riding races. These resources are helpful aids that you can review at your leisure.
Get Involved
In the end, in order to unseat the Ford Conservative government, each of us will have to take action in our local communities. The countdown to the June 2nd Ontario election is on. Building our communities is imperative to defeating the Ford Conservatives. It's our responsibility to work together to elect a new government, one that is committed to equity, a fully funded public education system and the public services we all rely on. Our students and our communities depend on it.
ETFO organizers are here to help build engagement and organize our members regionally. Please connect with the organizer assigned to your region to learn how you can participate in a local effort.
Mobilize for Better Schools
In this election we have a chance to stop a government that does not support high quality public education. Register to mobilize at BuildingBetterSchools.ca/mobilize to take part in online actions and help spread the word.
Munib Sajjad is an organizer with ETFO.