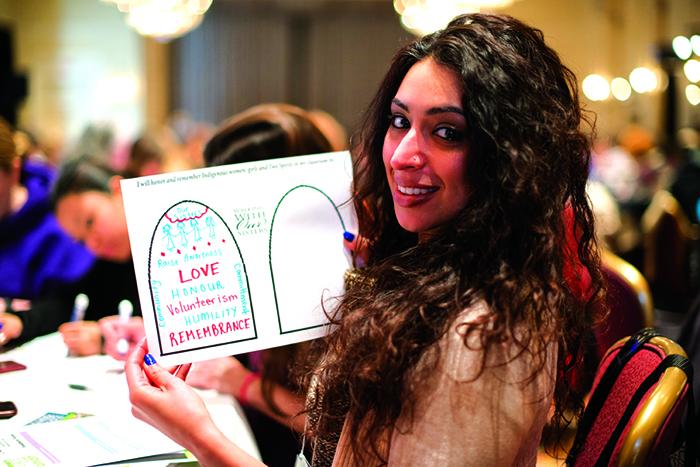 FEATURE
Walking With Our Sisters: A Commemorative Art Installation Honouring Missing and Murdered Indigenous Women
ETFO's annual leadership conference for women, … and still we rise (ASWR), is known for providing inspiring ideas women educators can use to make a difference in their classrooms and communities. Keynote speakers Erin Marie Konsmo and Krysta Williams from the Native Youth Sexual Health Network described one such opportunity to the over 400 participants gathered at this year's conference in a passionate presentation about the Walking With Our Sisters (WWOS) project.
Walking With Our Sisters is a commemorative art installation of 1,800 pairs of moccasin vamps (tops) uniquely designed to honour the lives of Indigenous women, children and Two-Spirit people who have gone missing or been murdered in Canada and the United States, including children who did not return from residential schools. At present, close to 1,200 Indigenous women and girls have been reported missing or have been murdered in the last 30 years in Canada. As the walkingwithoursisters.ca website explains: "Each pair of moccasin tops are intentionally not sewn into moccasins to represent the unfinished lives of the women and girls."
Konsmo and Williams highlighted the important role educators can play in restoring agreements and relationships with Indigenous peoples by getting involved in projects like WWOS. They were pleased that two women in the room had already visited an installation and a handful of people knew someone who had created a pair of moccasin vamps.
Now into its second year, Walking With Our Sisters is expected to visit up to 30 communities in Canada and potentially the United States over seven years. What makes the art installation unique is that it travels from community to community and is transformed into not only a new work of art, but also a ceremonial lodge in each place it visits. Every hosting community can choose how it wants to represent the 1,800 pairs of moccasin vamps that make up the collection. In Thunder Bay, the moccasin vamps were displayed in a turtle shape with 13 sections. Themes for other communities have included a teepee, a canoe and northern lights.
As the "bundle" of moccasin vamps and other sacred items is transported by mini-van from community to community, Indigenous and non-Indigenous people come together to create a meaningful art installation from the vamps. The installation is welcomed for the support and healing it brings to Indigenous families who have lost loved ones, as well as the community members who take part in creating or visiting the installation. Raising awareness and the youth volunteer involvement the project offers are important components too.
Konsmo and Williams explained that it can take up to five days for community volunteers to transform a bundle into an installation known as a lodge. The opening ceremonies and special activities throughout the hosting of the commemorative art installation allow for strong community involvement and the opportunity to introduce Indigenous youth to traditions such as smudging and beading. The youth resurgence component of the WWOS project is vital to connecting Indigenous young people with healing from loss, getting involved in their community and becoming youth leaders.
ASWR conference participants had the chance to hear firsthand what youth think of Walking With Our Sisters in several YouTube youth testimonials. One young teen said participating in the project lifted her spirit and commented, "We are healing ourselves." Another young person observed the value of being a volunteer: "I feel strong-minded when I'm doing this." After viewing the testimonials, Konsmo and Williams encouraged educators to share the testimonials with their students and visit an art installation with their class if one is coming to their community.
Konsmo and Williams closed their presentation by inviting conference participants to create their own moccasin vamps on paper to symbolize what they had learned at ASWR about Walking With Our Sisters. They explained that the left vamp should represent what they had heard from the presentation and youth testimonials and the right vamp should show a commitment to action in the classroom regarding missing and murdered Indigenous women, children and Two-Spirit people. They encouraged conference participants to talk about the issues as they worked.
The room became energized as participants' creative juices flowed and their artistic and communication abilities were displayed. The possibilities for healing, transformation and leadership were evident in the vamps that the participants created and shared with each other. As Parmeet from Peel enthusiastically declared about her ASWR experience: "We're empowered and inspired to do more and be more."
With contributions from Erin Marie Konsmo and Krysta Williams from the Native Youth Sexual Health Network and Rachel Mishenene and Jennifer Drope, executive staff members at ETFO.