"Can I tweet this?" is a question that I routinely hear in my grade 2/3 classroom at Eastwood Public School in Windsor, Ontario. My students interact online with over 160 other classrooms around the world through Twitter. Children in my class might be solving math problems with children in Iowa, writing collaborative stories with students in Iceland, or sharing video of the class tadpoles with kids from Singapore.
Armed with 20 iPads, my students do a large portion of their work online. They use a variety of educational apps and reflect on their learning using personal blogs and Twitter.
Introducing Twitter to my classroom
I began using Twitter in 2011 for a number of reasons. I was interested in connecting with educators from all over the world and using Twitter as a tool for professional development. I also wanted to expand my thinking and share classroom resources and innovations.
While it was useful to connect with other educators and students, I was doing all the thinking, writing, and composing of tweets. Instead of me tweeting about my classroom, I began thinking about how I could involve my students in tweeting about their learning. I wanted them to create their own meaningful connections with peers, as I had, through a personal learning network.
Last year I decided to create a class Twitter account @MrsWideensClass, where my students were the main contributors.
We began on a Monday with a conversation about Internet safety, which developed into deeper learning about digital citizenship. The initial discussion focused on setting the ground rules for safety and participation. We adopted some key parameters for our classroom Twitter use. We use only first names on Twitter; we connect only to classes and people who add value to our learning; every tweet is approved by an adult before publishing; and Twitter is only used as a tool for learning. Constructing these parameters together gave students ownership of their learning, while incorporating guidelines for safe and responsible use.
We then focused on who we were writing for, what we would write about, who we would follow and why. We were selective about the people we decided to follow. Besides other classes like us, schools and educators from around the globe, we follow some specific individuals that may be experts in their field. Last year Commander Chris Hadfield mesmerized us with his images, experiments, and messages from the International Space Station.
What Twitter looks like in the classroom 
Teaching students to tweet is a gradual process. At the beginning of the year, I modelled by showing my students my professional Twitter account and what I tweeted about. I then introduced them to the class Twitter account. We began by reading and writing tweets together that were displayed on a screen for the entire class to see. As my students became more comfortable with the lingo and how Twitter works, I gradually allowed them to do the reading and composing of the tweets themselves. By the middle of the school year, my students were composing the tweets on their own and showing them to me before they published.
Involving parents in the process
Keeping parents informed about incorporating Twitter into the classroom is important to cultivating a sense of community with parents. We made contact with parents about our account by sending home a quick note regarding our Twitter feed, including our Twitter handle and details on how to follow the class account. We ensured that we were available to discuss concerns and clearly explained that safety is a priority and that the focus of using Twitter in the classroom would always be on learning. This helped parents understand the program and ultimately lead to their whole-hearted support.
Another way that we made sure that parents would be enthusiastic about their children using Twitter in the classroom was to invite them into the classroom for some Twitter development with students acting as the teachers. Before the parents left, we helped them create their own Twitter accounts, and made sure that they were following the class, and that their child had shown them three cool things that the class had tweeted or learned by using Twitter.
What do my students tweet about?
Students can create a tweet about almost anything they choose. Coaching students about appropriateness and educational value is my role as their teacher. Access to Twitter is simple. Students grab an iPad, and use Twitter throughout the day to read tweets, share their learning and ask questions. Many of my students enjoy sharing their art creations, a quick snap of the camera and an explanation of the art project is all that is needed to tweet it to the world. Other students use Twitter for research. They may ask questions that need to be answered by experts in a particular field or respond to questions or comments from other Twitter feeds that we follow. A great way to begin tweeting is to simply have students write about what they are up to at school that day, or start with a "Tweeter of the day" (where one student is responsible for tweeting the news of the day). All the above examples incorporate thinking, reading, and writing for an authentic audience, skills that are essential in daily literacy instruction.
Connecting the curriculum with Twitter
The opportunities to incorporate Twitter during the school day are endless. A good place to start is to read the tweets from the other classes you follow, ask questions or provide comments as a whole class. The following examples will give you some ideas on how to include Twitter in literacy, math, and science. All of the Twitter activities described below can be done as a whole class, in small groups, or by individual students.
LITERACY CONNECTIONS:
Wonder Questions
Children are naturally curious and want to explore and ask questions. A great start to this activity is to introduce your students to the "Wonder of the Day" on wonderopolis.org. Wonderopolis posts a question or "wonder" each day and then answers it. Encourage your students to pose questions they are wondering about on Twitter. It has been fascinating to see how many people have responded to my students' questions. This activity has shown my students that Twitter can be a place to acquire information from others and to participate in rich discussions about topics and issues they are interested in.
Tweet an author
Many authors are more than willing to answer students' questions about the books they have authored or about their writing process. What a great way to start or finish off an author study!
Fairy Tale Riddles
During our Fairytale unit my students discovered by reading the class Twitter feed that a class in Maine was also learning about fairy tales. They connected through Twitter and started tweeting a fairy tale riddle to each other each day.
Once Upon a Tweet
Erin Mastin, a grade 1 teacher in Michigan created the hashtag #1uponatweet. The idea is that one class begins a story with a single tweet adding the hashtag, #1uponatweet. Then a different class will continue the story adding to the previous tweet. At the end of the week, day or however long you want to wait, students read how the story has changed from when they added to it. One idea to extend this activity is to type the story out for your students, have them choose a tweet to illustrate either on paper or the iPad, then tweet out the finished product. Another idea to extend this activity is to discuss if the story has a beginning, middle and end or a main idea. You could also discuss voice and audience. There are endless possibilities for this activity.
Math connections
One hashtag to participate in is #MathStory. Students create math stories or problems for other students to answer. This is a great activity because students can select the most appropriate level question for themselves. Reluctant students will be more willing to participate in these activities because they can choose what to answer or comment on.
The first time we did this activity, I connected with a colleague on Twitter and we set a time where our students could ask math questions back and forth. I had all of my students on the carpet with the Twitter feed displayed on our white screen. At the same time, my students all had their iPads and were on the Twitter app. We read the questions together as they appeared on our Twitter stream and then students volunteered to answer the question they wanted to answer. We each then took a turn. Students were responsible for creating and asking questions and giving each other feedback. With the use of the iPad's front-facing camera and Airplay, a Skype session followed where the students met each other and had a great time.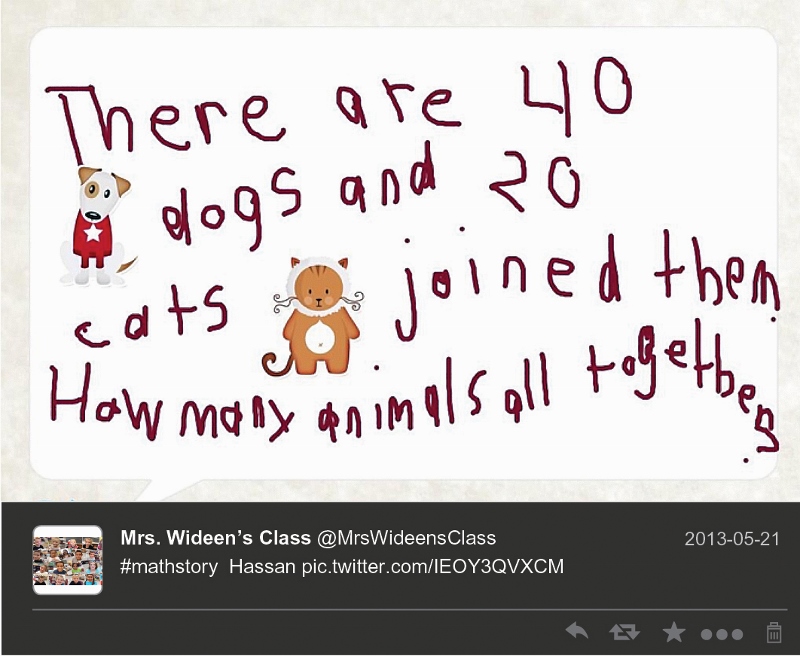 This example illustrates how an authentic audience motivates and encourages students to participate and extend learning.
Science connections
My students were very excited when I brought in seven tadpoles from a ditch near my house last year. Because Twitter is embedded in our daily activities, some of my students tweeted about their arrival.  A class from Singapore saw the tweets and shared that they also had tadpoles in their classroom. They were experts on tadpoles because they had already gone through the process, so they gave my students some tips about caring for them and shared a picture.  This sparked my students' curiosity and they began to tweet regularly about the tadpoles. It actually turned out to be a large inquiry project in my classroom and because my class got so many questions on how the tadpoles were doing that we set up a tadpole webcam so our twitter friends could check up on our tadpoles and learn along with us.
Create polls
An extension of this inquiry was that some of the tadpoles were missing. Students polled their peers on Twitter to see what they thought was the reason that some of the tadpoles were missing. My students made their predictions on Twitter, then did some  research and posted their findings on Twitter.
Live Science Experiments
While learning about pumpkins this year, my students took pictures and asked questions as they conducted experiments on pumpkins.


The connections made through Twitter have provided my students with genuine and timely feedback that empowers them to continue to share their educational journey with others.
It's remarkable to see how Twitter has become an outlet for students to celebrate their learning with a global audience and to engage in meaningful discussions about topics that are important to them.
The result of this purposeful connectivity is that my group of seven and eight-year-olds has begun to develop a global perspective on issues that could not have been authentically discovered had they been solely engaged in books in our classroom. The possibilities are endless and that is why I use Twitter in my classroom.
Kristen Wideen is a member of The Greater Essex Teacher Local and an Apple Distinguished Educator. You can connect with her class on Twitter @mrswideensclass.