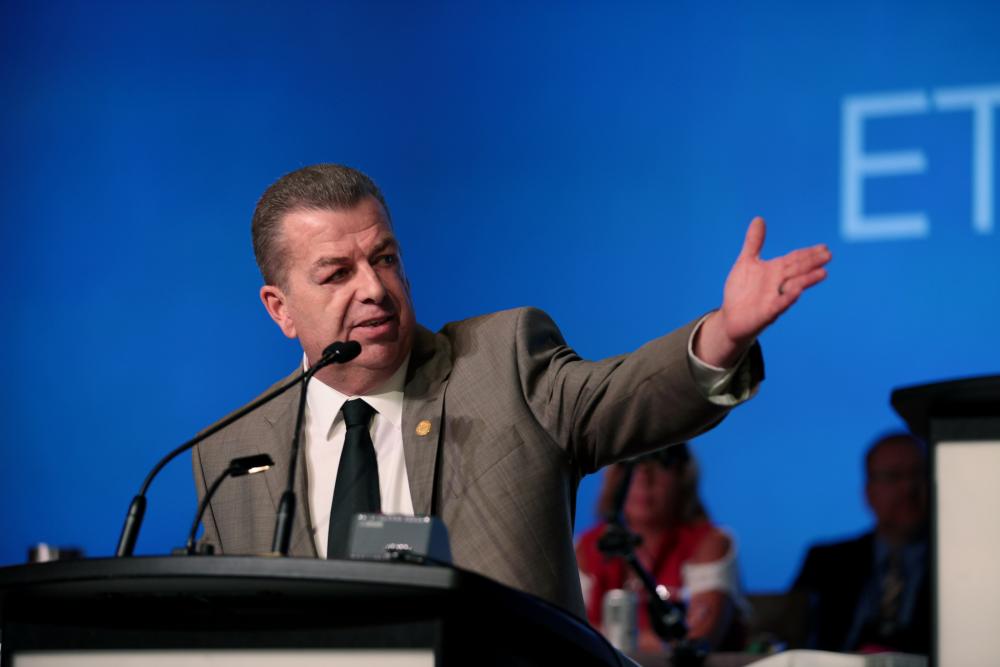 ARTICLE
Sam Hammond's Openning Address
President Sam Hammond opened the ETFO 2014 Annual Meeting with a reflection on ETFO's victories over the past year in the face of challenges that "were varied and at times daunting."
The president began by thanking the provincial and local leaders for their hard work in making tough decisions about how to best serve ETFO members. He commended ETFO members for standing together in the face of ongoing threats to public education and collective bargaining.
Hammond applauded ETFO's efforts to defeat the Tim Hudak Conservatives in the June 12, 2014 provincial election and affirmed ETFO's decision to support strong NDP and Liberal candidates in ridings across Ontario. He acknowledged the mixed feelings of members in supporting Liberals so soon after Bill 115, but said the "risks of a Hudak government were too great."
Hammond spoke of the quiet victory ETFO achieved in helping to develop a more fair and balanced bargaining process under Bill 122, the School Boards Collective Bargaining Act, 2014, which came into effect on April 8, 2014. He praised the efforts of ETFO, other teacher affiliates and CUPE for working together to develop amendments for the new two-tiered bargaining legislation that now governs education sector bargaining in Ontario.
Hammond also highlighted ETFO's exemplary work in many other areas, including such initiatives as the Building Better Schools campaign, Summer Academy courses, AQ courses, and ongoing work in equity, social justice and unionism.
He finished his address by acknowledging the uncertainty that a new bargaining process poses, but assured delegates that ETFO is ready and is relying on the support of the whole membership: "Our power as a union depends on our members."
ETFO Members in the Provincial Election
Special recognition was given at the annual meeting to the seven ETFO members who ran in the recent provincial election. These members include:
Nigel Barriffe, Elementary Teachers of Toronto Local, NDP Candidate – Etobicoke North
Joe Cimino, Rainbow Teacher Local, NDP Candidate – Sudbury
Jennifer French, Durham Teacher Local, NDP Candidate – Oshawa
Ann Hoggarth, Simcoe County Teacher Local, Liberal Candidate – Barrie
Anthony Leek, Rainy River Occasional Teacher Local, Liberal Candidate – Kenora-Rainy River
Matt Richter, Trillium Lakelands Teacher Local, Green Candidate – Parry Sound-Muskoka
Kevin Troake, Peel Teacher Local, NDP Candidate – Mississauga-Brampton South
Joe Cimino, Jennifer French and Ann Hoggarth won seats and are heading to Queen's Park this fall. ETFO acknowledges the record number of ETFO members who ran in the 2014 election.
Speakers
Hassan Yussuf President, Canadian Labour Congress
CLC's new president, Hassan Yussuf, thanked teachers for their work on behalf of public education in a time of great challenge for working people and their families. Stating "we all have responsibility to each other," Yussuf spoke of the need to talk about the good that unions do to improve working conditions for all. Referring to the CLC's Together Fairness Works campaign, Yussuf encouraged ETFO members to be vocal about their union's efforts to work on behalf of students, teachers and their families. He explained that the collaborative efforts of unions are critical to build on what we have so children can have the lives they deserve.
Andrea Horwath Leader, Ontario NDP
Ontario NDP leader Andrea Horwath highlighted the need to protect one of the best public education systems in the world and the services families count on. She brought the message to delegates that the NDP intends to hold the Liberal majority government accountable for the promises they made. Referring to large FDK classes and standardized testing as two issues requiring attention, Horwath stated: "We will hold this government accountable to their commitments to education." She acknowledged the negative effect of Bill 115 on teachers and applauded ETFO's goodwill in continuing to work with the government to develop a memorandum of understanding (MOU) in 2013 and a new bargaining process.
Julie Pauletig President, Ontario Teachers' Federation
OTF's president, Julie Pauletig, commended ETFO members for defending publicly funded education. She spoke of the varied ways teachers contribute to a strong publicly funded system, saying that those who teach students are a precious resource. Pauletig reported to delegates that in addition to a strong public education system, some of OTF's other focuses include First Nations, Métis and Inuit (FNMI) initiatives, special education, technology, pension fund viability and inflation protection.
Kathleen Wynne Premier of Ontario
Ontario Premier Kathleen Wynne told annual meeting delegates she is looking forward to building on our collective successes in education. Acknowledging the flaws in the bargaining process last time, Wynne stressed that her recently elected majority government is committed to fair collective bargaining under the new two-tiered bargaining process. She referred to respect for the work teachers do and the democratic process as being key. Wynne spoke of her government's priorities in helping families and communities to be stronger through a four-pillar plan: workplace training and skills, investment in physical infrastructure such as schools and roads, a business environment that invites expansion, and the building of retirement security. She reminded delegates that the government must take into account the fiscal challenges that Ontario continues to face. After her address, Wynne answered questions from the floor and heard from ETFO members directly about their concerns.
Dianne Woloschuk President, Canadian Teachers' Federation
TF's president, Dianne Woloschuk, reported on the increasing influence of a market-based economy on education systems and illustrated how corporate-driven school reforms are having a negative effect on the quality of public education. Woloschuk reassured delegates: "Our education system is a reflection of our society as well as a vehicle to transform it." She told delegates that teachers' federations are coming together to oppose an "edu-business" model. Woloschuk thanked ETFO for championing equity and social justice issues, mentioning specifically ETFO member involvement in the Project Overseas program and on CTF advisory committees.
Diane Redsky Social Justice Speaker, Canadian Women's Foundation
Dianne Redsky, project director of the Canadian Women's Foundation's Task Force on Trafficking of Women and Girls in Canada, shared disturbing information about sex trafficking and human trafficking in Canada. She revealed that the issue is deeply gendered involving very young girls, and that the majority of cases are related to Canadian citizens, not immigrants. Redsky reported that CWF is working to end the problem, with a strong focus on survivor-led initiatives. CWF recently arranged a roundtable session that included 160 survivors, as well as school, child welfare, and community organizations representatives. Redsky emphasized that juvenile prostitution is a form of child abuse and spoke about how critical educators can be in raising awareness, seeing signs of abuse and educating people about abuse.