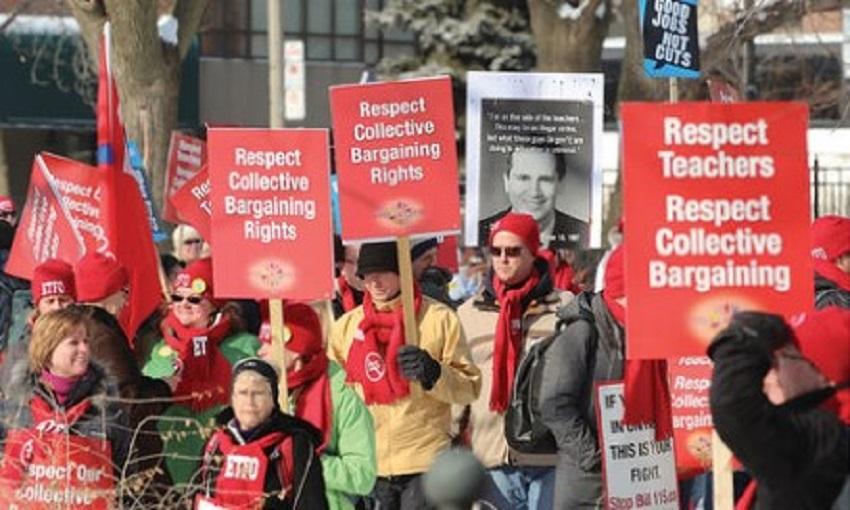 ARTICLE
Teachers rally at the Liberal Leadership Convention
January  25 and 26, 2013 brought thousands of ETFO members to protest the Liberal  Leadership  Convention.  Members demonstrated  their  opposition  to  former education  minister  Laurel Broten's  handling of negotiations with educators and the imposition of Bill 115. On the  26th, ETFO members joined members from other unions and community groups at Allen Gardens in Toronto to march to the Liberal Convention. Twenty thousand people strong, Ontarians let the McGuinty government know that it cannot ignore democratic rights.
Rotating Strikes Show Unity
The way the Liberal government handled negotiations with edu- cation unions last year left many people  wondering  what  was happening to democracy in Ontario. ETFO members consistently sent the government a strong message. Throughout the fall and winter, ETFO members demonstrated their strength, their energy, and their commitment  to  democratic  rights  for  all Ontarians, culminating in rotating strikes in December of 2012.
Representative Council Meeting
On February 6-7, more than 150 ETFO leaders gathered for  the  winter Representative Council Meeting, along with 25 participants in  this  years' Union  School.  The  meeting focussed on bargaining, the current case before  the  Ontario  Labour  Relations  Board, and what Bill 115 means for teachers in their schools.  Keynote  speaker  Linda  Haslam- Stroud brought a message of solidarity and support  from  the  60,000  members of  the Ontario  Nurses'  Association,  stating  "We can't back down in our fight for collective bargaining rights in Ontario. We owe that to every Ontarian." In his address, President Hammond updated council on the discussions with Premier Wynne and her team, emphasizing that the tone of meetings with the new government has shifted significantly. Hammond acknowledged the tremendous mobilizing efforts of members."I thank each of you for all you have done and the critical role you have played in all of our successes," he concluded.
Lieutenant Governer and ETFO celebrate the life of Licoln Alexander for Black History Month
The Honourable David C. Onley, Lieutenant Governor of Ontario, joined members of Lincoln Alexander's family and ETFO President Sam Hammond to celebrate Alexander's life for Black History Month. The school assembly honoured the late Lincoln Alexander, 24th Lieutenant  Governor  of  Ontario  and  first black person to hold this office in Canada. Held at Toronto's Lord Dufferin Public School, the event was inspired by a poster developed  by  ETFO honouring  Alexander, who was also the first black MPP elected in Canada. The poster was sent to every public elementary school in February.
Sponsoring Programs in first nations Communities
At the January Executive meeting, National Director of  Right  to  Play Canada Robert Witchel presented a plaque to  the  Executive in recognition of ETFO's support of the PLAY (Promoting Life Skills in Aboriginal Youth) Summer Sun program. Summer day camps for  children ages 4-15 run in 11 communities. Summer Sun integrates cultural, recreational, and learning activities for almost 790 youth, while providing volunteer and employment opportunities for 76 First Nations youth. This past  summer, ETFO's partnership funded activities in Moose Cree First Nation, Wapekeka First Nation, Kitchenuhmaykoosib Inninuwug  First Nation, and Sandy Lake First Nation.
…And Still We Rise
This  year's  …and  still  we  rise  conference, the annual leadership conference for women members  of  ETFO brought  together  phenomenal keynote speakers and  performers. Human rights activist, journalist, and award-winning author Sally Armstrong, child welfare activist and member of the  Gitksan Nation Cindy Blackstock, and social justice activist Michele Landsberg, among others, spoke to the overarching theme of United and Strong: Changing  Our  World  Together.  Members participated in workshops with subjects that ranged from Mean Girls Aren't Cool, to Beyond Tokenism and Tolerance, and Creating an Inclusive Community for Young Children. Registration for the 2014 conference opens in fall 2013. See etfo.ca for details.
ETFO Participates in United Nations
In March, 2013 Vice President Maureen Weinberger and Deputy General Secretary Marilies Rettig participated in the United Nations 57th Session of the Commission on the Status of Women (UNCSW57). The session gathered women from around the world in New York to focus on the elimination  and prevention of all forms of violence against women and girls. ETFO representatives were part  of  a large Canadian and international trade union delegation lobbying governments to develop programs to prevent and eliminate violence against women.
International Women's Day
Each year on March 8, International Women's Day (IWD), women around the world take time to celebrate the achievements of women and to reflect on women's current status, demanding legal and economic equality and free- dom from violence. The Elementary Teachers' Federation of Ontario is again  producing t- shirts in recognition of International Women's Day. Go to etfovoice.ca to order yours.