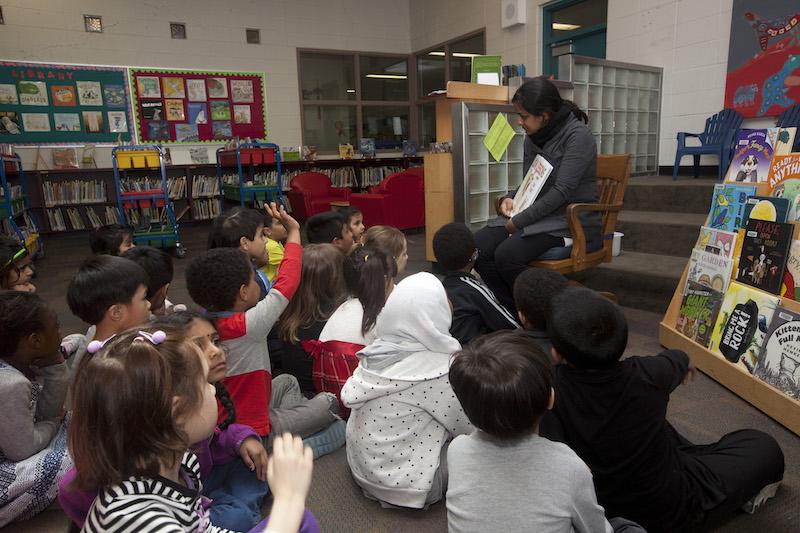 FEATURE
A Black Character Does Not a Good Book Make: Choosing Black-Focused Books to Support Culturally Relevant Teaching
Teachers are becoming more responsive to the increase in demand and expectations for more diverse literature in classrooms. We know that the best way to engage students is by presenting them with books and resources that reflect their identities and experiences. While culturally relevant books may seem to be a relatively new topic of discussion, they are not. In many communities, this is a long-term ongoing discussion. Extensive studies have shown that most children's literature continues to portray a homogeneous, white, heterosexual, middle-class existence as the norm.
The reality is that these representations are not consistent with the lives of many children and their families. Recent demographic studies show that racialized groups are now the majority of the population in the city of Toronto and almost half of the population in other large urban centres in Ontario. While there has been a recent marginal increase in the number of books that portray people of African descent, overall, Black people continue to be underrepresented in children's literature in mainstream publishing in the United States and in Canada.
Teachers and librarians are being more intentional about bringing Black-focused books into classrooms and libraries especially with the recent wave of reports on the experiences, opportunity gaps and achievement outcomes for Black students in Ontario. However, it's important that we ensure that our book choices don't just feature Black characters; they must include authentic, realistic and complex identities and experiences.
Black people continue to be misrepresented in literature. Some books offer a flat, one-dimensional representation of Black people and perpetuate stereotypes that are potentially damaging to the self-esteem and identity formation of Black children. Further, Black characters in children's books should not be limited to narratives of slavery and the civil rights movement. These are important historical experiences that have and continue to shape Black life today, but they are not the only collective experiences of Black people in the past and do not acknowledge the complexities of the present.
Books that Missed the Mark
In the past two years, several books drew heavy public criticism and stirred discussions on the representation of Black people and their experiences in children's books. In two cases, books portrayed enslaved Blacks as "happy slaves" to their young target audience. A Fine Dessert: Four Centuries, Four Families, One Delicious Treat, by Emily Jenkins and illustrated by Sophia Blackall, and A Birthday Cake for George Washington, by Ramin Ganeshram and illustrated by Vanessa Brantley Newton, both received criticism for whitewashing and sanitizing the treatment of enslaved Blacks. One concern was that the characters, who were enslaved, were portrayed as always smiling. Another concern was that the issue of slavery was not explained at all for young readers. Both titles were pulled from store shelves as a result of public backlash.
Natalie's Hair was Wild!, by Laura Freeman, has drawn some criticism because of the use of the word "wild" to describe a Black girl's hair. Her hair becomes a home for various wild animals and there is no clear distinction between the two uses of 'wild," which leaves open the potential for Natalie's hair to be equated with the wilderness. Some reviewers were concerned that this representation inadvertently reinforces the stereotype some people hold that Black hair is dirty and unkempt. Further, Black girls' and women's hair is often under scrutiny and surveillance in different parts of the world, in various spaces of employment and in spaces of learning, sometimes resulting in disciplinary actions from employers and school administrators, and some critics feel that this portrayal negatively contributes to this issue.
These books also received favourable reviews from several sources and one even received an award. As educators, we must work on developing our level of awareness and our critical lenses when selecting the books that will be used in our classrooms and housed in our libraries.
The images and messages that children receive from books can validate or disprove their ideas about themselves and others. We must be critical about the texts we offer to our learners, be cognizant of the texts' potential impact and be intentional in the learning opportunities that are provided through literature. It is important for all students to see diverse, realistic representations of themselves and other young people, and experience complex and intersectional identities in the books they read. Young readers should be able to see cultures in ways that consciously validate their cultural identities and see these identities presented and not judged against the standards of another culture. Additionally, books chosen to be inclusive of Black experiences should reflect the richness and diversity of the African diaspora. Well-written and well-illustrated diverse Black-focused books are not just beneficial to Black students, they are valuable to students of all backgrounds. Good books foster cultural competence, positively affirm young readers' identities to themselves and to their peers, help to improve reading comprehension and have the potential to nurture a love of lifelong reading.
Natasha Henry is a member of the Peel Occasional Teacher Local.