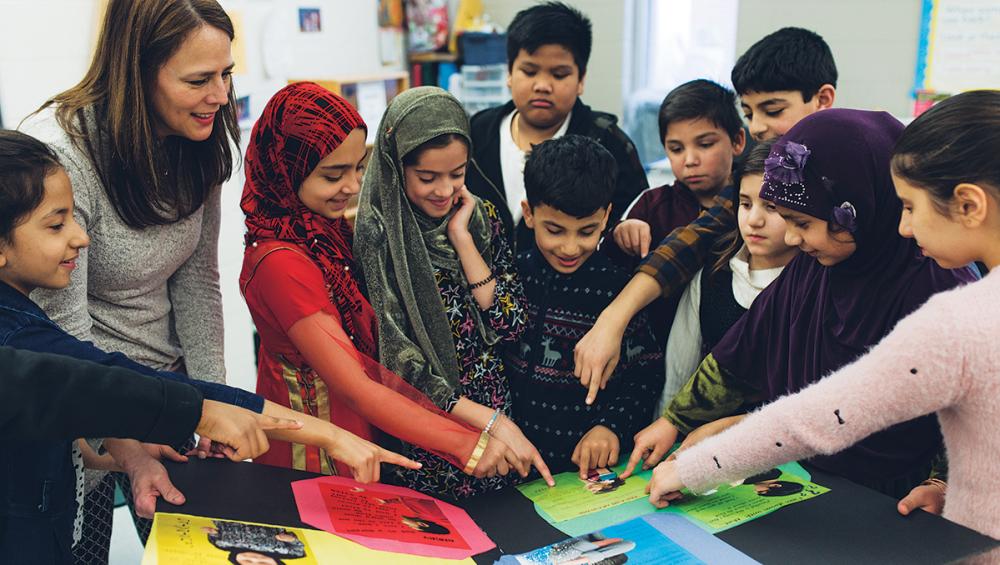 FEATURE
Safe Haven: Supporting and Understanding Refugee Students with Trauma
In the past decade, there has been an influx of refugees arriving in Canada. Their children are attending our public schools. As educators, we witness the challenges our refugee students face when it comes to their academic, emotional and social development. Over the past few years, we have been putting supports in place for students facing the repercussions of trauma and forced migration. This has been complicated by the COVID-19 pandemic, prolonged quarantining and the return to an uncertain school environment. School is central to children's lives in their adopted country. Ensuring that we create spaces where refugee children's experiences are reflected, their voices are amplified, their skills are acknowledged and their needs are integrated, goes a long way in helping ease their transitions.
According to the United Nations, more than one billion children have been affected by violence. In the last decade "2 million children have been killed; 4 to 5 million disabled, more than 1 million orphaned or separated from their parents and 12 million dislocated from their homes." As environmental devastation increasingly affects migration patterns, it will exacerbate refugee crises around the world. During their pre-migration journey, refugees may have been exposed to bombings, abductions, sexual violence and murder. Their hardship and trauma can be compounded by indirect consequences of war including the loss of basic services such as education and a rise in poverty, malnutrition and disease.
In addition to their prior trauma, when refugees arrive in Canada, they face a whole new set of obstacles. These include societal attitudes (accents, xenophobia), communication issues, unfamiliarity with accessing resources (work, housing and mental health supports) and loneliness. Refugee children experience poverty at a higher rate in their resettled countries. It is estimated that 40 percent of people using homeless shelters in Toronto are refugees. 
Their sense of instability, in part, is affected by the Refugee Sponsor Program also referred to as PSR (Private Sponsorship of Refugees). Through the PSR, private individuals and groups can financially support refugees for one to two years (rstp.ca/en/). In that time, families are expected to settle, learn English or French and eventually gain employment. Despite the proactive policies and good intentions, these goals are difficult to meet, leaving families anxious and unprepared to manage the day-to-day responsibilities required to live in Canada.
These are the realities of some of our students when they enter our classrooms.
Our Stories
Ajmer's story begins in Kabul, Afghanistan: Along with my family, I fled a burgeoning war at the age of four. We became refugees. After four uncertain years of travelling from country to country, seeking a permanent home, my family arrived in Canada. Having major gaps in my education, my early years growing up in Toronto were very similar to the experiences of many newcomer children. Schooling was challenging and difficult, specifically learning a new language, routines and cultural integration. I lived in a "hyphenated" space of being an "Afghan-Canadian" and struggled to find my identity and footing. I was fortunate to have teachers who created warm and inclusive spaces that allowed me to feel a sense of belonging. Inspired by my own experiences, as an educator for the past 15 years, I have used the curriculum as an opportunity to explore themes of social justice and equity in meaningful and engaging ways. 
Diana is a Grade 4 and 5 LEAP teacher: I have been working for the past three years with students who don't have previous schooling experiences or whose schooling has been interrupted due to war or social unrest. I realized that my students needed a safe space where they could be themselves and strategies to deal with their mental health and well-being. I started researching and developing opportunities to help students cope with trauma, anxiety and stress. I also worked to ensure that students' experiences are reflected in the curriculum and the classroom and that I create activities in which their voices can be clearly heard.
Creating Classrooms That Are Safe Havens
As educators, we are constantly striving to meet the needs of our students in the ever-changing landscape of our schools, knowing that "one size" does not fit all. It's important to avoid stereotypes, generalizations and victimization and to work to reflect student voices and identities. This has been at the core of our work with the students.
We have worked hard to create these opportunities for students and can see how transformative they are. After spending two years fostering trusting and open relationships, our students were comfortable to share their journeys through YouTube videos (which we also converted to physical books). Over the course of a few months, students explored their experiences in three parts (pre-war, journey and Canada). Through a narrative format and voiceovers, their personal videos told of their experiences growing up in their native homeland, the effects of war and their early impressions of living in Canada (the videos can be found on YouTube channel "room 222"). During this process, we learned that for many of the students, this was the very first time they talked openly about being refugees and how they valued being heard. This project allowed them to acknowledge and express a sense of pride about their culture and history.
We use children's literature as a resource to engage students in authentic conversations on topics and themes that resonate with them and reflect their experiences. We include books such as Amazing Grace by Mary Hoffman, Mirror by Jeannie Baker, Painted Words by Aliki Brandenberg, Sidewalk Flowers by JonArno Lawson and The Day You Begin by Jacqueline Lawson. Through these resources and many others, we explore ideas such as racial and ethnic discrimination, the value of inclusion, the challenges of a new country, cultural commonalities, the impact of war and empowerment.
In addition, school wide, there are extracurricular clubs and initiatives that foster a greater awareness and understanding of refugee experiences. These include school committees and cultural clubs that support refugees and newcomers such as Agents of Change, a club that focuses on social justice and equity. Our school also uses monthly character education assemblies to learn about different cultures, religions and the plight of historically marginalized people and groups.
Strategies for Practicing Calm and Mindfulness
The other key support we have found to help students who have experienced trauma and are dealing with transitions is creating opportunities for calm and mindfulness. Students display wide-ranging signs of trauma, including unsettling emotional and physical reactions, negative thoughts, difficulty sleeping, fear, violence and many others. Implementing mindful and holistic strategies has been very beneficial to the overall well-being of our students and to their ability to engage in class.
The Calming Box: Sensory items that provide explicit prompts for students to choose and objects they can manipulate are placed in a container such as a strong shoe box with an attached lid. The calming box is located in a special place in the class, a "calming space," where students go when they need to self-regulate.
The Corner of Zen: Many students have shared that they hardly have a space at home or in school to have mindfulness time alone. The Corner of Zen is a tent in the classroom that provides students with a quiet, peaceful place where they can use different educational toys, read books and colour mandalas while listening to calming music.
Gardening: Being in nature and working with their hands provides another opportunity for calm. Many students come from countries where they used to have a garden. All these students are now living in apartment buildings with few outdoor spaces. We started planning how the courtyard next door could be revamped and turned into an outdoor educational space. Students with no English and who often feel invisible at school, are empowered by demonstrating amazing skill, workmanship, care, responsibility and teamwork in the garden.
Yoga, Meditation and Mindfulness: Although we are not regular yoga practitioners, we have invited different volunteers to work with our students and used videos that were specifically designed for each age group. We have used techniques such as EFT (Emotional Freedom Technique or Tapping), Progressive Muscle Relaxation, practicing different kinds of breathing, grounding, visualizing 5-4-3-2-1 and brain gym activities.
Students enter our classrooms with a host of diverse issues and needs. The onus is on us as educators to create an environment that provides a safe haven and allows all our students to learn the tools needed to navigate the education system and beyond. By ensuring that we provide opportunities for refugee students to demonstrate their skills and tell their stories, while also understanding they may need more opportunities to be calm and mindful, we support them in their learning journey. More than ever, our vulnerable and marginalized students will require us to prioritize their emotional, social and mental well-being as they try to adapt within the new reality of the pandemic.
Ajmer Darawal and Diana Hernandez are members of the Elementary Teachers of Toronto.
---
Teachers play a vital role in supporting students and their families, particularly those who are struggling. We can begin by:
Being advocates for our students and parents as they navigate through unfamiliar and unchartered waters. 
Being aware of the trauma associated with forced migration and life in a new country. 
Demonstrating compassion, equity and kindness. These need to be at the forefront of our teaching practices, in particular in behaviour management and conflict resolution. 
Developing and implementing school-wide policies that apply holistic and mindful approaches. 
Ensuring all our students and their experiences are represented in the materials we share as part of our learning. 
Working closely with our school social workers, psychologists and settlement workers to provide expectations and realistic measurements of success for our students and families.
What can teachers do to support refugee students with trauma in the classroom?
Remember you are their first role model and ambassador who introduces them to Canadian schooling and culture. 
Make your classrooms welcoming by using the space as a representation of your students' identities and voices. 
Encourage your administration to include PD sessions on trauma, mindfulness and alternative strategies for self-regulation. 
Empower your students through positive reinforcement and attainable learning goals. 
Use technology and multimedia as a tool to integrate their voices and lived experiences authentically. 
Show interest in their interests. 
Take care of your own mental and emotional well-being.