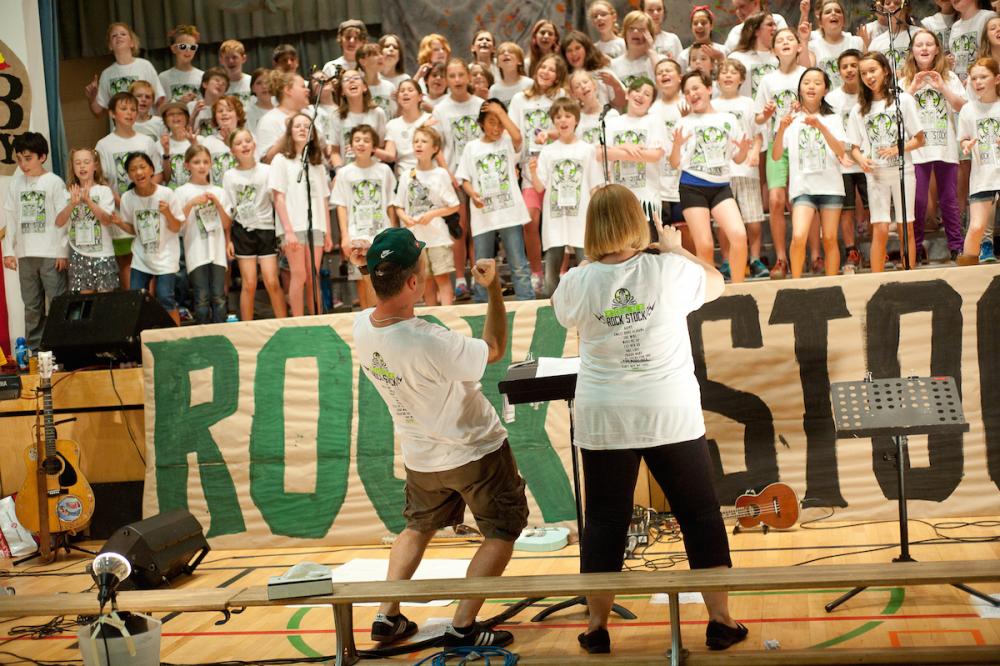 FEATURE
This spring the students of Churchill Alternative School, in Ottawa, Ontario, will be marking a major milestone, as will the school staff and community. This year is the tenth anniversary of the Churchill School of Rock (CSOR). In Ottawa's Westboro community, Churchill School of Rock has what amounts to a cult following among the students, former grads, and especially the parents who have had children participate in this annual event. What is all the fuss about? Well, at its core, Churchill School of Rock is a junior choir of students singing rock and roll songs, but, in reality, CSOR is far more than that.
To get a full picture you need to understand where this program started. Eleven years ago the junior choir at Churchill Alternative School was being run by a dedicated teacher, Maggie Kerkhoff, who loved choral music, but could only scrape together just over a dozen junior students to commit to singing once a week and performing a show for their parents once a year. Though the primary choir had numbers that pushed 90 singers, the vibe among the juniors was that singing just wasn't cool.
The students couldn't really be blamed for their attitude. These were the days before Glee and the modern musical, and though a few students took piano lessons after school, there was little focus on music in the school. Teachers taught what they could, given the restrictions of time and ability to meet curriculum expectations in the classroom setting, and that was it. There were very artistic teachers on staff, but it was a transition period for staff at the school, and music in particular was not a priority at Churchill, or anywhere else across the province (as evidenced by cuts to specialist teachers and music programs). At least one of the nearby middle schools had a strong drama program, but no instrumental music at all, so even in the greater community, music was something that did not get much attention before high school.
The now-retired Kerkhoff and Shawn Smith, an educational assistant who supported her by playing guitar on a few songs, discussed the direction of the choir after several students opted to go to swimming lessons rather than perform at their year-end recital. They reflected that the most energy was put into the song on which a couple of teachers at the school joined in to accompany Shawn on guitar. The students responded to the extra support of the instruments and staff involvement, and it got Shawn and Maggie thinking.
They came back with a simple concept – build a band of teachers and parent volunteers to provide the instrumental music and choose rock and roll songs the students could get excited about singing, and see what might come of it. The results were astounding. That first year the choir soared to over 75 members, and the students performed with a supporting band of more than a dozen teachers and parents. Many played professionally, but they gave up hours each week to rehearse in the months leading up to the concert. That first concert was so well attended that the walls in the school gym were soaked with condensation. Shows in subsequent years ended up moving to larger venues at nearby concert halls due to concerns over fire codes. Churchill School of Rock was born, but like all great stories, it is the behind-the-scenes details that really show where the magic comes from.
Churchill is one of a number of alternative schools in the Ottawa-Carleton District School Board. Churchill's program started in the 1980s to offer an academic option where student-centred learning was the focus and competition was removed from the learning environment. What sets the school apart from others can only really be appreciated by a visit, but a major aspect of the overall feeling that people get from the school comes from the teachers who work there. Principals, students, parents and anyone who spends time at the school all identify the strength of the staff as one of the best features of the school.
"One of the great things about the staff at Churchill is how diverse we are in backgrounds, and yet we all seem to pull in the same direction," comments Natalie Shorkey, a Grade 3/4 teacher, who helps out with the program. "It makes it really rewarding to come up with big ideas in a staff that is open to getting involved. You know that you are going to be supported and that people will get on board and lend a hand whenever they can." And that is what happened with the Churchill School of Rock.
With the Churchill School of Rock, lending a hand takes on many different forms. Core French teacher Shellie Matthews has led the singers/rockers for the past five years. Others direct the student musicians, lead choreography, offer up gym times for last-minute staging and song rehearsals, and help with administrative tasks (e.g., permission forms, t-shirt sales, letters to parents). The team that has put the event together for the past five years has included six or seven teachers, the principal and up to 20 parent volunteers. It is the ultimate example of a collaborative effort.
Tiiu Tsao, one of the Grade 4/5 teachers who has been involved from the start, and the one who brings out the passion in the performances of the students through the moves she choreographs for the rockers, reflects on the magnitude of the event with some (understandable) trepidation. "There are so many of us involved, and it takes so much time and effort, that it seems like we question whether or not it is all worth doing each year. But then it is performance day, and the students are shining in the spotlight, and the crowd is standing up, cheering and singing along, and you just know that it is all worth it … and that you will gladly be doing it all again next year."
I was in my first year at Churchill, teaching Grade 5/6 back then. I still remember going to the first band rehearsal, not really knowing how to play more than a couple of chords on guitar, but wanting to help out somehow. The students were excited about the idea of singing rock and roll songs, and I thought that this was really going to keep them more interested in singing as part of a choir. Then I sat in on that first night of the band, and realized just what this was all going to sound like. It hit me that we were not getting these students ready to sing in just a choir recital – we were creating an opportunity for them to perform. That is when I decided that I could best support the project by taking on a production role.
Over the years that production role has grown. I now spend a considerable portion of the school year managing two blogs for the program, booking performances, arranging volunteers to perform with the choir, rehearsing with the choir, meeting with graphic designers to create a poster and t-shirt design for the year, and delegating roles to other volunteers.
Churchill has had a strong commitment from many parents who help out throughout their child's time at Churchill. Building a band from volunteers relies on people committing to a rehearsal schedule for several months before a show. This has meant that on Tuesday nights at Churchill, from late January onward, a group of between 5 and 10 musicians gathers to run through the set list (not that it is difficult to talk musicians into getting together to jam once a week and perform on stage for hundreds of fans).
The past few years the job of musical director has fallen to Jeff Endenburg, husband of a teacher at Churchill, and a former parent at the school. "Volunteers can't make it in during the work day, so my job is basically to make sure that we are all working in the same key and to connect with the choir leaders to make sure that we know where the singers are hitting their lines. This way we can rehearse in evenings, and then only have to get students out in the days leading up to the main show to really tighten things up." Luckily Jeff has the privilege of working with some talented parent volunteers, several of whom have a professional or semi-professional background in the music business, to create excellent supporting music for the students to rock out with. Recorded instrumentals from the late night jams are used during weekly practices with the students to give them a feel for how the performance will play out.
The impact that School of Rock has had on the Churchill community is astounding. It has become the most anticipated event of the year on the school calendar for many of the students and a rite of passage for the junior students. Students look forward to getting to Grade 4 and being able to perform with the group and those who are leaving after their last show in Grade 6 often get teary about the end of an era.
Beyond the singing, Churchill School of Rock has resulted in a blossoming of music in the school community in general. From donations and button sales one year, enough money was raised to purchase a class set of ukuleles the next year. Churchill has even been able to dedicate a room to instrumental music, where instruments have been donated or purchased. This has allowed Andrew Robertson, a gifted musician and teacher at the school, to develop a remarkable music program, despite the underfunding that music programs are receiving.
Owen Glossop, a Grade 5/6 teacher who joined the staff four years ago, initiated the purchase of the ukuleles. He used the excitement about music to help him start Chukuleles, a ukulele club. Alongside the student band that has performed on at least two songs during each of the past four concerts, there now are songs every year that feature upwards of 40 ukulele players. In a similar vein, I have improved my personal guitar-playing skills since my rookie days of the first concert, and now run a guitar club that has between 12 and 20 members who also perform as part of the show.
After 10 years the program has grown to such an extent that it is easy to take for granted the connection between music and the school. Lifelong memories have been created over the past decade for hundreds of students who have been part of the Churchill School of Rock. Churchill School of Rock has performed dozens of shows, in front of over 8000 people, been featured on the front of newspapers and on CBC radio, had two different performances broadcast on Rogers TV in Ottawa, and played the main stage at Westfest in front of 1000 fans.
The memories that students take away from their time at Churchill are forever imprinted with the experiences of the School of Rock. The staff and community that come together to make the magic happen will be keeping up this tradition with their "greatest hits" concert in May. We are exploring ideas of how to make it special and mark the tenth anniversary milestone. Right now students are voting on favourite songs from each of the years, even though most of our choir members were not even alive when we played our first concert. There are some exciting options, like bringing back some former students to create a graduate band. Time will tell how it all plays out this year, but what we do know is that Churchill rocks!
Ray Kalynuk is a member of the Ottawa-Carleton Teacher Local.