VOICES
Before beginning to negotiate the 2004-2008 teacher collective agreements, ETFO entered into discussions about establishing a provincial fr
ETFO has been evolving since 1998, when its  two  predecessor  organizations joined to form one organization.
ETFO exists to serve you – our members. We work to make a difference in the lives of  Ontario's teachers, education workers, and students.
As I look back over the past year, what becomes apparent is ETFO's vital role at the heart of so many of activities here at CTF.
The   Liberal  party  campaigned  on the platform  of  revitalizing  the  Ontario College of Teachers.
A grade 5 teacher was leading his class in a study of the novel Island of the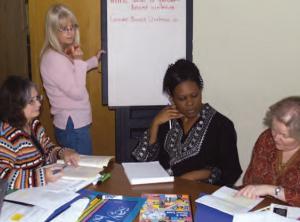 Eliminating violence against women has always been one strong focus of ETFO's advocacy work.
Universal design (UD), sometimes called barrier-free design, is the notion that the built environment should be accessible to ever yone – y
Pages