VOICES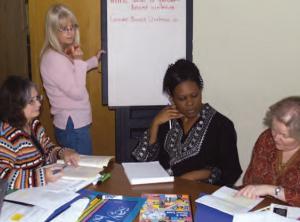 Eliminating violence against women has always been one strong focus of ETFO's advocacy work.
Universal design (UD), sometimes called barrier-free design, is the notion that the built environment should be accessible to ever yone – y
To hear some school administrators tell it, there is no more dangerous place on earth than the yard of their local school.
On August 17, 2005, the delegates to the ETFO annual meeting elected their provincial executive for the 2005–2007 term and my life
Leadership opportunities exist at every turn.
The ETFO protective services mentorship program has provided me with an incredible insight into the broader scope of the work of the Federa
Classroom noise, chit chat with superiors, students working in groups – these are among the challenges that teachers from other countries f
Throughout the 1990s – particularly during the Harris-Eves years of  government – we were forced as a federation to spend our energies on t
Pages