FEATURES
A snapshot of a dynamic, but imaginary, school of 515 students from diverse backgrounds, including Sabir, Aazim, and Hakimah, and their mother, Raidah. It illustrates a day in the life of a model inner city school.
For Aboriginal students, equity in education starts with recognizing the unique histories and traditions that characterize Canada's First Nations peoples.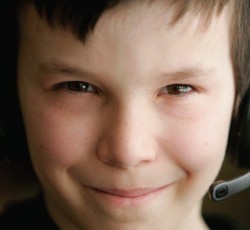 In the summer of 2006 Nathan Toft downloaded Apple'siTunes software, curious about the 99-cent songs hehad heard about. This move introduced him to the exciting world of podcasting. He quickly got Janehooked and the two teachers, who are both joggers,loaded up their iPods with a variety of shows theydownloaded from the Internet. This was the start oftheir pod-casting adventure.
Pages